When Toronto- and L.A.-based interactive agency Secret Location was commissioned to create an online video game based on top-rated new Disney XD Canada (soon-to-be Family XTRM) series Gaming Show (In My Parents' Garage), it seemed only natural that the program's game-obsessed fan base would help.
The show created by Jesse Shamata (Grizzly Cup) and executive-produced by Sam Dunn and Scot McFadyen of Toronto-based Banger Films' kids division, B-Minors, embraces the DIY aspect of web-based youth video game culture. Secret Location quickly determined that a user-generated game would be the right fit.
So, with additional support from Canada's Bell Fund, and drawing on its experience making award-winning websites and digital games for kids series including YTV's Some Assembly Required and Teletoon Canada's Grojband, the agency launched Gaming Lab on gamingshow.com concurrently with the series' November 2014 broadcast premiere.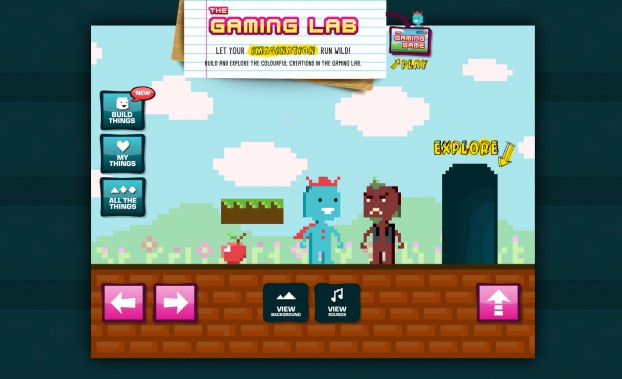 The unique sub-site lets fans log in to create elements for a video game using an array of design tools developed by Secret Location.
One new design tool category from six in total—heroes, villains, obstacles, backgrounds, sounds and platforms— and a corresponding comedic video tutorial featuring the show's hosts and members of Secret Location's creative team, were released each week post-launch.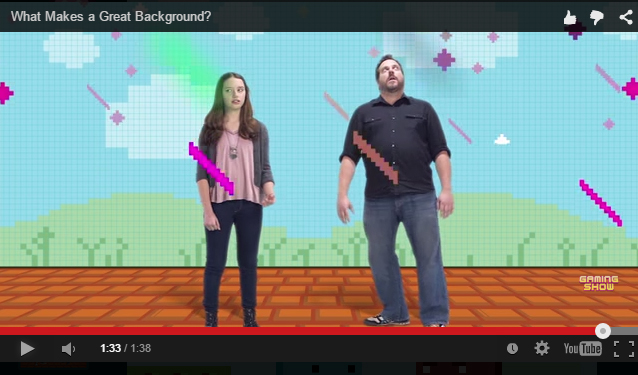 According to Secret Location producer Alexandra Voyage, fans submitted more than 1,000 unique elements in total. Disney and Secret Location then whittled down the collection to final elements that would eventually make up the aptly-titled finished product, Gaming Game.
The side-scrolling endless runner officially launched on March 16 and has so far generated more than 450,000 game starts and 35,000 best new scores.
For Secret Location VP and creative director Pietro Gagliano, the creation of the game hinged on adapting the zaniness of Gaming Show, which is led by three real-life teenage gaming fanatics/hosts Jesse Sukunda, Julia Schwartz and Ian Duchene, as well as its aspirational themes.
"We just kept saying, 'Let's embrace the chaos and mash everybody's ideas together and see what happens.' That's part of the charm of what we ended up creating," Gagliano says. "We also love Gaming Show because it goes behind the scenes of the gaming world and is very aspirational that way. We decided that the digital version should offer simplified lo-fi tools to kids so they understand the process of making a game and can be inspired by other kids' contributions to the game."
In total, nearly 650 of the 1,000 submitted elements were heroes, says Voyage. "A lot of the heroes we picked were ones with robust back stories," she says.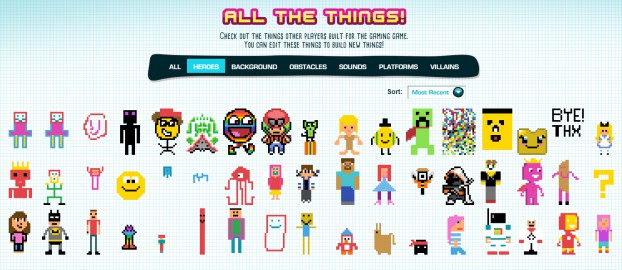 Those creative back stories were then incorporated into game mechanisms. For example, one fan's hero, Nudeasaurus, is desperately searching for dino-sized pants so players who choose the character move through the world collecting the trouser icons.
"Some of the things the kids created surprised us. They made characters that were just big eyeballs. It was so weird and creative," says Secret Location's associate creative director Marty Flanagan.
"And because there were so many incredible characters and backgrounds, the endless runner emerged as the best format. We wanted a game you can move through really quickly, that lets players rescue other funny characters using a collection mechanism."
Another important aspect of the planning phase, Gagliano says, was to determine the legacy of the game campaign.
"If you plan a campaign, the thing that sucks about our industry is it goes away. If there is a campaign that is bouncing people between broadcast and digital, then what does that look like after it's done?" he says.
"We needed to figure out how to keep the tools online to ensure that kids could still use them, otherwise all the work would go to waste for new fans if it ceased to exist online."
True to their word, kids can still create, save and play within the Gaming Lab, despite Gaming Game's completion.
How the game and lab evolves now depends on Secret Location's ongoing collaborative work with current XD operator DHX TV and Banger on the newly announced 10 x half-hour second season of Gaming Show. (It's in production and slated to premiere this summer.)
"We're working out season two of the show and any updates to the game and lab are to be determined," says Gagliano. "But there is a major opportunity to leverage the fan community that came together to build the game. They are hungry and waiting, so we just have to figure out what we want to do next."