Disney Junior has just ordered fourth seasons of its popular animated series, Sofia the First and Doc McStuffins.
Developed and executive produced by Craig Gerber, the upcoming season of breakout hit and Emmy-winning Sofia the First from Disney Television Animation will see its all-star voice cast featuring Ariel Winter (Sofia), Sara Ramirez (Queen Miranda), Wayne Brady (Clover) and Tim Gunn (Baileywick) return, along with Jamie Mitchell as executive produce and director.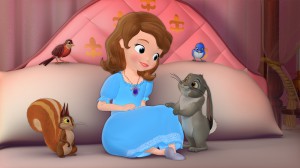 Episodes of Sofia, which follows the adventures of Disney's first little girl princess, hold records as the top two cable TV telecasts of all-time among kids two to five.
Season four of Doc McStuffins, which stars a six-year-old girl who runs a backyard playhouse clinic to heal her stuffed animals and toys, will continue to star Laya DeLeon Hayes as Doc, Loretta Devine as Hallie, Lara Jill Miller as Lambie, and Robbie Rist as Stuffy.
Created and executive produced by Chris Nee, the series debuted in 2012 to record ratings, and has since inspired a group of female African-American physicians to form the Artemis Medical Society, a movement for women physicians of color from around the world.
Exclusive SVOD rights to the series were recently picked up by Hulu, making it the first Disney Junior content to run on the video streaming platform.
Both properties have been extremely lucrative for Disney on the consumer products front as well. Doc and Sofia feature prominently in Disney Parks & Resorts' Disney Junior Live on Stage! attraction; the two properties have yielded more than 1,700 book titles for Disney Publishing; and apps for both IPs have reached the top of the App Store rankings. Lines for apparel, room décor, party supplies and toys have also been hugely successful at retail worldwide.