In a move that will expand its portfolio of children's animation and international programming in one fell swoop, American MCN Frederator Networks has acquired two popular preschool series—Cloud Bread and Pom Pom & Friends—from South Korea's Gangwon Information and Multimedia Corporation (GIMC).
It marks the first preschool content buy for Frederator, and both series are headed to its new YouTube kids channel Fredbot to reach a larger English-speaking audience in the US.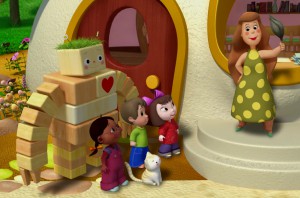 According to Frederator Networks CEO Fred Seibert, the American co-production arm behind Cloud Bread (Animotion Works) and its creative head Larry Huber and production lead Sylvia Edwards were instrumental in brokering the deal, as was Pom Pom & Friends director Woody Yocum (Sofia the First, Ben 10).
"Frederator is immensely proud to work with long-time collaborator Larry Huber and GIMC to bring these beautiful cartoons to an international audience," says Seibert. "They'll join our Wow! Wow! Wubbzy! shorts and Joey Album's Lucy the Dinosaur nursery songs on Fredbot on YouTube, and will be available for SVOD on TV soon."
Stereoscopic 3D series Cloud Bread, which features a "cut-paper" stop-motion style, is based on an award-winning children's book by Korean author/illustrator Baek Hee-na. It's about a pair of siblings who must harness their newfound ability to fly, using creativity to learn important life lessons along the way.
Pom Pom & Friends is set in the whimsical world of Rainbow Hill and goes on an epic journey with its titular character, a stack of wood blocks that comes to life after experiencing a child's love and now longs to be a hero.