Paris-based producer/distributor Cyber Group Studios and The Jim Henson Company have joined forces for the first time in a co-production collaboration that will see two new book-based animated children's series come to market.
Both companies are set to co-produce and co-finance Jim Henson's Enchanted Sisters, a fantasy-based comedy-adventure series for kids ages five to eight, and Cyber Group Studios' BouBouh!, a monster adventure story based on the book BouBouh! written by Ingrid Chabbert and illustrated by Amandine Duggon.
Cyber Group Studios will produce animation for both series at its production facility with Henson CEO Lisa Henson and Henson EVP of children's entertainment Halle Stanford serving as executive producers.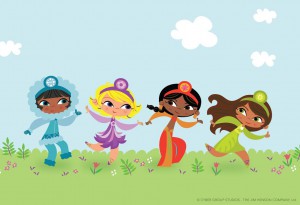 Jim Henson's Enchanted Sisters follows the adventures of four confident sisters, Spring, Summer, Autumn and Winter, known as the Sparkles, who work in tandem with Mother Nature to change the seasons every three months.
Based on the popular book series of the same name written by authors Elise Allen (Anna's Icy Adventure book, Sid the Science Kid and Dinosaur Train series) and Halle Stanford, the new show targets girls and boys and encourages the belief that anyone can become a hero.
Allen will serve as head writer for the series.
The second production, Cyber Group Studios' BouBouh! stars a typically scary-looking monster BouBouh, but he is far from a normal teeth-baring beast—he's actually frightened of children. With the goal of overcoming his fear, BouBouh gets help from Glups, a wise old teddy bear with years of experience around kids. The monster eventually befriends a six-year old boy, Lucas, but has to keep his newfound friendship in the human world a secret.