Armed with new research that confirms early childhood learning is amplified when physical toys and digital apps are combined in play, New York-based startup Tiggly is poised to launch the company's third entry into the market in May.
For the company's latest interactive toy, Tiggly Words, kids place colorful toy letters on a tablet screen to make words found in the themed companion apps come to life. In the version headed to US retail, only the five physical vowels are included, and play centers around mastering their use. For example, kids might see B and G on the screen separated by a blank space. They can then place the physical U in the middle  of the screen to spell bug, or I for big, or A for bag.
When first designing Tiggly Words, the company's co-founders Dr. Azadeh Jamalian, an adjunct assistant professor of cognitive studies in education at Columbia University, Phyl Georgiou and Bart Claremen (both MBA grads from Harvard Business School) wanted to use all the letters of the alphabet, but they ran into some challenges when testing the idea out with kids.
"Kids who already knew the letters spent a lot of time trying to find the ones they were looking for, and the kids who didn't know what the letters looked like were very frustrated because there were 26 options," says Jamalian. "When we talked with a lot of different teachers and we asked them, 'What's the most challenging part of learning the English language?' They all said vowels."
Tiggly Words doesn't require a WiFi connection to play and the technology behind it, which uses touch points to recognize the letters like mobile phones do with your fingers, is actually quite simple, she says. But more importantly, the overall concept fills a significant void in the app market for kids aged four to eight, she adds.
"Kids learn a lot about the world around them by touching and manipulating things with their hands and then gradually internalize that information," she explains. "We wanted to bring physical manipulation into the picture, so that kids could get the visual and audio information from digital learning, but also have the tactile experience of playing with real toys."
With its unique physical-digital play learning model that's designed to help children develop their fine motor skills, Tiggly just might be onto something. Last December, global research firm PlayCollective evaluated 47 kids aged four and five in the New York City and Washington, DC areas who played with Tiggly's math learning toys/apps over a two-week period. The research found that early number skills improved by 71%.
"Such improvement in a relatively short amount of time is very impressive for any learning tool, especially if played in a home setting without any formal teacher guidance," notes Dr. Alison Bryant, PlayCollective's co-CEO and chief play officer.
On the business side of things, it appears that Tiggly's tablet-educational toy combos are hitting a sweet spot in the children's toy space. Market researcher The NPD Group reports tablet usage for kids has gone from a dismal 3% in 2011 to a whopping 48% in 2014, and research firm Ambient Insight predicts the educational toys market, fueled by kids' insatiable demand for mobile apps, will be worth US$2.3 billion by 2017, up significantly from US$1.5 billion in 2012.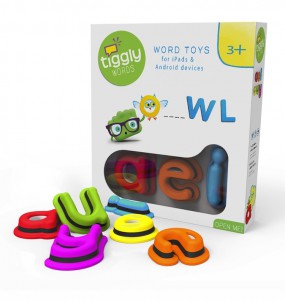 With that in mind, it's no surprise that Tiggly Words is the third product from the Manhattan-based toyco since it launched in 2012. It released Tiggly Shapes in 2013 and Tiggly Counts last year, which was a 2015 TIA Toy of the Year finalist in the e-connected category. All three retail for US$29.99 apiece.
"We're starting to tell the story about our brand," adds Jamalian. "We don't want to only focus on content. When we're designing an app, we're thinking about how we can encourage children's creativity. It's not only about learning the letter A, it's more of an engaging experience that has more thinking involved."
Tiggly Words launches for iOS tablets on May 25 in the App Store. It will also be available via Google Play for Android tablets and on Amazon shortly after that.