Action-adventure movie Stan Lee's Mighty 7, starring an animated version of the legendary superhero creator himself, headlines an array of new international broadcasting partnerships for properties managed by Genius Brands International (GBI).
France's TF1 has picked up pan-European, French-speaking VOD, SVOD and EST rights, Teletoon has acquired broadcasting rights in Canada, the UK's CSC Media has secured rights for its free-to-air POP channel and The Movie Partnership will rep all digital rights for the film in the UK. In addition, Lebanon-based Telepictures Promoter has nabbed free-to-air TV rights for all Arabic-speaking countries in the Middle East and North Africa.
In the 90-minute flick, which debuted in US theaters and on Discover Family Channel in 2014, Stan Lee teaches a crew of alien prisoners and their jailers who crashed landed on earth how to work together and use their powers to become superheroes.
The superstar cast includes Sean Astin (The Lord of the Rings), Jim Belushi (The Defenders), Mayim Bialik (The Big Bang Theory), Darren Criss (Glee), Flea (of the rock band Red Hot Chili Peppers), Armie Hammer (The Lone Ranger), Teri Hatcher (Desperate Housewives), Michael Ironside (Transformers Prime Beast Hunters: Predacons Rising) and Christian Slater (Breaking In).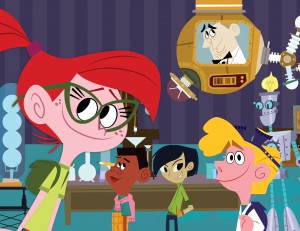 GBI has also licensed free-to-air broadcast TV rights in all Arabic-speaking countries in the Middle East and North Africa to Telepictures Promoters for the new animated series Thomas Edison's Secret Lab (pictured), which premiers on US public TV stations this April.
E-Vision has acquired exclusive Pay TV rights in the United Arab Emirates for the series that aims to make science fun for kids, by bringing the renowned inventor's ideas to life.
In addition, GBI has teamed up with Taiwan's Lai Intelligence Network for a Baby Genius audio picture book. GBI previously announced the Baby Genius brand is being re-launched this year and several licensees have already snapped up the opportunity to be a part of it.