In what's shaping up to be a busy week for the House of Mouse, Disney XD has greenlit a brand-new DuckTales series to air on channels worldwide in 2017, as well as comedic toon Future-Worm!, slated for broadcast this fall.
New animated comedy DuckTales is based on the classic property (pictured). Produced by Disney Television Animation, the new series stars well-known Disney fowl Scrooge McDuck and his grandnephews Huey, Dewey and Louie, as well as Donald Duck.
The original DuckTales series is currently available on WATCH Disney Channel app. With 100 episodes produced between 1987 and 1990, DuckTales led daily cartoon block The Disney Afternoon. An animated theatrical film, DuckTales the Movie: Treasure of the Lost Lamp premiered in 1990.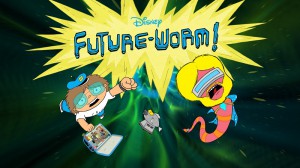 Also getting the greenlight is new animated series Future-Worm!, created by director Ryan Quincy (South Park). Along with a full-length format debuting in the US this fall, the series will have additional short-form content.
Billed as a classic boy and worm story, the show follows 12-year-old Danny who creates a time machine lunch box and befriends Future Worm, a bearded worm from the future. Together, the duo navigates through space, time and study hall.
The series will be executive produced by Quincy, who joined Disney Television Animation in 2013.