When most of us think about innovation in toys, we usually fast track to technology. Heading to Toy Fair this year, the new collaboration between Google Cardboard and Mattel's Viewfinder was my first must-see; Hello Barbie, Crayola's augmented reality Color Alive! and CogniToys' dino combined with IBM Watson were also on top of my list. I expected to be awed.  And in many cases, I was. But that's another story, another blog. Today I'm writing about amazing non-tech toys; the simpler pleasures that renewed my faith in the fun of toy industry.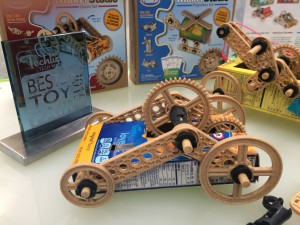 Maker Studio by Think Fun. What we used to call "crafts" has now evolved into the maker movement, encouraging kids to build and create toys and designs that they can truly call their own. Maker Studio is a kit of plastic pieces kids combine with household items such as macaroni boxes or plastic bottles to create their own…whatever. Each kit comes with enough pieces for several builds plus a set of engineering tips and challenges. David Yakos co-inventor of Maker Studio embodies the spirit behind this small but mighty toy. "When I was a kid, my mother encouraged my creative potential by giving me a dryer box filled with household stuff. From my first creations made with cereal boxes and paper towel tubes, I became a designer who's made everything from dog toys to cryogenic valves for NASA. I want this toy to inspire kids in the same way. " I think it does.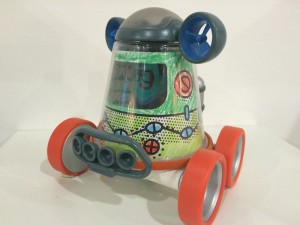 Toyish. Toyish combines building, crafting, and open-ended play in a totally refreshing way. Inventor Assaf Eshet wanted to encourage kids to "look at things differently, break the rules, and put pieces together in new ways." Each Toyish creation begins with a clear plastic cup. Add your own paper design, a figure, a base of wheels or legs, and a head or vehicle mechanism on top. Snap them all together and you've created a toy unlike any other.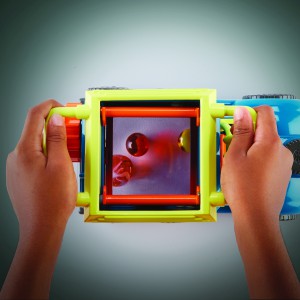 Matchbox Treasure Truck by Mattel and  Geo Safari Jr. Science Utility  Vehicle by Educational Insights. (I know, that's two.) Toyish, aside, it's hard to get innovative when you design a new vehicle. How often does a Tesla come along? For years, trucks have been classic dump, tow, and shovel machines. These two break the mold. The Treasure Truck is a sturdy sand and dirt toy with a built in metal detector.  It also works inside if you hide coins under paper or rugs. Push down top on the Science Utility Vehicle and you'll reveal a magnifying glass, à la a glass-bottom boat. See where you're going takes on a new dimension.
Jedi Force Levitator by Uncle Milton. Maybe I'm just a sucker for levitation, but this amazing stick keeps an object floating in the air…magically. I couldn't stop playing.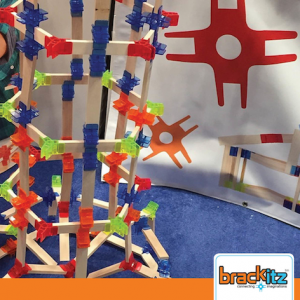 Brackitz. These simple wood blocks and plastic brackets form a new kind of open-ended building system.  No instructions required. Plus, it's all USA made: the maple is from Ohio, the injection molded plastic from Dallas.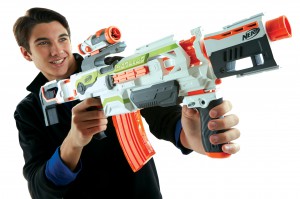 Nerf Modulus by Hasbro.  Can you ever have too many Nerfs? Obviously, not. Now kids can customize their own Nerf Blasters in over a thousand different combinations. Another hit for DIY.
Thumbs Up by Blue Orange Games. I loved this game! Take 4 colors of plastic rings. Flip a card and then stack them on your thumb in the order shown.  Fastest fingers win.  Addictive!  Blue Orange also had Color Clash, using the Stroop effect to match color and word attributes. Good multi-generational play.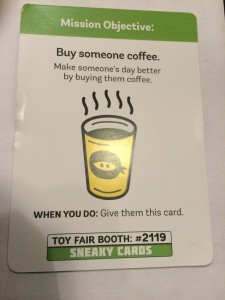 Sneaky Cards by Gamewright. This is essentially a deck of "Pay it forward" cards that encourage serendipitous connections, and feel good actions. Bravo to Gamewright for putting it out.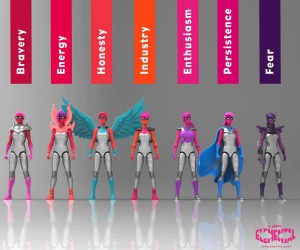 I am Elemental.  This series of 7 female action figures have realistic bodies, super powers based on the elements, and no back stories. Shocking!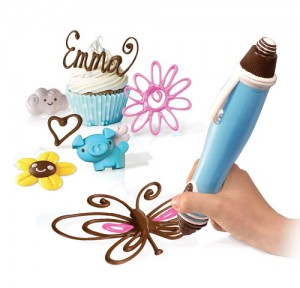 I couldn't get enough of the Candy Craft Chocolate Pen by Skyrocket Toys. This giant-sized pen  lets you doodle, write, and design in edible chocolate. Toys and candy. What could be better!
Learn more about trends, toys, and tech, at Sandbox Summit @ MIT, March 23 and 24. Register at www.sandboxsummit.org/events.