Tomy International has upped 30-year industry vet Kerry Cunnion to SVP of sales, North American toys. His duties now include overseeing design, marketing, product development and leading the North American sales force.
Before joining Tomy in 2011 as VP of sales for the mother, infant and toddler branch, Cunnion held a number of sales and marketing jobs at companies like Crayola and Publications International.
In other Tomy news, the Japanese toyco's Miles from Tommorrowland product line will be on display at Toy Fair in New York ahead of its summer retail launch. Designed for two to sevens, the line features vehicles, figures, plays sets and science facts from the likes of NASA and Google.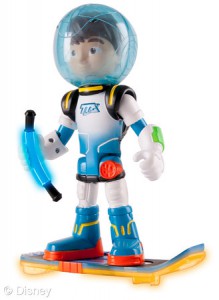 For fans that can't wait that long, Disneystore.com began rolling out a Miles from Tomorrowland collection (toys, books, role play, apparel home décor, accessories) day-in-date with the Disney Junior show's official broadcast premiere on February 6. Merchandise is set to hit Disney Store locations across the US on February 13.
The animated series about the young adventurer Miles Callisto and his family who live in spaceship and work for the Torrrowland Transit Authority first aired as shorts on Disney Channel and Disney Junior in late January.
Since launching last Friday on Disney Channel (in tandem with Disney Publishing Worldwide apps for iOS and Android), the intergalactic series has amassed two million views and ranked as the week's number-three cable TV series with kids aged two to eight.