When Canadian super fan Ashley Simpson nervously handed her artwork, which depicted Phineas and Ferb as teenagers, over to the show's co-creators Dan Povenmire and Jeff "Swampy" Marsh at San Diego Comic-Con two years ago, not in her wildest dreams did she ever imagine it would lead to an actual freelance gig with Disney.
But that's exactly what happened after Povenmire and Marsh fell in love with the drawing and reached out to Simpson via social media when an idea for a special episode of Phineas and Ferb set 10 years in the future was being hatched at Disney Television Animation in Glendale.
That idea, which became a fully realized episode entitled "Act Your Age," debuts tonight at 8:30 p.m. ET/PT on Disney XD in the States and showcases the work of Simpson, whom Povenmire and Marsh hired to create character art while she was still studying animation at Vancouver's Emily Carr Institute of Art & Design.
Povenmire says he initially tracked Simpson down after a colleague sent him a link to some Phineas and Ferb fan art on DeviantArt, the popular online social network for art fans and emerging artists.
"I noticed that whoever the artist was, the work looked so much like the art I got from the girl at Comic-Con," says Povenmire.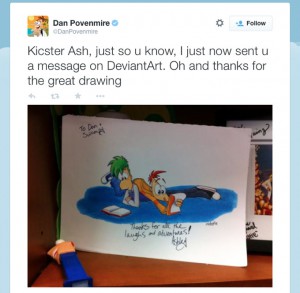 "The account name was KicsterAsh, so I figured it was her and eventually found a copy of the art she had given us. Then I discovered she had done a lot of great art of Phineas and Ferb as teens. All of the drawings had so much life, so I sent her a message on the site, but didn't hear back."
Simpson says she didn't believe the message was actually from Povenmire for two reasons. "One, I didn't believe something like that could happen to me, and two, I had recently been trolled so I was sort of near the end of drawing the characters because I got cyberbullied in that fandom a little bit," she says.
It wasn't until Povenmire sent her a Tweet with a picture of the drawing she gave them that she realized it was legit. Once the official job offer came, the excitement hit.
"Running around my house screaming at the top of my lungs is no exaggeration," says Simpson, who hails from a small town outside Winnipeg, Canada.
The young animator's dream experience continued when she got to spend a day with the Phineas and Ferb team at Disney and was given a two-week assignment that she completed once she returned to Vancouver.
"They actually didn't believe I would get it all done, but even between work and school I ended up finishing 21 characters front and back," she says. "I designed all of the teenage characters and even Carl – one of the grownups from the show."
The job, according to Simpson, was a huge confidence booster because there was a time when she wasn't even certain she would be an animator.
"I've loved cartoons since I can remember, but I never thought of being an animator because I didn't think it was an actual job, and I also had the notion that you couldn't earn a living making cartoons. I actually went to school to be a librarian for one year, but my friends said I should go into animation, so I switched" she says.
For Marsh, the working relationship with Simpson was equally satisfying.
"When you see somebody who reminds you of how thrilled you were when you first learned you could make a living drawing funny little pictures, it's one of those experiences that revives your own enthusiasm for the job," says Marsh.
Since finishing the work, Simpson says she's had a few additional visits with Povenmire and Marsh and got to complete another freelance job, an animated fire safety program, thanks to a Povenmire connection.
"We would work with her again, in a heartbeat. Whenever you find somebody really talented you want to bring them into the fold," says Povenmire.
While Simpson looks for new opportunities in the kids and family space, she says she'll continue to create for DeviantArt, despite being cyberbullied. "I just love doing fan art. So many people frown on it, but I got a job through it because I've known for a while that creators like to see what fans can make with their characters," she says. "It also gives me practice, because I'll make original characters that go in that universe that I can pull out and put in my own stories."
*Here's a special video featurette Disney put together on Ashley's experience: