Disney Consumer Products and Marvel are ramping up their efforts in the second year of a campaign that proved to be a big hit with superhero fans last fall.
Building on the success of the inaugural Marvel Super Hero September, the 2015 version "Marvel Super Hero Spectacular" will run for five weeks starting at the end of September through the month of October, and promises a wider range of superhero merchandise at mass and specialty retailers in the US.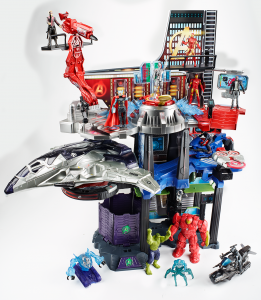 As master toy licensee, Hasbro will once again drive the campaign with action figures, role-play toys and a new Avengers tower (pictured). Returning licensees include Party City (Halloween merch), Payless (kids footwear) and Hallmark. The campaign is also looking to add partners in apparel and healthy foods.
This year the focus will be on core Marvel franchises The Avengers, Spider-Man and Guardians of the Galaxy, which appeal to all age groups and genders, according to Brian Siegel, director of franchise development for Marvel Consumer Products.
While the campaign is not necessarily about pushing new products, the timing lines up with Marvel's typical release dates for movies on Blu-Ray/DVD, not to mention Halloween. It will serve as an opportunity to remind fans about what's already out there. "It's really meant to be an event for everyone and a way to celebrate what they love about Marvel and what they feel being a super hero is all about," says Siegel.