Investment from major media companies and indie developers in early childhood learning via mobile apps continues to intensify.
In December, Disney Publishing Worldwide unveiled a multi-million dollar digital learning initiative entitled Disney Imagicademy that features 30-plus app-based experiences for families with children ages three to eight. But while Disney has the extra advantage of leveraging its raft of iconic characters, emerging developers of original kids IPs must navigate a more challenging path to discovery in the overcrowded app space.
For New York-based Marco Polo Learning, it means focusing on creating the best quality products that offer unique experiences for kids every time.
When co-founders Justin Hsu and Zazar Yasin launched the company in 2012, the strategy was to create the 21st century equivalent of the printed encyclopedias they used as kids that informed and entertained them about the natural world. Thus, they made the decision to launch a suite of sandbox-style apps for three- to seven-year-olds featuring strong design elements, high-quality animation, multiple languages, and just right balance of education and entertainment.
The company then raised US$1 million from angel investors in May 2013 to help support the January 2014 iOS release of Ocean, the first app, or volume, in the experiential encyclopedia series.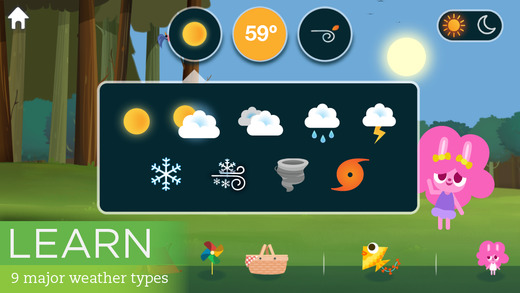 A second volume, Weather, followed in September 2014, and by the end of the year, both titles made Apple's Top 20 Apps of the Year list in several territories around the world, and both were featured by Apple.
iKids spoke with Hsu on a number of topics including why the apps have taken off so quickly, how the company determined the pricing strategy, and the importance of getting featured by Apple.
Why have Ocean and Weather resonated with preschoolers?
The apps have done well because of their core features. First, they are sandbox-style games. We believe in kids' ability to drive the experience themselves, and it's important for engagement, because every experience is unique. We also try to have very little text in our products and voice-over is kept at a bare minimum. Second, we put a lot of care into making sure the apps were beautifully designed. In addition, we worked with educators from the very beginning to blend the educational value with the game design seamlessly.
What was the marketing strategy?
We didn't spend any money on marketing. We believe that building the best products gives us the best chance to be featured by our distribution partner Apple. We do have a social media presence, but we use those platforms more as outlets for our voice than for marketing.
How challenging is determining a monetization model?
Is it a challenge to find the best model, but we are experimenting and continue to learn about the best way to do it. And it depends a lot on the content. Some products are more suitable for freemium, some for paid, and some for subscription. Ocean launched as a paid app at US$2.99. We played around with pricing and there was a period where it went free, but now it's US$1.99. For Weather, it's currently a free app with one in-app purchase to learn about extreme weather. We feel freemium is a good balance to generate some revenue and get the product in as many children's hands as possible. But we will always do it in a very transparent way for parents, and it will always be selling additional learning experiences.
How many downloads have the two apps generated so far?
We now have more than one million downloads for Ocean and we're nearing one million for Weather in just four months. We also have more downloads out of China than we have in any other market.
How beneficial is it to get featured by Apple?
It's huge for us as a young company to get both our products featured that way. We've also received a number of awards and top reviews from groups such as Parents' Choice Awards and Children's Technology Review. We feel like we are onto something with the focus on non-fiction, wholesome content.
What's the biggest long-term opportunity for Marco Polo?
Making and completing the encyclopedia. But we will also create a great deal of complementary content that supports a deeper learning of the app experience. In the short-term, we have a new app volume coming out in late Q1. It will be freemium, but it will be more à la carte with a number of different learning options to purchase.