With two Pixar movies hitting theaters this year—Inside Out (June 19) and The Good Dinosaur (November 25)—Disney Consumer Products has tapped Japanese toymaker TOMY as its global master toy partner for both properties.
Riley, a young girl from the Midwest US who is uprooted to San Francisco when her father lands a new job, stars in Inside Out. Her emotions—joy (Amy Poehler), fear (Bill Hader), anger (Lewis Black), disgust (Mindy Kaling) and sadness (Phyllis Smith)—live in an HQ inside her mind and help guide her through everyday life.
Inspired by the film's humorous storyline, the upcoming toy line features poseable characters that light up and let kids recreate their favorite scenes.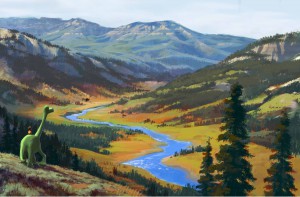 In the world of The Good Dinosaur (pictured), the giant creatures never became extinct. Arlo, an active Apatosaurus with a big heart, sets out on an extraordinary journey and teams up with an unlikely companion, a young boy, along the way.
Tomy is prepping a line of action figures and advanced remote control walking and talking toys for the film. The unique movements of the dinosaurs are built into the toys and RFID technology lets characters interact with one another as they do on screen.
Both new lines are expected to hit North American mass retail in advance of their respective films.
Additionally, to mark the 20th anniversary of Toy Story, DCP is rolling out a collectible figure range this summer featuring classic characters like Buzz, Woody and Jessie.