As a growing number of kids entertainment platforms compete for the best, most original content today, networks are increasingly looking to alternative sources of talent that can become the next generation of great series creators.
An incubator program for writers is not a new concept. Most kidsnets offer some form of development initiative, but with Disney Channel Storytellers, the House of Mouse believes its new program to develop live-action comedy pilot scripts stands apart from the crowd.
Launched at Disney's Burbank headquarters in late August, the inaugural 20-week salaried program accepted submissions of at least two 30-minute live-action comedy writing samples from professional WGA writing teams and individuals.
After hundreds of submissions, three teams of two, and one individual, were picked as finalists and given the opportunity to develop one original script for pilot consideration, work on existing development projects for Disney, and create multiplatform digital content.
In addition, the finalists can earn membership eligibility credits for the Writers Guild of America (WGA) from Disney-owned It's A Laugh Productions.
Since the program took flight, the finalists have been mentored by select Disney Channel showrunners and directly supervised under Emmy-nominated writer/producer Marc Warren of the hit Disney Channel shows Even Stevens, That's So Raven and Cory in the House.
Non-traditional search
Disney Channel Worldwide's VP of original series Jennilee Cummings says the idea for the program initially came from her team's development exec Corey Marsh. "We were talking a lot about how we could go after writers in a non-traditional way," Cummings says. "We tend to develop with writers who we've worked with before or who have produced shows for us before. Storytellers is a way to tap into some new voices and hopefully the end result will be programming that feels really fresh."
To pick a group of finalists best-suited to becoming capable showrunners, Disney requested that applicants have some sort of talent representation.
"We didn't rule out people who had worked on a writing staff before. We saw this as an advantage. We wanted people with some writing experience, but really no developing experience, so we could help them with those skills," says Cummings. "We looked for people with very strong comedy chops, storytelling abilities and great ideas. The intention is to give all of the writers a crash course in our brand and demographic."
New voices
Among the seven finalists are Lacey Dyer and Julia Layton, a young writing team with a background in soap operas—about as far from the kid, tween and family space as you can get.
Both writers earned L.A. internships on NBC's hit daytime drama Days of Our Lives through Boston's Emerson College.
Dyer, a native of Presque Isle, Maine, graduated with a BA in Television Production from Emerson; while Layton, originally from Arlington, Virginia, left Emerson with a BA in Writing for Film and TV.
Interestingly, the Emerson grads never crossed paths or became friends until their work on Days.
"We were not friends at Emerson College. She was popular and cool and I was not. I hated her," says Dyer.
"And I hated her," says Layton. "I was the 'it' girl at Emerson."
The pair eventually put their "differences" aside on Days, where Dyer became a staff writer and a Daytime Emmy Award winner, while Layton secured a script coordinator position.
Dyer says she never specifically intended to write for kids TV, but did want to focus on comedy. As it turned out, she left Days to be the script coordinator for Nickelodeon's Robot and Monster, then returned to the soap and left again to work more recently on Nick Jr.'s Shimmer & Shine.
"The writing process for soap operas is completely different than it is for kids TV. You work alone. It is not a writers room atmosphere like at Nick, where it's collaborative. I prefer the group-writing process," she says.
For Layton, who had no experience writing for kids and family programming before her acceptance into Disney Storytellers, comedy writing was the main goal, too. "Comedy really works for us. We are silly people," she says.
All-encompassing experience
Both agree that the Storytellers program is a dream opportunity for themselves and the other finalists, who are L.A.-based talent agency workers Kyle Stegina and Josh Lehrman, USC School of Cinematic Arts grads Paul Jafee and Sophie Pustil, and Berkeley grad Sara Saedi.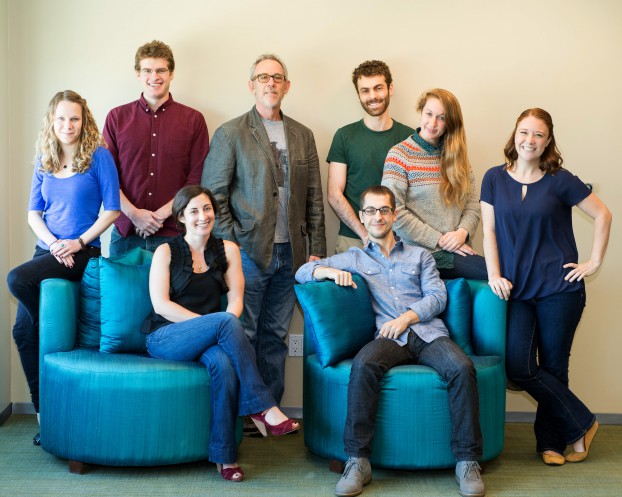 "The good thing about the program is everybody really wants us to succeed," says Layton.
Her pilot script with Dyer follows the story of a young boy who, as a last resort, must attend an all-girls school where his mother is the headmaster.
Disney's Cummings says the pair is deep into the scriptwriting process, and they're being mentored by K.C. Undercover showrunner Rob Lotterstein.
"We picked Rob because his show is currently in production, which gives Dyer and Layton a great opportunity to visit his set, watch how he runs his writers room, and see how he shoots episodes," says Cummings. She notes that three of the program's projects are traditional multi-cam sitcoms, while the fourth is a single-cam, faux-documentary pilot à la The Office. "The program also gives each team an individual work room and provides a conference room that Marc Warren is running like a writers room where the finalists can bounce ideas off each another."
Dyer says the biggest challenge is generating new pilot ideas. "At a certain point you feel like there is nothing new out there. But the program is good because it helps us be more creative and think outside the box. The other challenge is understanding the Disney Channel brand. It's interesting adapting to a brand while also maintaining your style and voice. But we feel great about that right now," she says.
With the program well underway and set to wrap in January, Cummings says she has seen tremendous growth in all of the finalists. "We have seen their skills as developers really start clicking in a meaningful way."