This week's blog is a guest post by Colin Ward, a media producer and lecturer, and a member of the Executive Group of the UK's Children's Media Foundation, with responsibility for its links with the research community.
There is nothing new in the world. Ever since Beatrix Potter created her stories with talking animals, children's media professionals have been forced to defend the quality of their work against criticisms from the press, politicians, pressure groups, and some parents. It can be frustrating, as we're caught in the middle, balancing the audience's demand for entertainment against societal pressures to contribute to children's social and educational development. The most irksome critics assume we don't actually care, implying that we happily chuck out any old rubbish as long as it gets a decent audience share.
Defending ourselves isn't always easy, simply because creative work tends to be instinctive. Of course we listen carefully to the audience to inform our ideas, but children want original programs, so at some point the producer and writer have to rely on their creative instinct and imagination. With the exception of preschool programs that work closely with child development experts to ensure age-appropriate content and learning, our 'interventions' in the children's media landscape are less often evidence based than "flight of fancy." As a result, we don't feel comfortable hiding behind academic research when the brickbats start flying.
Nonetheless, children's content creators do care passionately about getting it right, and have a special bond with their audience that is unlike that of any other genre or audience sector. It's a well-used quote in our industry that "to be a good children's media producer you have to stay in touch with the child inside you."
The production community's loyalty to its audience was partly responsible for the creation of The Children's Media Foundation, a not-for-profit organisation dedicated to ensuring UK kids have the best possible media choices, on all platforms and at all ages. Formed initially out of concern about shrinking hours of UK-originated, first run programmes, the CMF has expanded its scope. It now initiates campaigns to improve both funding and regulation, and informs policy-makers, the press, and parents about the issues and challenges facing the UK children's media industry.
The CMF acts as an advocate for the audience, and will criticize the industry when warranted, though we strive for constructive, supportive criticism.
One of our goals is to raise the quality of debate around children's media, and here our aims are in sympathy with producers. Ideally, we would all like to see well-researched, constructive criticisms in the press, instead of the well-worn, destructive clichés rolled out whenever there's a dull news day. Our goal is to make the CMF website a bridge among interested parties – parents, policymakers, producers, and academics – where all can share perspectives on children's media. With this in mind, the CMF launched two initiatives in the last year, the Parent Portal (pictured) and the CMF Research Blog.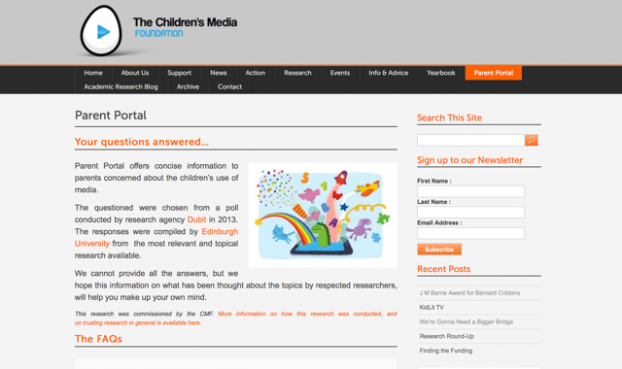 The Parent Portal tackles parents' main worries about their children's media habits. The easily accessed information is drawn from academic research papers, with key points summarised. The Research Blog invites children's media researchers to share their latest work and ideas, as a resource for informing programme making with current thinking across a wide range of issues. Eventually, we would like to add comments and discussion between academics and the creative community.
There are, however, a number of challenges with this work. To maintain its independence, the CMF does not accept financial support from the industry; we rely on our patrons and individual donations, so our resources are limited.
Further, the role of 'information conduit' is not as straightforward as it might appear. The groups we are trying to connect all use English, but beyond that each has specialist vocabulary, different objectives and priorities.
Academics are mostly concerned with understanding problems and evaluating a range of 'best practice' solutions. When they are not teaching, they spend their time thinking, writing, and discussing their particular perspective on children and media. This puts them in an enviable position: they understand the complexity of the questions and the subtle nuances of the choices we make.
Parents, by contrast, are mostly concerned with finding immediate guidance about their child. When they are not ferrying children, feeding them, tidying up after them, listening to their problems, or entertaining them, they spend time worrying about how to be better parents. They want answers to questions, or to be precise, they want the answers to specific questions, such as, Should I let my twelve year old use the Yo social media app?
Policymakers tend to be hard to please and impatient. When they are not debating, going to conferences, or avoiding awkward questions from the press, they spend their time worrying about being better politicians (i.e., getting re-elected). Ideally, they'd like to make parents happy because parents get to vote (with some notable exceptions, policymakers aren't interested in children until they turn 18). Policymakers want to help media businesses grow, because profitable industries pay more tax.
Finally, I would suggest the production community has three objectives; to exercise their creative vision, to get parents and policymakers to value their contribution to children's lives, and to make a living doing so. When they are not pitching, planning, producing, or picking up awards, they worry about being loved…and in the UK, they also worry about who will commission their next show if the BBC turns it down.
You can see how it's not a straightforward process connecting these disparate groups. The CMF is still learning and developing its approach, and looking for partners to help us with this objective, either via web design or content. If you have interest, please get in touch via our website.
This is not intended as a quick-fix campaign. The predominantly negative narrative around children and media has a very firm hold on the public discourse; dislodging it will take sustained effort. At least here in the UK, we can start by placing as much emphasis on our contribution to society as we do on our contribution to the economy.
The good news is that the UK has a successful model for this sort of campaign. In the mid-1980′s, three main bodies representing the scientific community launched the Public Understanding of Science campaign, with a remit to improve how research was communicated to the public, and to raise the quality of scientific debate in the media. Then and now, that initiative faced challenges, but it's widely agreed that it has made a difference to the way the majority of people perceive the work of research scientists. Maybe someday, children's media producers will enjoy similar benefits, and we'll see that the medium is not the message; content and context are.