Two days into the third-annual Asian Animation Summit in Hanoi, Vietnam, and a diverse range of brand-new, best-in-class kids projects developed within the Asian region have been presented to attract new funding and co-production partners.
With AAS set to wrap up tomorrow, broadcast execs in attendance - including Layla Lewis , Nickelodeon International VP of content acquisitions, and Télétoon/Télétoon Retro VP of programming Carole Bonneau - have noticed a positive shift in the quality of presentations put forward by indie producers since the inaugural event took place in Malaysia in 2012.
"There is an evolution in the sense that you can tell the producers are really listening," says Bonneau. "I saw more projects that were very localized at AAS 2012, whereas now you can see many have done their homework. I'm very impressed by the quality of the pitches."
Bonneau points to 3D CG-animated Insectibles (pictured) from Singapore's One Animation as a series she expects will do very well. It earned one of the two new wildcard entry spots into the Summit. Its producers, in fact, have already secured 80% of the show's financing with broadcast prebuys from the likes of Discovery Kids Asia and ZDF/KiKA.
"It's a beautiful project, not for Télétoon, but I'm sure it will get picked up in North America no problem," Bonneau contends.
For Celine Chesnay, head of preschool animation and manager of the children and youth department for France Télévisions, Insectibles also made an impression. "It's a nice project, plus we are looking for comedies in the six-to-eight age range, so we'll see," says the first-time attendee.
Creator driven
Lewis, who is at AAS looking for strong, creator-driven shows, is particularly pleased that the Asian region is beginning to develop more content in this vein.
"It's good to see that the community has obviously listened and taken note," she says. "There is strong talent here. The business has evolved."
Starting with yesterday's opening panel discussion, which explored the types of formats, genres and styles of animation that work best for key regions and platforms, and how Asian content can be adjusted to travel better internationally, broadcast execs have been dishing out a healthy dose of constructive criticism.
Regional modifications
During the opening panel, Frank Dietz, deputy program director and head of acquisitions and co-productions for Germany's Super RTL, stressed that creators should address how the definition of a character reflects the needs of a region.
Dietz, for example, explained how using a dragon as a main character could be a good way to potentially open up interesting storylines and character relationships. He said dragons are versatile, in that they can be painted as both black and white (scary and friendly) creatures - but with grey areas in between - and are interpreted in a variety of different ways depending on the region.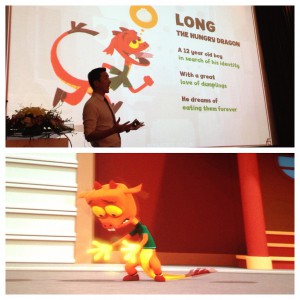 Interestingly, one of the Summit's best pitches so far, Journey of Long (pictured) from South Korea's Studio Gale, features a dragon as its main character.
The 52 x five-minute, 3D CG-animated project for eight to 12s was well-received on day one and elicited a number of positive comments from broadcasts including ABC's Chris Rose, Lewis, Turner Asia Pacific's Mark Eyers, and Disney EMEA's Orion Ross.
All agreed that the non-verbal, slapstick show that follows the adventures of a hungry teenage dragon who journeys to New York's Chinatown in search of dumplings is a good, funny concept with potential.
"It was lovely to see that it has a clear, creative position," says Lewis. "It should be shorter in length, but this is a format issue that could easily be addressed along the way."
Both Lewis and Ross also noted that the dragon character should have another motivation beyond dumplings. "Doing this would help ensure that the show works everywhere in the world," says Ross. "In Europe, for example, there is a strong emphasis on healthy eating, so the creator would need to clarify if they were low-calorie, vegetarian steamed dumplings rather than the salty, high fat, unhealthy fried versions."
Clear concepts
Another notable presentation from day one was Tilly with Spiky Hands (pictured below) from South Korea's TakToon Enterprise. Although the Addams Family-meets-Simpsons concept for the sweetly dark show targeting the 12+ demographic doesn't fit a younger Disney or Nick audience, execs noted the project has loads of potential as a digital IP for an older audience.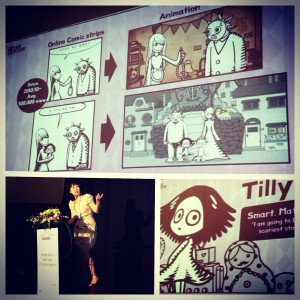 "It's exciting to see projects now that are more personal and creator-driven like Tilly with Spiky Hands. You need to have something that is a little more surprising and personal if you want to cut through on any platform," says Ross.
Looking at the youngest demo, 3D CG-animated preschool shows may not be on every broadcaster's wish list at the moment, but Lewis says she was quite happy to see a number of preschool projects at AAS including Pukeko Pictures' wildcard entry and passion project The Book Hungry Bears presented by Martin Baynton.
"I'm excited by this because we've had some very positive experiences co-producing some preschool programs, like Tickety Toc, with this part of the world," she says.
Partnerships and challenges
As a first-timer at AAS, Ross says he is really impressed with the variety of projects and particularly likes the positive atmosphere, conversation and constructive feedback.
"It's special. A lot of the people we work with on European and global shows as creative and production partners are based in Asia Pacific, such as Australia's Cheeky Little and Malaysia's Inspidea," he says. "I'm keen to explore whether there is a way we can get involved in Asian-originated projects a little bit earlier to see if there are ways in which they can collaborate with us in Europe, and the other way around."
Ross adds that the toughest part is always trying to stay true to the original creative vision when more co-pro partners are needed to fund productions. "It is a very fragmented market," he notes. "You can't talk about Asia like it's in any way homogenous. There are very few people who are putting in the significant amounts of money that you need for high-quality and volume production on a pan-Asian level. So, coming here is also very much about getting to know companies and people because it often isn't the first project that someone pitches to you that is the one you end up working on."
For Bonneau, the biggest challenge facing creators with AAS development projects is knowing how to stay in line with the competition. "Comedy, in particular, is not easy to create, but I think over the years you'll see it evolve here, and with all of today's platforms, there is always demand for good content, which is very positive," she says.
Chesnay stresses the importance of finding the right partners. "Creators need to be more precise about who they want to work with. They need to know their target channel and partner because you could lose some of the essence of your show if you don't have a clear vision. You have to believe in your project."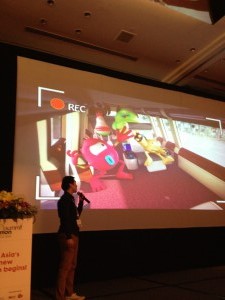 Other notable presentations from day two of this year's Summit include 2D comedy Han Gusso from Thailand's Beboydcg and Beat Monsters (pictured) from South Korea's Synergy Media.
"I've been really impressed with the shows from Korea like the reality show style comedy Beat Monsters and Tilly," says Chris Rose, commissioning editor at ABC Children's. "I think the former has some strong potential and it will be interesting to see how it develops. There are certainly some good gags there."
On the distribution side, Rose adds that people shouldn't just look to broadcasters anymore because broadcasters are cooperating with different platforms and services. "There are many opportunities, but the traditional way is becoming harder because traditional broadcasters are being crunched. It's not to say that we're not commissioning and acquiring content because we are, but it's just a little bit harder to produce it."