When I was a kid on Cape Cod, a group of trucks once pulled up outside of our school.  The men who drove the trucks pitched a ratty tent, hung up a few posters with duct tape, and sold us all over-priced tickets to watch them play polo on the backs of donkeys.  The game (or was it a show?) was impossibly bad and one of the poor old donkeys even keeled over after scoring a goal.  It was nothing like what we had been promised and, the next morning, the trucks, the men, the donkeys and our money were all gone.  All that was left was a single poster to prove that we had not imagined that this unlikely con game had taken place in our small town.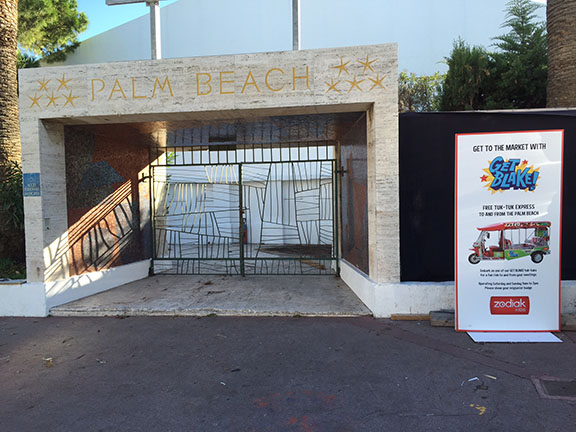 That was MIP Jr. this year.  It was, without a doubt, the shabbiest kids' media event that I have ever attended and, trust me, I have attended a few.  What made it so bad?  Well, for starters, the venue was the inside of an unventilated tent behind the now defunct Palm Beach Hotel at the end (and I mean the very end) of the Croissette.  (In fact, it was so far that you needed to take a bus or a Thai-style tuk-tuk to get you there.)  It was very hot in the tent and the only ones who did not seem to mind this were the Scandinavians who, I am told, enjoy a daily sauna.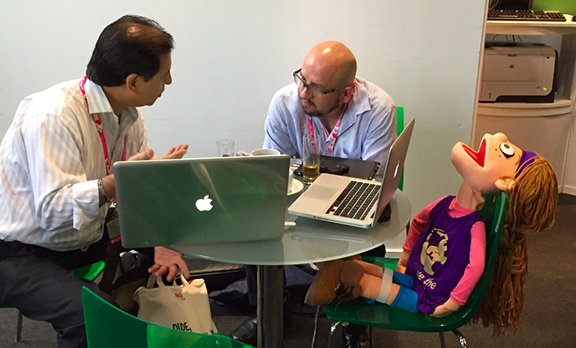 On the opening day, the buyers screening area was plagued with technical problems that caused a two hour shutdown.  This made many of the broadcasters quite unhappy and, as everybody knows, the last thing you want to do at MIP Jr. is pitch to an unhappy broadcaster.  There were exactly four restrooms inside, each one big enough to house just one delegate's bottom.  This meant long lines for all the little boys and girls who had to go.  Lastly, there was a nice outdoor terrace overlooking the Mediterranean Sea but, when it rained (which it did every day), a hundred damp delegates would rush in and overwhelm the crowded tables.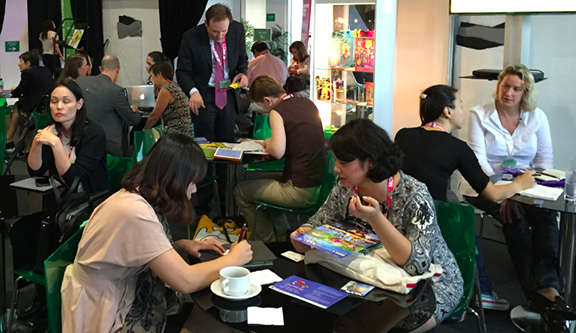 Now, I am not a whinger (as in, one who whinges and not one who flies), but I simply could not write this week's blog post without venting a bit about the awful conditions at MIP Jr.  I have no idea why they chose to change the venue from the Martinez and Carlton to a location that was neither convenient nor comfortable, but I do know that if MIP Jr. had been a ship at sea, there would have been a bloody mutiny by the delegates, and the organizers would have been hoisted up the mast by our MIP Jr. lanyards.
The one guy who made the best of this bad situation was Sean Chu from Ciwen Kids.  Although Sean had all his credentials for MIP Jr., he chose to hold his meetings just outside the Palm on the beach where he found his very own plastic table.  Our meeting with Sean was by far the most pleasant and airy meeting that Sharon and I had at MIP Jr.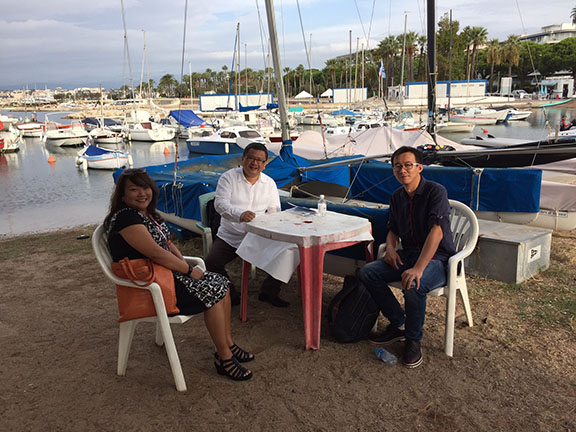 Now, let's talk about MIPCOM which, I'm pleased to say, was as professionally run as ever.  MIPCOM this year was a happy market.  I know that sounds Pollyanna, but it's true.  According to Reed Midem, the attendance was up by 200 delegates over last year with a total of 13,700 attending MIPCOM.  There were changes afoot at many of the top kids' companies including Turner, Zodiak, HIT and the BBC, all of whom have been busy reshuffling their executives.  Despite some anxiety among the Canadians over the prospect of "pick and pay" getting approved, and despite cutbacks at many of the world's top public broadcasters, deals were getting done all over Cannes.  (The US may be seeing its own organic version of "pick and pay" as both HBO and CBS announced last week that they will soon be offering their channels as SVOD services.  This has led to speculation that US linear TV may very soon become "unbundled.")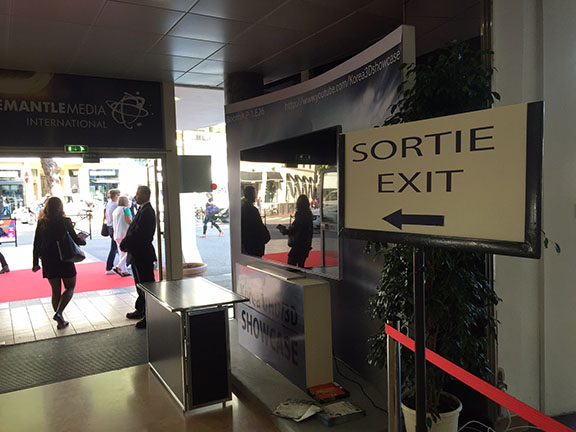 The absolute best (true) story I heard at MIPCOM this week came from Eric Rollman, who runs Rollman Entertainment and who works with us on our preschool project, Billy Green Builds.  On Tuesday night, Eric was dancing at C21 when he went outside for some air.  There he ran into some friends from some distribution companies, who were all "looking very uncomfortable."  Eric asked them what was wrong and they told him that there was a man in the sand behind them who had just stolen a woman's purse inside the club and "they didn't know what to do."  Eric looked behind them and, sure enough, there was a guy emptying out the contents of a woman's purse.  Now, here I should mention that Eric Rollman works out a lot.  In fact, he recently told our Head of Production, Sharon Thomas, that he eats two breakfasts every morning:  One before working out and one after.  As a result, Eric has big muscles that make him look not unlike the superheroes he once served during his tenure at Marvel.  So, Eric (and his muscles) leapt onto the sand, grabbed the guy, and said (and I'm quoting here), "That's not your purse!  Put everything back in it or I'm gonna kick your butt!"  The thief, who was described as "surprised," did exactly as he was told, handed Eric the woman's purse and "went off running."  The purse was then returned to its rightful owner.  Well done, Eric Rollman.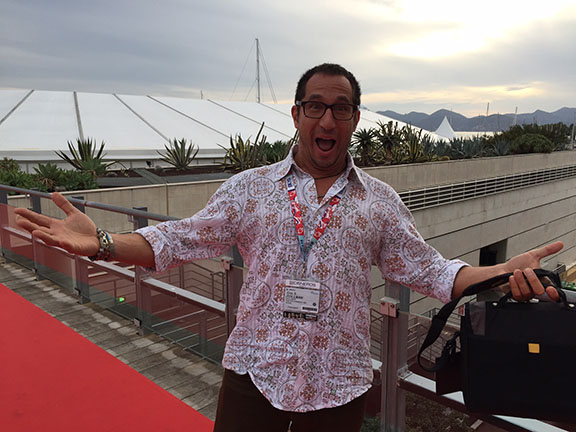 As is my custom in Cannes, I took a daily run along the Croissette and, as is also my custom, I stopped to pet a few French dogs along the way.  (Needless to say, I was missing my own dog, Buffy, terribly.)  I always fall in love with one new dog on every trip and, this year, it was this beautiful Golden Retriever with long blonde eyelashes.  When I asked the dog's elderly owner what the dog's name was, he said, "You can call him Still.  Or Sparkling."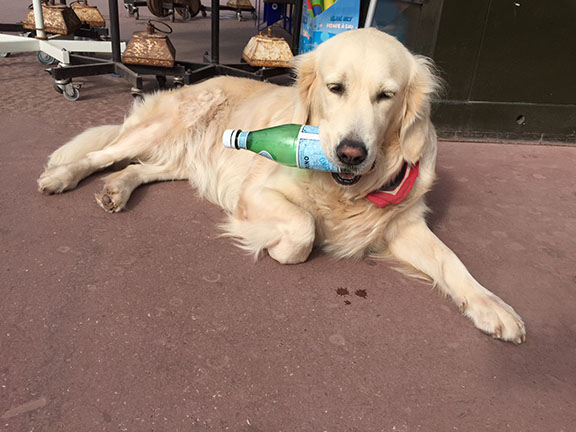 Several people asked me about "the quiet Chinese boy" who attended most of my pitch meetings this week in Cannes.  This was James Chen Gu, who heads up UYoung Media's content and production arm in Beijing.  James is our partner on our new older-preschool comedy, P. King Duckling and,although James has been to MIPCOM many times as a buyer for UYoung, this was his first time as a seller.  I asked James how it felt to be on the other side of the table pitching shows instead of being pitched, and this is the face he made.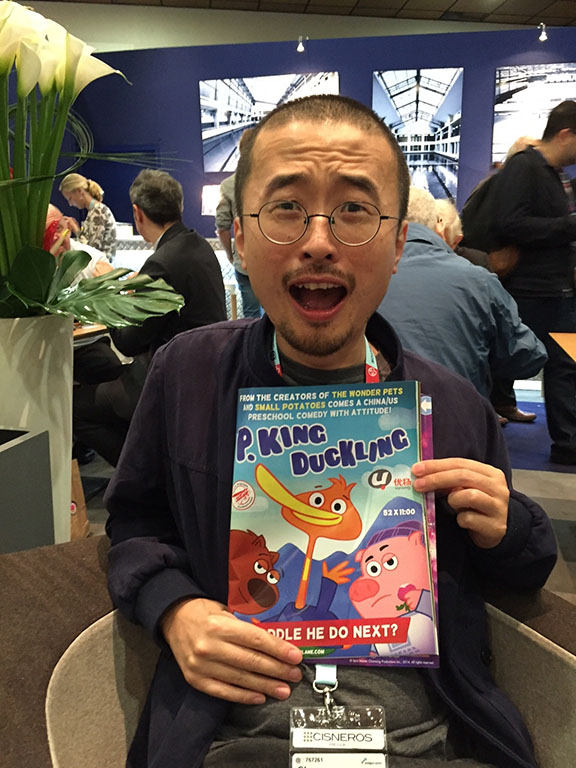 And now I'm on my Delta flight home to New York.  I'm exhausted.  My vocal chords are shot from talking.  I miss my own bed.  But I feel good.  Whatever convulsions our industry may be going through, MIPCOM 2014 showed us all that there is renewed energy, excitement and resources being put towards the creation and production of new content.  Yes, the types of shows and platforms may be changing but, well, they always do.  Once Standard Oil had a monopoly in the US.  This was broken up by the government who favored fair competition.  And once a few big media companies dictated to consumers what they could watch and when they could watch it.  Those days are quickly coming to an end.  And that makes me happy.  Or, rather, sparkling.