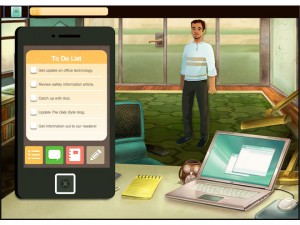 For the past year and a half I've been leading the team creating After the Storm, a new learning game here at Classroom, Inc. In After the Storm, middle school students take on the role of editor-in-chief of an online news magazine in a city that's just been hit by a major hurricane. I've blogged a lot here about the production process, from finding a developer, to user testing, to soliciting feedback, to getting the final game over the finish line.
Last week brought an exciting new development, as we launched a short, standalone version of the game, After the Storm: Day One on BrainPOP's GameUp. It's not an exaggeration to say this is a huge milestone for us, but, for those outside of the ed tech community, why this is such an important moment might need some explaining.
A Bit of Background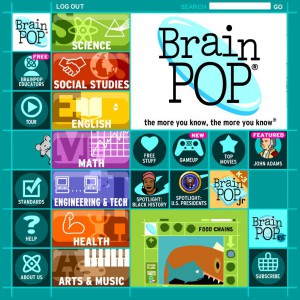 BrainPOP is a group of educational websites focused on supporting teachers that contains an enormous amount of resources and curriculum, including short animated movies, lesson plans, and an educational games portal, GameUp, which features free access to games across a wide variety of content areas.
BrainPOP is a dream partner – incredible to work with, deeply knowledgeable, widely respected, and full of incredibly pleasant human beings. But, beyond our own experience, there's good reason that anyone who's interested in learning games (or education in general) should be paying attention to what BrainPOP is doing and learning from its approach.
BrainPOP Makes It Easy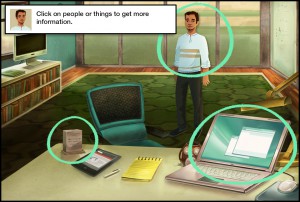 One of the great things about collaborating with BrainPOP on After the Storm: Day One has been getting the GameUp team's input on how the experience should best be shaped for users encountering it for the first time. The full version of After the Storm that we're using with our school partners is 20 hours worth of content – great for a semester in a classroom or in an afterschool program, but very different from what a casual user might expect to encounter.
For After the Storm: Day One, we created a shorter, 15 to 20 minute version of the game that serves as a great way to bring in new users and let people who are unfamiliar with what Classroom, Inc. does experience it for the first time (you, for instance – go play it, please!). To support this version, we made a brief animated introduction and some simple tutorial slides as well as supplementary teacher resources. These additional elements are a terrific "on ramp" to the game, and ones we might not have thought to create in another context. They've proven useful for a wide variety of first time users and have reminded me that sometimes a bit of thoughtful context can make a huge difference for the player.
BrainPOP Has the Trust of Its Audience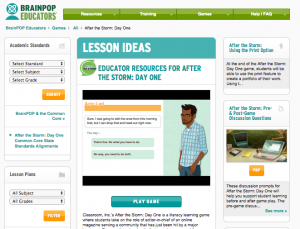 BrainPOP is used in over 20% of schools in the United States – not to mention many internationally – and that's not even counting the many parents, homeschoolers, and other individuals who sign up for their online resources or download their apps. As any kids content developer knows, you don't get to those kinds of numbers without having the trust of your audience.
BrainPOP has built a reputation for quality, thoughtfulness, and robust support for teachers, and a big part of that is consistently talking to their users and keeping their needs at the forefront. They are always asking the question, "What do our users need and what's the best way to provide that for them?" and it shows in the relationships they've built with the teacher community.
BrainPOP Curates Carefully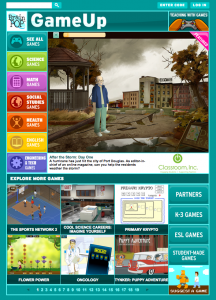 One of the most exciting things about having one of your games featured on GameUp is that it puts you in some pretty phenomenal company. BrainPOP curates their games very carefully and considers a wide range of factors, from a game's curricular value to the length of experience appropriate for classroom use, and thoughtfully pairs games with supplemental lessons and materials that allow teachers to quickly and easily integrate the games into their classrooms.
I am continually inspired and challenged by the other games that I find on GameUp and the impressive people who make them, from our own partners FableVision Studios and Filament Games, to iCivics, Electric Funstuff, Learning Games Network, Games Learning Society, and many more, not to mention the fabulous games that have been created in house by BrainPOP's own designers.
If you want a snapshot at where the educational games landscape is today, set aside an hour or three and play through some of my favorites:
Clearly, BrainPOP has been a terrific partner for Classroom Inc. in terms of getting our games in front of their vibrant and informed community of teachers, parents, and students. But for me, as a designer and developer of educational games, it's also been a wonderful place to go to see the work of my peers and heroes in the industry and to marvel at the depth and breadth of quality work being done in educational games. GameUp is a destination I visit to learn more about what I do on a regular basis, and, if you're interested in developing or designing games for kids, you should be playing there, too.