In an effort to make animation easier to create and more accessible to the masses, L.A.-based cross-platform content creator Fuel Entertainment (Chub City, Leafy Landings) is launching BrODDcast, a digital real-time puppetry and animation tool targeting YouTube creators and would-be entertainers.
Set to launch first as a mass consumer freemium app for iOS mobile devices, and then as a pro version app for more serious content creation, BrODDcast is the brainchild of Fuel CEO and founder Mike Burns.
"The idea initially came when I would watch my young kids put on plays and act out stories with me at home. I would always videotape them and share it with relatives online," says Burns. "Considering Fuel's diverse background on the agency side and our history in videogaming, I asked 'Why isn't anybody using the tools in the videogame industry to help make animation more accessible and easier to do?'"
Taking action a few years ago, Burns and his team began prototyping early versions of what would eventually become the BrODDcast puppetry tool. In its finished form, the app comes equipped with more than 25 pre-built and fully customizable puppets that have 400,000 feature combinations (body types, eyes, ears, noses, hair and accessories) and more than 15 equally customizable background sets, including a newsroom, castle, haunted house, doctor's office and press conference.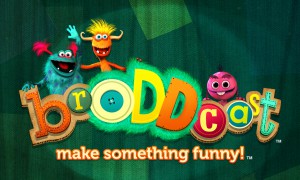 A key feature of BrODDcast is its proprietary voice-recognition technology that lets users make the puppet characters mimic the mouth movements of an actor in real time.
Two puppets can also be used at the same time, and characters can interact with real-life environments and people filmed with a mobile device camera. Original content from one-off sketches to full series with recurring characters can then be uploaded for sharing on YouTube and other social media platforms.
"It's an animation tool, but really it's a performance tool," says Burns. "It allows anybody to pick up a mobile device, use the app like they would any other game or touch interface, and perform with it."
"The use of real-time movement differentiates us. As much as Jib Jab has stolen the hearts of many and made what they do really fun, it's a different vertical. We want people, whether that's the public or select entertainers, to become show creators."
After demoing the app at YouTube Space L.A. for some top YouTube celebrities during last month's Streamy Awards, Burns says feedback has been exciting and partnerships are coming together.
"Fuel is already working with quite a few YouTubers. Every deal (revenue-share) is different, and each one depends on who the creator is, what the idea is, and what type of audience they may already have," says Burns.
"It also depends on the investment from our side and how much effort will we have to put into creating customized puppets and backgrounds. Some YouTubers are one-person shows with good ideas and an audience, but some need additional support, whether it's voice talent or a writer. So we help them. We are open to development partnerships."
Fuel expects the pro app version will be released sometime in the next six to eight months, and next up will be a variation of BrODDcast that works with different controller inputs (Wii, Xbox), as well as a gesture-recognition pro version in partnership with Intel and SoftKinetic from Brussels, Belgium.
"It's for pro creators, different MCNs and major IP owners. Long-term, it could be consumer-facing, but at the end of the day most consumers are using mobile devices, and touch is a very easy input," says Burns.
He adds that the consumer BrODDcast app has been submitted to Apple and will go live once Fuel finalizes some pending deals. "We've also been talking to a lot of major TV networks doing webisodes and interstitials who love the tool because they can output in HD if they want to."
Once the first app version launches, new updates will include an augmented reality camera, an upload-your-own-background option, interactive props and special effects.
In addition, a PrODDucer option will come out in spring 2015 that is an editing tool for seaming together multiple clips and adding other visual effects.
For anyone wanting a demo or more information, Fuel will be attending MIPCOM and can be reached through Daniel Schechter at daniel@fuelentertainment.com.