Matthew Warneford is the co-founder of Dubit, a children's entertainment developer and consultancy. Dubit's consulting, marketing, and digital services are used by some the biggest names in kids' entertainment, including PBS Kids, Disney, Cartoon Network, and Mind Candy. The company's digital team create iOS and Android apps, HTML5 games, and virtual reality experiences for kids. The consulting team delivers business strategies, future scoping, and market research services. Matthew writes about the design and development of digital experiences for children on Dubit's blog and tweets at @Dubit.
By Matthew Warneford
How does a game starring Kim Kardashian, one that many journalists are laughing at, stand to generate US$200 million by the end of the year? We have our own ideas and wrote a post for our own blog detailing some of the innovative (and not so innovative) reasons behind its success.
But we also wanted to get the opinions of the kids who play the game, so to complement our own analysis, we interviewed four Kim Kardashian: Hollywood fans to ask what got them playing the game, what they thought about it and whether they've spent any real money. The kids are Melaine and Amy, both 16 and from England, Remington (Remy), who's 13 and from America, and Lena who is 15 and lives in Norway. All the girls had been playing the game for between three and four weeks, and had different reasons for playing the hit game.
How did you hear about Kim Kardashian: Hollywood?
Melaine: My sister started playing and then I asked people on Twitter if I should play it and I gave it a shot.
Amy: It was trending on Twitter.
Remy: Twitter followers reposting or posting about the game, like memes or what they are on the famous scale [the game's scoreboard].
Lena: I was following an Instagram user while she told her followers about the game.
What do you like about the game?
Melaine: I love how you can fly to different places and that there are so many different things to do. I like the fact there is variety, for example the arguments with Willow Pape etc. I also love playing with friends.
Amy: I like the outfits on the game as they're similar to what the Kardashian's have worn in real life, or they're similar to what other celebrities have been spotted wearing. I also like that you have a 'rival' on the game, Willow Pape, as it makes you want to work harder on it and out-stage a virtual character because you want to be the higher, more professional person.
Remy: The fact Kim asks you to be a social climber and date anyone of any sex to become famous, like she kinda did.
Lena: I like the game because it's really girly, nice characters, the animations and I've always had a dream, and that is to go to LA and be famous!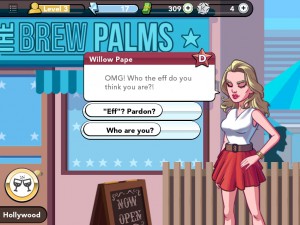 What don't you like?
Melaine: I don't like how expensive everything is, especially as energy runs out quick and you need stars to buy energy and they're too expensive. I also don't like that I don't have my own private jet! Oh, and the fact that one of the tasks 'go on three dates' doesn't work; I've been on a bunch and it doesn't even go up one! A lot of people have had this problem though.
Amy: I don't like how long it takes for your energy to increase as it takes a whole five minutes just for one bolt and this means you can't complete as many tasks during photo shoots/appearances as quickly as you'd like. I also don't like the fact that you have to use an extreme amount of K Coins [in-game hard currency] to just know somebody in the industry's name!
Remy: That I have to wait for energy, I have to spend my money on stars, and that I don't have a "make a sex tape to become famous" option [sarcasm].
Lena: I don't like it when it takes a long time to get more energy, and that I am totally addicted! The clothes are also very expensive.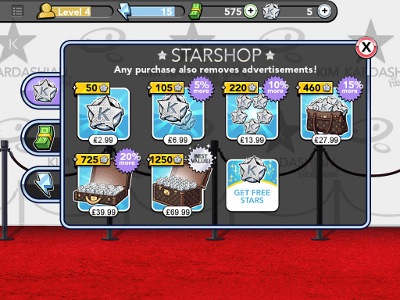 Have you spent any real money when playing the game?
Melaine: I've spent about £20 to £30 [US$32 to US$49]. It's on energy, mostly. I've also bought some clothes.
Amy: Nothing.
Remy: Nothing.
Lena:  I have never spent real money on the game, and I don't think that I am gonna do it either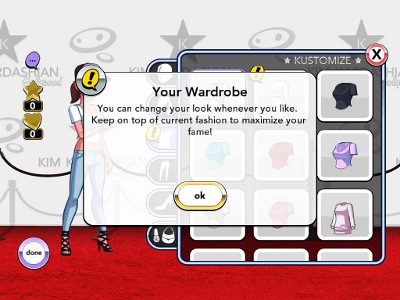 Is there anything else you'd like to say about it?
Melaine: I love the idea she has came up with because it's truly unique and props to her for going ahead with it!
Amy: The game really gives you an insight of how celebrities get to live as when you're doing an appearance you get paid for just holding a drink or something else which is mint!
Remy: When do I actually become famous off this game?
Lena: Sometimes, my friends want to watch me play because they think it is fun. I was never a huge fan of Kim, but I like her style and her clothes.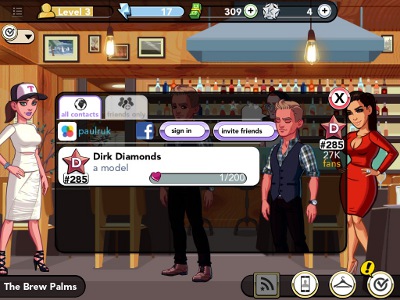 Remember, if you want to read the first part of this series head over to the Dubit blog.