Bringing its love of creative art to the world, Norwegian multiplatform production company Earthtree Media has sold its Learn to Draw Minis 2D-animated shorts to Canadian and European broadcasters.
The 104 x one-minute interstitial series has been picked up by TVOntario and Knowledge Network in Canada, as well as PopTV in the UK, SVT in Sweden and NRK in Norway.
Learn To Draw Minis, Earthtree's first fully animated TV production after the success of live-action shows' Learn To Draw, Box Yourself and Right on Top, stars popular cartoonist, painter, author and TV personality Øistein Kristiansen.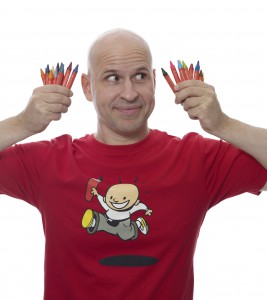 Each episode takes viewers through a step-by-step process of drawing a Kristiansen signature cartoon, which then becomes animated. Featured themes include pets, wild animals, dinosaurs, fantasy creatures, people and vehicles.
Earthtree also recently signed broadcasting deals with KBS in Korea, Al Jazeera's JCCTV and Sun TV Networks in India for its 32 x eight-minute, live-action/animated preschool series Learn To Draw and cardboard creativity program Box Yourself, both starring Kristiansen.
The launches will be supported in January 2015 by a range of books, consumer products and a live tour.
Kristiansen founded Earthtree in 1993, and the company has expanded beyond TV into apps, eBooks and live events that all promote art and creativity to kids and families.
To date, Learn To Draw, Box Yourself and Right on Top have aired in more than 80 countries.