David Michel, the former co-founder and GM of Marathon Media, has launched Cottonwood Media, a new indie production company focused on developing premium, scripted children's content for North American and European audiences across linear and non-linear platforms.
With offices in Paris and Los Angeles, the company has already secured deals to develop animated TV series based on two Random House Children's Books IPs, Ollie & Moon and Squish.
The former is an illustrated book series from US author/illustrator Diane Kredensor that blends real photographic backdrops with 2D designs and follows the globetrotting, comedic adventures of two feline best friends.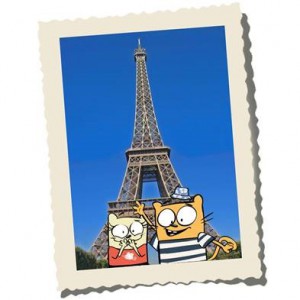 Cottonwood is adapting the IP with Kredensor's Tricycle Films into a 52 x 11-minute series for kids ages three to seven years old. Robert Vargas of Wonder Pets and Word World fame is executive producing.
And Squish is a comedic graphic novel series for six- to 11-year-olds written by bestselling children's author Jennifer Holm and creator Matthew Holm. It follows the life of a young Amoeba who must survive the cutthroat world of single cell organisms. More than a quarter of a million books have been sold to date.
Both projects will be headed to MIP Junior.
Michel announced his exit from Marathon in February after 15 years as managing director and producer at the company and Zodiak Kids.
During this time, Michel produced nine series and more than 500 episodes of animation, including the hit series Totally Spies! with co-creator Vincent Chalvon-Demersay.
His most recent Marathon production was Get Blake, which will launch this winter on Nick US.