By Dubit CEO Ian Douthwaite
This week's Apple Worldwide Developer Conference keynote focused on software and design, with a lot of attention paid to new and improved operation systems. But there were also some important developments for those working on kids apps and entertainment. Ian Douthwaite, CEO of UK-based development studio and youth agency Dubit, offers five key takeaways that will impact the children's mobile space.
Family Sharing: iOS8 will allow families to create family accounts linked together with the same credit card.  Users tied to the family account will be able to share purchased apps, photos, videos, calendars and reminders. So, if a child has a copy of Minecraft, the whole family can use the same copy, and the same applies to music and books. This could be great for families with more than one child, but it may drive even more developers to create free-to-play apps, as their revenue comes from in-app purchases (which can't be shared), rather than an initial single payment. At the moment, for example, a brother and sister wanting to play Minecraft on their iPhones would have to buy two copies. But iOS Family Sharing would mean the brother could share his sister's copy (half the revenue). However,  the revenue streams of free apps that make their money through in-app purchases (IAPs) would not be affected, as IAPs can't be shared, and it makes no difference how many players download the free app.
In-app purchasing permissions: This leads into changes to in-app purchases, which will soon require parental approval. Any App Store purchase made by a child (book, game, song IAPs, etc.)  will not be processed until their parent has confirmed it.  Fortunately, parents don't need to physically authorize these payments, as the notifications are sent to their phones. Although it may reduce the number of transactions, I think it's a good move to make parents more comfortable with the whole idea of IAPs.
App Store Changes: In November, Clumsy Ninja became the first game on the App Store to include a video in its promotional listings. Updates to the App Store announced at the WWDC will mean this is now available to all developers and gives publishers something else to consider in their app marketing plans. Another change includes the option to bundle apps together at a discounted price. This could help studios improve the discoverability of their lesser-known apps by bundling them in with the more popular games.
Apple takes aim at teen favorites: It could be argued that this year's WWDC was a bad sight for WhatsApp and Snapchat, with changes to iMessage putting pressure on both companies. WhatsApp CEO, Jan Koum even took to Twitter to slam Apple's lack of innovation.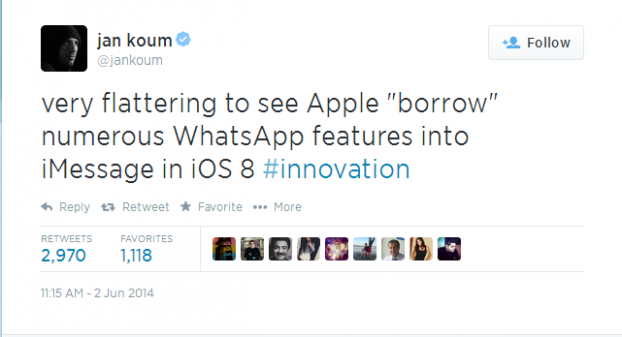 The changes mean that iOS users can now add audio and video to iMessages (like WhatsApp) and the sender can set those messages to self-destruct after a set time (like Snapchat). Time will tell whether or not teens abandon WhatsApp and Snapchat for iMessage, but this news undoubtedly ruffled a few feathers in Silicon Valley.
Swift thinking: One announcement that seemed to go under the radar was Apple's new programming language, Swift. Promised by CEO Tim Cook to be quicker and simpler than Objective C, he described it as "Objective C without the baggage of C." Cook promised Swift would make developing for Apple devices faster, giving teams more time to focus on creativity, with less time needed to be spent on code and QA. However there was no mention of it being licensed for non-Apple devices, meaning apps coded in Swift will not operate on Android phones.