By Guest Blogger Norman Stiles
According to current developmental neuroscience, approximately 85% of the structure of a child's brain, the foundation for all future learning, is built in the just the first three years of life.
In other words, 85% of the brain you're using at this moment was completed by the time you were three years old.
I assume that anyone reading this would agree that after an idea for a media project of any kind is born, its further development is dependent on collaborative efforts and contributions of people with different skill sets and assets.  And, the more respectful and trusting the relationships are between the members of the team, the higher the chances that the idea will realize its full potential.
Like an idea, a newborn child is filled with potential waiting to be developed.   But the outcome is totally dependent on the indispensible, respectful, trustworthy, and loving collaboration with parents and caregivers.   It sounds like a daunting challenge for anyone raising babies and toddlers, but it's not rocket science.
It's the little things they do in everyday situations and interactions with their little ones that build their young brains cell-by-cell and pathway-by-pathway and exponentially increase their child's chances of realizing their full potential.
I learned about all this from research my wife, Ellen, did.  She's a former teacher in a New York City Public elementary school and wanted to find out why some of her children arrived on the first day of kindergarten more socially, emotionally and cognitively ready for school.
Ellen began thinking about ways to get information to parents and caregivers about how to do all of those important little things with their babies and toddlers.   When one parent told her she'd gotten a little information from watching a few minutes of "The Supernanny," a light went on.
Short videos, like Sesame Street, that delivered real information and entertained at the same time!  She immediately turned for help to the former head writer of Sesame Street, who just happened to be sitting on the couch in her living room.  Me!
I had lots of many not very good ideas.  Then one day, BTPNN, the Baby & Toddler Parenthood News Network was conceived in a car going 70mph on the Massachusetts turnpike.
The following photo will give you a pretty good idea of the creative elements of the project, which is in the first stages of development.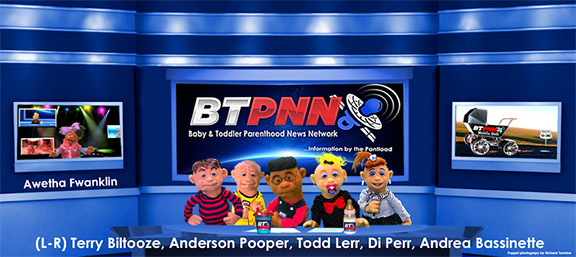 So, far, we've produced a video promo and a music video which you'll find, along with more information about the project, on our company's website, www.parentingsmarts.org. We'd welcome your comments and suggestions.
Ellen and I believe BTPNN can play a critical role in the effort to help parents and caregivers maximize their children's early learning and brain development, which James Heckman, Nobel Prize winning economist, and most professionals in the field have said urgently needs attention if we are going to solve the nation's education crisis.
For information about how you can support the development of BTPNN, go to: www.igg.me/at/btpnn,