Canada-based Corus Entertainment's YTV is set to bow Cook'd, a brand-new food competition show from Toronto's Temple Street Productions (The Next Step) that stars a panel of kid judges tasked with critiquing kid-friendly dishes from a range of adult cooking competitors.
In each episode of the series, which premieres on Tuesday, May 20 at 7 p.m. ET/PT, and is hosted by actor and comedian Dave Keystone (The Sheik), a trio of cooks from different backgrounds and with a wide range of culinary skills must win over the young food aficionados, who will ultimately crown one winner of the coveted Silver Spoon. The two unfortunate losers get the thrill of being dunked into a giant soup pot.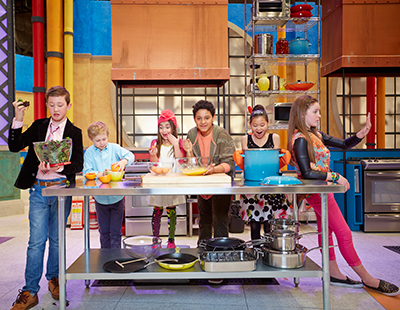 The first episode of Cook'd features three five-star celebrity chefs from Toronto—chef Jason Cox of Opus, Chef David Lee of Note Bene and Carbon Bar, and Chef Donna Dooher of Mildred's Temple Kitchen—who will prepare gourmet dishes ranging from chicken pot pie muffins to squid ink fettuccine for kid judges Michaela, Isiah, Hunter, Natasha, Ainsleigh and Rafferty. A new kid-centric cuisine theme is featured every week.
Each episode ends with a PSA encouraging viewers to support local food banks and Corus Feeds Kids, the company's national initiative focused on alleviating childhood hunger.