When I was in Tokyo recently, I had the good fortune of visiting one of my favorite animation studios in the world, Dwarf, and meeting its founder, Tsuneo Goda, who is best known for creating the character Domo.  Goda-san, as he is known, was busy working on a beautiful new project called "By Your Side" in collaboration with recording artist, Sadé.  This new film looks at the Great Eastern Japan Earthquake of 2011 and explores its impact on children through music and animation.  I sat down with Goda-san and asked him some questions about this new Dwarf initiative.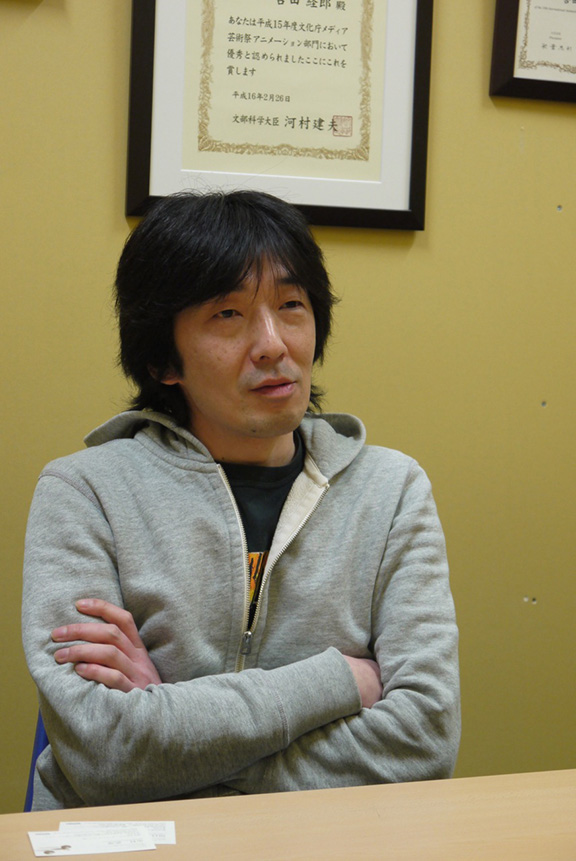 JOSH:  How did you first get involved with By Your Side?
GODA-SAN:  The filmmaker Gregory Rood from New Zealand approached me through a mutual acquaintance.  He asked me to help him with the project and the music.  I chose "By Your Side" because the title and the lyrics express what I feel about the people who were affected by the 2011 disaster.
"When you're on the outside baby and you can't get in
I will show you you're so much better than you know
When you're lost and you're alone and you can't get back again I will find you darling and I will bring you home
And if you want to cry
I am here to dry your eyes
And in no time
You'll be fine."    
- Sadé
JOSH:  What were some of the challenges of bringing Sadé's music to life with your images and animation?
GODA-SAN:  My first objective was to send the message that "We'll never forget" and to let the people around the world know what happened to us by sharing "By Your Side."  However, the disaster happened in Japan, meaning, very "close" to me.  That really made it difficult for me to know how to describe/express the disaster.  As you can see in the film, the characters drive the story, however the main character is the "PLACE."  So, the expression of the place, the wind and air (atmosphere) was also my challenge.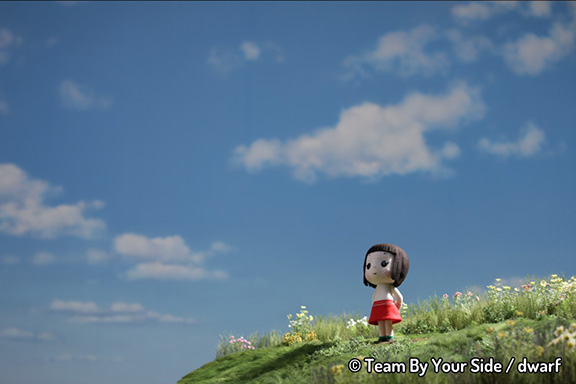 JOSH:  How was the film itself made?  Can you speak about your beautiful animation style?
GODA-SAN:  It was all stop-motion animation, which is my usual style.  It is not high-tech and advanced like CGI, but the advantage of my style is that, I believe, it will last for people to watch for a very long time.  For me, it pretty much matches the idea of "We'll never forget."  So, there was no doubt that I would go with stop-motion.  As you can imagine, stop-motion takes a long time and requires many crews to create the sets, props, puppets and more.  Luckily, many crew members were drawn to the project's concept and volunteered their time.  The film could not have been completed without their generous support.
JOSH:  On a personal level, how was this project different from all the other animated projects you have made?
GODA-SAN:  Very sadly, many people lost their lives during the disaster.  As I mentioned, I felt the vibe so close to me and I still do.  So, one big difference is that there is such a terrible reality on my shoulders to create something.  Another difference is obviously to face and to spontaneously describe a social issue, which is Nuclear Power.  There is still so much controversy about it, so this was very tough and difficult for me personally.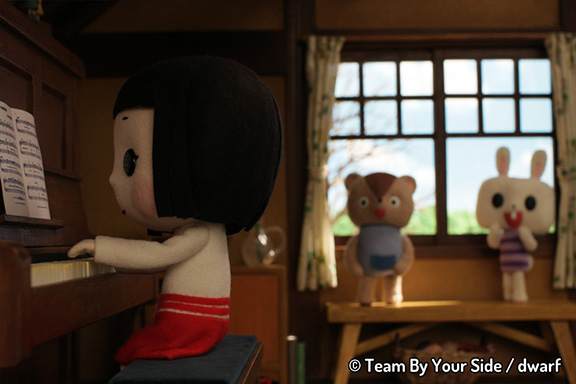 JOSH:  Where can Kidscreen readers see this film?
GODA-SAN:  "By Your Side" can be seen on the Zapuni site.
Also on Youtube.
And on Vimeo.
JOSH:  I understand that this project is part of a charitable effort called Zapuni and the "friends" of Zapuni include artists like Sadé, Ryuichi Sakamoto, David Byrne, Sigur Rós, UrumaDelvi, Gregory Rood, Seiji Nagai, David Hoppe, Roland Kelts and many more.  Can you describe what Zapuni does and how people outside of Japan can help with your charitable initiative?
GODA-SAN:  Zapuni is raising funds to help support music activities for the children who were affected by the disaster.  They need "restoration of mind (heart)."  We found out that El Sistema Japan does this for children through music activities, such as sending instruments and holding music lessons.  So, we decided to go with them.  I sincerely ask as many people as possible to share the project and to give generously to the charity.  Thank you.