By Melanie shreffler, Smarty Pants
With on-demand, streaming subscription sites and apps, kids can now find the shows they want whenever they want them. Couple that with the fact many kids prefer watching "TV" on tablets rather than on a traditional television set and it could spell trouble for the networks currently serving kids. According to recent research from Tennessee-based youth and family research firm Smarty Pants, services such as Netflix, YouTube and Hulu in the US are now competing on equal footing with kids television networks—and winning.
In the brand-new TV Network Report, Smarty Pants notes YouTube is the second-highest rated "network" in terms of Kidfinity™—a proprietary measure of kids' brand awareness, popularity and love for a brand—falling just behind Nickelodeon and surpassing Disney Channel. Meanwhile, Netflix is the second-fastest growing "network," and ranks just two Kidfinity points behind Cartoon Network.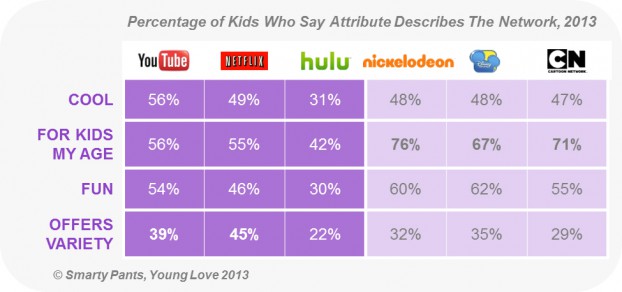 One reason these network alternatives are faring so well in the youth market is because kids see no difference between surfing channels on TV or surfing for content on a streaming site. As long as they find an entertaining show or video, they're happy.
Not only do streaming services deliver fun video content, kids also say they're easy to use, convenient, portable and always offer something new. And those are features with which established networks have yet to figure out how to compete. Although every network has a website and many have apps that allow for on-the-go viewing, according to new research, streaming services rate far more highly on these key drivers of Kidfinity.
Another major factor at play in kids' perceptions of their viewing options is that networks tend to limit the video content available on their websites and apps, while streaming services don't. In a world where access is no longer a barrier, it's content—the quality, amount and variety—that sets streaming services apart. From a kid's point of view, Netflix and YouTube are one-stop shops for all their video needs.
YouTube is often kids' first stop for streaming video. Kids have come to trust that they'll always find something fun and interesting – not only does it have cool and silly videos featuring kids just like them, it also has clips and episodes of their favorite shows and music videos from their favorite artists. The site holds endless possibilities because there is always something new to discover and explore.
YouTube is especially popular with older kids. As they enter their tween years and develop stronger personal interests, they want to explore those interests and broaden their worlds. YouTube offers the ideal venue. In their eyes, the site has a little bit of everything, from design ideas for their Rainbow Loom, to how-to sports videos for emerging atheletes. It even offers homework help. Of equal importance to tweens, who are just beginning to deal with social pressures, it provides the opportunity to discover the next hot video and be the first to tell their friends about it.
As with Netflix, YouTube's longish history adds to its awareness among kids and moms, but it's had to repair its reputation to win over families. Moms might have once been concerned about what their children would find on YouTube. However, they have stopped worrying and come to realize the site's value as an educational and inspirational tool for their children. In fact, YouTube has been growing rapidly in Momfinity, rising nearly 100 points to become moms' second-favorite video brand. The number of moms who let their kids access YouTube has more than doubled in the past four years.
Netflix, meanwhile, sates kids' desires for instant access to the programs they want to watch. The once movie-based service has gathered a broad range of kids programming, including content from Disney Channel and Cartoon Network, as well as niche shows and original series, all in one place that's easily accessible. In short, kids know they can always find shows they like.
Netflix draws in viewers through deals with networks for well-known shows, but once in the door,  kid viewers are delighted to discover a wealth of content. Nearly half of kids (45%) say the brand offers "great variety and choice" and the same proportion says it "always has new things," far surpassing linear networks on both counts.
Netflix's Kidfinity is particularly strong with young kids six to eight. At that age, kids are less concerned about having the latest episode of shows—a common complaint among adult Netflix users. They're content knowing they can always find a few episodes of their favorite shows to watch (over and over again). Moreover, they can tell that Netflix cares about them because it offers the Just For Kids section. There they can control their own viewing—a key selling point for this demo, which is delighted with each step it takes toward independence.
Netflix's other key advantage is that it's the longest-running network alternative. Not only did Netflix infiltrate family viewing in the late '90s with its DVD service, its "Watch Instantly" service launched way back in 1999. Through free trials, advertising and pre-loaded app deals, Netflix's awareness among US moms (94%) and kids (84%) is as strong as that of the major networks. In addition, moms are familiar and comfortable with the service and what it offers, because they are users themselves. They feel confident allowing their children to peruse Netflix regularly, knowing they won't be barraged by ads or accidentally incur extra charges.
Of course, not all streaming services are created equal. While Hulu has steadily grown in popularity among adults, it has yet to crack the kids market. It treats kids as a secondary audience while concentrating on pleasing older viewers. Hulu's primary selling point—that it offers the latest episodes of shows before other streaming services—doesn't resonate with kids, whose favorite TV shows rarely end with cliff hangers or suspense. An episode they've seen 100 times is as satisfying to watch as the most recent one.
Still, Hulu has a growing devoted children's section as part of its Hulu Plus service, but it pales in comparison to Netflix. It's lacking the key ingredient for success—the shows kids want to watch. Until it expands its offerings, it will continue to be a distant third to YouTube and Netflix, and not much of a threat to linear networks.
Hulu's main appeal is with moms, who have significantly greater awareness and affinity for the service than do their children. But that could all change. As with Netflix, moms are becoming more comfortable and familiar with the service and could pass their affinity on to their children—if Hulu is able to expand its kids programming.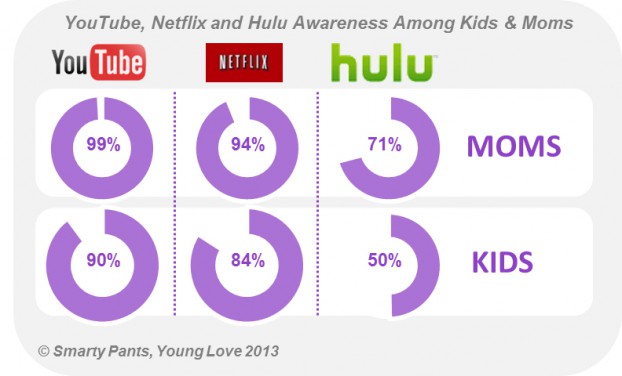 YouTube, Netflix and to a lesser extent Hulu, have become part of families' routines. In the car, at grandma's house, in the grocery checkout line, at bedtime, streaming video services fit parents' and kids' always-on lifestyles.
They delight the whole family for a variety of reasons, whether it be bringing the group together to enjoy a movie night with Netflix, or solving a homework problem together with a little help from YouTube.
The success of streaming services is bittersweet news for traditional networks. Streaming sites and apps can be strong distribution partners, but they are also stealing viewers' time and brand affinity. Streaming services may owe their popularity in part to traditional TV networks as content partners, but it's their ability to meet the lifestyle needs of kids and families that has allowed them to compete directly with networks.
Where streaming services lag—and kidnets have an opportunity to gain some more ground—is that they're not specifically made with kids in mind. Netflix, Hulu and YouTube all launched as services marketed to adults and rank far lower than traditional kids networks in being "for kids my age," which correlates strongly to kids' brand affinity. Streaming services also lag behind the Big Three networks—Nickelodeon, Disney Channel and Cartoon Network—in the fun factor, another primary predictor for entertainment brands.
Streaming services may have found a formula for pleasing kids—giving them what they want to watch, when they want to watch, and on the devices they want to watch—but they haven't cornered the market.
The TV Network Report is based on findings from Smarty Pants' annual Young Love® study. This ground-breaking study—now in its fifth year—identifies the brands that capture kids' and moms' hearts, time, viewing and purchase power. The 2013 edition surveyed more than 6,700 US kids ages six to 12 and their parents, evaluating more than 250 brands across 20 categories. The full TV Network Report and Young Love study are available from Tennessee-based youth and family research firm Smarty Pants (asksmartypants.com).   
This article first appeared in the February/March 2014 issue of Kidscreen magazine.