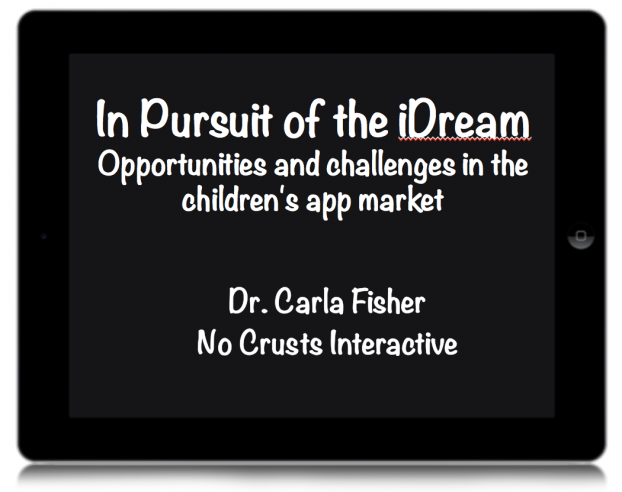 Dr. Carla Fisher is game designer and digital strategist with fingerprints on more than 300 games for kids and families. She continues her musings outside this blog via a free weekly newsletter (sign up here) that curates articles, videos, and games that catch her eye.
I just presented "Living the iDream: Opportunities and Challenges in the Children's App Market" at the Kidscreen iKids event. I've embedded the slides at the bottom of this post for those who are interested as well as an overview of the talk.
I'm a frequent contributor to the materials available on how to create great digital products for kids, but sometimes I worry that I send the message of "Everything's fine! C'mon in and join the fun!" In reality, we're living in one of the toughests markets ever. The Apple App Store alone has more than 1 million apps, and at least 10% of those are labeled for kids or educational. That doesn't even begin to take into account all the content available on Web sites, on video game consoles, or in other app stores.
A few weeks ago, I wrote a post called "Nine Essentials for Surviving the App Apocalypse." While it was a bit tongue in cheek, the post represents my efforts to make sure that I'm conveying both the good and the bad sides to developing digital goods, especially apps, for kids. I'm continuing that with this presentation, in which I share three major challenges for app developers and ways to approach those issues.
Challenge #1: Differentiation
How will you differentiate your product? When approaching developing for kids, there are a number of topics that are obvious choices — letters, numbers, colors, animal sounds, transportation, etc. There are also a number of interaction mechanics that are easy choices — memory, matching, coloring, puzzles. But the problem is that everyone tackles these. So if you go after this as well, you'll be competing not only with thousands of others but you'll be competing with the best brands. Do you really have what it takes to compete with them?
To succeed, you need to stand out from the crowd by differentiating your product. How do you do this?
You might choose to do one thing really, really well. Letter School, Oh No Fractions, Dinorama, DragonBox Alegbra, and Jack and the Beanstalk by Nosy Crow all embody this value. They are focused on being the best experience for teaching letters, fractions, alegbra, etc. They don't water down the product with lots of different features.
Others augment common childhood activities with technology. Big Bird's Words and Little Zebra Shopper help kids find words and enables pretend play with the device camera and augmented reality. Foldify allows the family to create things digitally, then print it out and create physical objects to play with. Storybots uses the camera and photo library to put the readers into the stories.
An app might solve a problem. FirstVideo helps parents filter YouTube and create child-friendly playlists. Monster Meter helps parents demonstrate that the room is free of monsters.
If your product is using a common mechanic or topic and competing with others, then it should add a new spin to that familiar interaction. Tiny Terrors at Christmas and Chicken Cha Cha Cha are great examples of evolving the common memory game.
Or your app might make a casual or adult gaming mechanic child-friendly, which is something I talk about frequently, including in a previous Inappropriate Inspirations post. Point and click adventures, such as Myst, can be made child-friendly as in Mystery Lighthouse or Mystery Math Museum. I took a try at making the endless runner mechanic ( as seen in Canabalt) education-friendly with Stride & Prejudice. Hidden object games (or HOGs) are really popular for adults and children, including Where's Waldo, I Spy, Little Things Forever, Highlights My First Hidden Pictures, and Look and Find Elmo.
Another trend in casual games is to be stupidly difficult to play, but not so difficult as to be impossible, such as Super Hexagon and Hardest Game Ever 2.
These games often add irreverence to stand out as well, such as Dumb Ways to Die, Hipster's ABC, and My Little AlphaButts.
In summary, differentiation is a process of exhaustive market research to identify the trends and opportunities followed by impeccable execution.
Challenge #2: Discovery
How will people find your product? Developers cannot rely soley on being featured by Apple or reviews in Common Sense Media, Apps Playground, etc.
Several studies demonstrate that parents and kids still largely find out about new products via word of mouth (see the Cooney Center Learning at Home study for the most recent intel). Additionally, family and parenting content is one of the most commonly shared categories on the iPhone and iPad (via ShareThis).
It's critical that your product have content that is mobile-friendly and shareable. If you're creating an app, this means that you also have to think carefully about your Web site.
Additionally, people share content that triggers emotions, particularly interest, amusement, and surprise. I've talked about this as part of marketing strategies.
So to help address discovery problems, an app developer must work connections for press and featuring as well as create mobile content that is sharable. The content should be designed to trigger emotions, especially amusement, interest, or surprise.
Challenge #3: Success Metrics
How will you make money is not the right question to ask here but rather how will you define success?
Your success metrics may be any number of things, including revenue, downloads, daily or monthly average users, time on task, email sign ups, user ratings, press stories, Facebook likes or tweets.
I generally advise to pick one or two metrics to focus on. You can certainly track more than that, but to focus on anything more may split your attention too much.
Then give your metrics plenty of time to grow. You've probably heard variations on the sayings that once a product launches, the real work begins. If you look at App Annie rankings for products, you'll see a wide range of performance once a product launches. Some perform well for a period of time before dropping off. Others never sell enough copies to show up in the rankings at all.
Developers sometimes focus solely on launch and forget about all the work that happens after launch. You need to remember that it's a long road, even once you launch, where success is not guaranteed.
Once you give yourself an appropriate length of time to build success, you also have to work methodically toward increasing those one or two key metrics. Set a goal, such as to increase each metric by 10% a week.
This brings up the idea of growth hacking, which is a buzz word of lately in Silicon Valley. Growth Hackers pick 1 or 2 metrics, set goals, and then experiment quantitatively to grow those metrics. Many use A/B testing to work through these experiments. Two great resources for A/B testing are Smashing Magazine: Ultimate Guide to A/B Testing and QuickSprout: Definitive Guide to Growth Hacking.
Growth hacking is often implemented by someone with engineering skills, but it can be done with a team as well. The goal, however, is not to get bogged down in philosophical discussions but rather to get experiments out into the world and let the numbers (and customers) decide the best path.
So for defining and achieving your success metrics, it's important to focus on a small number of goals, set appropriate timelines and goals, and then hack your way to success with measurable experiments.
The end. Thanks to those of you who were there in person! If you have questions, feel free to email me at KidsGotGame@NoCrusts.com.
[slideshare id=31038834&doc=idreamslideshare-140210101034-phpapp02]