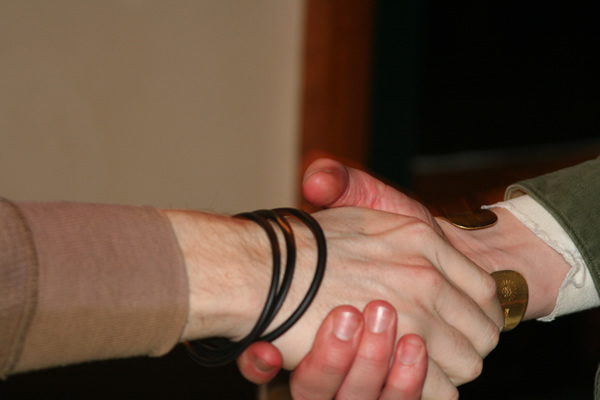 Around this time last year, we posted 16 pick up lines tailored to the hobnobbing and schmoozing of Kidscreen Summit and iKids. As we said last year…
"It's almost here. That back-to-high-school feeling. You stand in a crowded Hilton ballroom, awkwardly pulling on your name badge, wishing you could gin up your courage and go chat up that broadcaster/show creator/media mogul/transmedia maven you've been dreaming about. But how do you tell them how you really feel?"
Now we're back with 15 more ways to break the ice for your 2014 Kidscreen Summit adventures. Warning: use these carefully, with confidence, and a tiny hint of irony for best success!
"Do you have the time?" [Person gives you the time…] "No, I mean the time to check out my pilot?"
"Well, here I am with my product demo. What are your other two wishes?"
"My work is like a dictionary. It adds meaning (to your television line up)."
"Life without [insert company/show/game/idea here] would be like a broken pencil… pointless."
"If I could rearrange the alphabet, I'd put U and I together in an international distribution deal."
"You must be in the wrong place. The Emmy award winners all hang out over by the Power Rangers banner!"
"If I told you I had a killer app, would you hold it against me?"
"I can haz meeting with you?"
"If I had a nickel for every time someone loved my idea, I'd be Nickelodeon."
"I don't know how to put this, but I'm kind of a big deal." (Thanks, Will Ferrell in Anchorman!)
You: [mumbling] "Disney is causing me so much pain!"
Them: "What did you say?"
You: "Huh? Oh, I said this knee is causing me so much pain!" [Rub your knee]
"Don't have an app for that? I can make you one!"
"Animate around here often?"
[As someone is walking away from you]
You: "Excuse me, you dropped something!"
Them: "What?"
You: "This!" [Hands over business card]
"Congratulations! You're the next contestant in buy my brilliant idea!"
Say hi if you see us around Kidscreen. (Bonus points if you pull off one of the pick-up lines on us!) Carla is presenting on opportunities and challenges in the digital market during iKids.
If you're not already on the list, signup to receive industry news and resources via the No Crusts Interactive newsletter and curated games, articles, and videos for parents via A Gamer's Guide to Parenting newsletter. For more information, visit No Crusts Interactive, email KidsGotGame@NoCrusts.com, or follow @NoCrusts on Twitter.
Image © Beneath_B1ue_Skies