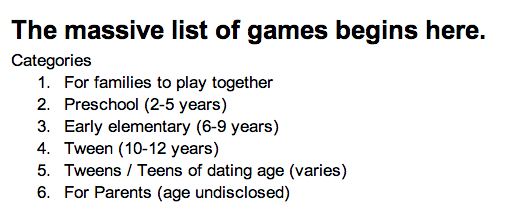 Dr. Carla Fisher is a game designer and digital strategist with fingerprints on more than 300 games for kids and families. She continues her musings outside this blog via a free weekly newsletter (sign up here) that curates articles, videos, and games that catch her eye. She can be reached at KidsGotGame@NoCrusts.com or @NoCrusts.
On Wednesday (November 20, 2013) I launched an experiment. I posted a list of 112 of my favorite kid and family games to a public Google doc. Anyone and everyone has the ability to edit it.
Anyone.
The doc is still posted and still publicly available for editing at http://bit.ly/1fHpSYv. So have at it!
My original document was divided into sections by age (family, preschool, early elementary, tween, and parents). Games within each section were listed with the platform, price, and a link.)
Why would I do this?
A lot of people ask me for the games I recommend. It was time I wrote down the list.
You might have noticed that I like experiments, like my recent review of 960 new apps in the App Store.
I'm growing my email list for the curation service that I'm beta testing and figured this would be a good experiment for finding new games and perhaps growing the email list. You, too, can sign up at http://eepurl.com/HQrEz
I was fascinated by the Startup School notes experiment, where people contributed to a public document detailing a set of lectures.
But really, it comes down to the thing I've been talking about regularly — cracking the discovery problem. There are now 105,781 apps in the Apple Education Store alone, up from around 102,000 on Nov 4 (148apps.biz). On top of intense competition, a number of user acquisition channels are not available to kids developers, like ad networks, because of privacy laws and ethics of marketing to children. Yes, we have tools like Parents' Choice and Common Sense Media, but additional channels are needed for developers to reach their audience and for parents/teachers/kids to find products. Could something like this document help?
How did I spread the word?
Unlike my press push for Stride & Prejudice, I didn't blitz as much. I posted to Facebook and Twitter. And I posted to a handful of email lists or Facebook groups that I thought would find it interesting. Then I emailed friends who I thought you find it amusing or interesting.
What happened?
We regularly had around 50 concurrent viewers. It would then drop to 20 or so and then grow again to 50. This happened repeatedly. But unfortunately, there was no easy way to track how many unique visitors the doc had.
I received a lot of positive feedback from friends and strangers via email, Twitter, and Facebook. I also received a lot of push-back. More on that in a moment.
Within the first hour, only 3 additional games had been added to the first 112, all in the preschool category. By hour 4, it was at 138 games. Most of the additions were as new topics/sections, including math games and relationship games for teens.
It took about 30 minutes for someone to make a rather significant cut and paste error. Typos and wonky formatting happened frequently once the doc started to gain a little traction.
Within the first hour, a table of contents was added with links to each of the sections.
I originally wrote "The big a$$ list of games begins here." At some point, it was changed to "The massive list of games begins here."
Some people put their games at the top of the various lists.
Some people added images to the list. Others added fairly lengthy descriptions.
People added Android games. (It started as iOS only.)
What didn't happen?
A developer didn't replace all the entire list with their game(s)
No one deleted the document or anything else incredibly jerkish.
What did I learn?
1% of the population are curators and the other 99% are consumers.
I've previously railed on Google docs, but collaboration is one place where it truly shines. I'm hooked on publicly posting docs.
But I'm not sure the rest of the world is ready for publicly editing. People didn't edit/add/contribute as much as I thought they would. Several people commented to me that Game X was missing. They didn't add it themselves. I've heard it said that 1% of the population are curators and the rest are consumers. Perhaps that's what happened here.
Or perhaps I could've sold the value of the list better.
I received a fair amount of feedback, via email, Facebook, Twitter, or in the comments in the document from both friends and strangers. Parents loved the idea of it but were a bit overwhelmed by the text format. Game developers in the kids market who do not have a significant mailing list loved the idea of it. Game developers from outside the kids market were skeptical, particularly because there was no clear path to more users. And despite my expectations, the list didn't really grow that large. It started with 112 and is currently sitting around 175.
I'd argue that it was low cost to participate, so it's not the worst experiment to try out. My original value proposition would've been in the list itself. I thought it could potentially be a tool for parents.
My revised value proposition is that the list is a tool for me as a curator of content to find other great games that I wouldn't have otherwise found. So by participating in the list, a developer is upping their chances of being featured in my own (or someone else's) recommendation site for parents.
However, whether that's a useful value or a financially rewarding opportunity remains to be seen.
You're doing it wrong!
The great thing is that anyone can edit it. But the bad thing is that anyone can edit. I had to remind myself that this was an experiment. It was my turn to be zen and simply let go, even if someone added games without links or in a different format. It's all part of the experiment.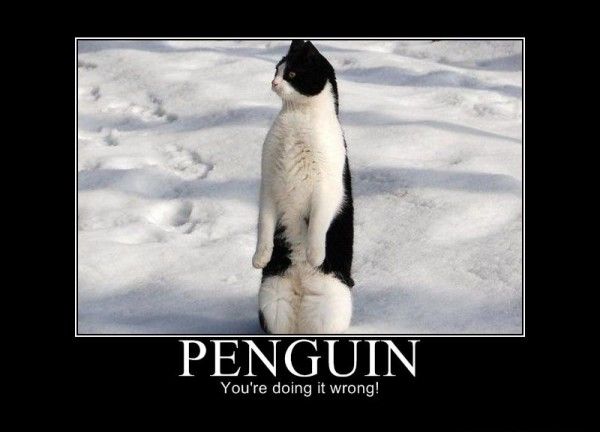 It's all anonymous, which means there's a high risk that the list turns spammy.
The list was truly public, so it would only ever be as good as the people who choose to participate, which goes back to my ability to sell the value of the list. What is participating going to do for you?
Quality, not volume, matters most.
The value of curation services is in the voice or the filter that the team uses to select content, not in the sheer depth of content. Sure, it's great to have a giant list, but if that list isn't a valuable contribution, it's just more noise.
It's all text.
Not that I'm looking for more reasons to endorse Buzzfeed, but listicles are a very clear and readable format when done well. As are infographics. Once again proving that a picture is worth a thousand words.
It's not over yet…
The list is still posted and available for editing. So I'll continue to monitor it and see what happens. At some point, maybe in a month or so, I may make it read-only and archive the experiment. But for now, I'm still curious to see what will happen to the list! If you're so inspired, start editing… http://bit.ly/1fHpSYv
Would I do it again?
I'll happily continue to find things that can be publicly shared. Perhaps a competitive analysis document, game design document, or another tool that we use frequently. Or we can make a collaborative set of notes at iKids!
As for a giant list for parents, I'm not sure I'd do that again. If I did try to collect a list from anyone again, a friend suggested a spreadsheet with an accompanying submission form. That way the design and readability of the list is carefully managed by the document owner and new content is added in a predictable and readable way.
But the feedback, both in the numbers and behaviors of people I directly observed opening and/or editing the doc as well as the qualitative intel I received via email and in comments, indicates that developers are looking for channels to reach audiences and parents are still looking for resources.
Was this the most successful experiment ever? Nope, but I learned a little bit more about discovery, most importantly that the voice of the curator is critical to the list being trustworthy.
You can always reach us at kidsGotGame@noCrusts.com. And, of course, you can show your love for Stride & Prejudice and Williamspurrrrg: A Game of Cat and Mustache.