According to youth-focused consumer insights company Intelligence Group, tweens prefer to own products like apps or online games that are customized and are used to access content in many different ways. And Boston, Massachusetts-based CloudKid is betting that its new self-funded multiplatform, customizable take on sci-fi storytelling, dubbed OZMAT, will meet tweens exactly where they're at.
OZMAT marks the first IP the company has created for an older kids audience, after successfully producing PBS Kids' first web-only transmedia series Fizzy's Lunch Lab and working with the likes of Sesame Workshop, Fred Rogers, Scholastic and Hasbro over the past few years.
Bowing on October 23 as a free, completely self-funded, live-action/animated interactive web experience for tweens, OZMAT follows the mysterious and humorous story of a government researcher who works at a top-secret agency. The multifaceted narrative geared to boys, but with broad appeal, kicks off when the Department of Defense demands that the story's protagonist submit his research findings over the course of 30 days.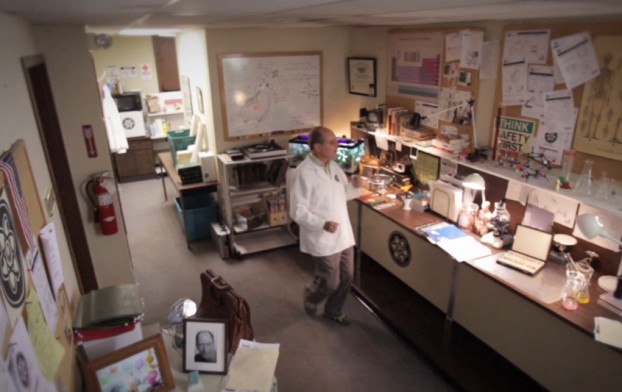 In turn, CloudKid will roll out more than 100 pieces of short-form content over that month in the form of daily reports. The content will include live-action and animated video logs, audio clips, creature tests, photos and documents that tweens can seamlessly move between and access on the web and via smart phones and tablets.
"Each piece of media is connected and helps tell a larger story that will end in a big cliffhanger," says CloudKid's co-founder and creative director Dave Schlafman.
To create pre-launch buzz, CloudKid began leaking content for the IP a week ago with a teaser trailer and longer YouTube video that delves into the back story of OZMAT.
Schlafman, and senior producer Allison Johnson, say some of the inspiration for the laboratory/sci-fi tone of the series comes from their love of shows like Lost and The X-Files.
"With Fizzy we got to take some risks in how we could tell a story in that we produced approximately 100 one- to five-minute animations, as well as recipes and interactive games," says Johnson. "But with OZMAT, we wanted to create something unique that would allow tweens, teens, and even young adults in their twenties, to experience a story in a way that they haven't before."
Johnson notes that the passion project, a year in the making, enabled CloudKid to accomplish a variety of new goals.
"We wanted to incorporate mixed media, so we experimented with an animation style in a 3D-rendered space with 2D characters that we brought into After Effects. We had also never done live-action before," she says. "We will likely continue to do work for educational platforms, but OZMAT broadens the scope of what we can offer."
An additional highlight of the new IP is its unique content that will be released via a fictional teenage conspiracy theorist who runs a social media campaign across Facebook, Twitter and Instagram called Save OZMAT.
Schlafman says the biggest challenge of the series will be getting people to see it because of the amount of content available to kids today.
"Three years ago launching something like this would have been a lot easier. But we're telling a unique story and taking it to places most aren't willing to go because they don't know how to monetize it. We have no monetization model, so the beauty of OZMAT is the fact that it's risky," he says.
"If we feel like we can build a big enough community, we will want to continue to tell different stories within OZMAT."
Johnson adds that CloudKid is open to potential collaborations if the IP gains traction. "It would be icing on the cake if we find a partner who wants to help fund additional content or do a spin-off."