Keeping track of productions – and keeping all of the team members and stakeholders on track – is not for the faint of heart. With games more so than television, the production team is frequently working in different locations, so having lines of communication constantly open and ways for all of the members of the group to access current information are key to making things run smoothly. When it comes to doing this, online and app-based production tools often turn out to be my best friends.
The following are just a few of the tools I've been using recently, and though I'm leaning on them primarily for game development purposes, many of them could be used regardless of the industry you're in or the type of project you're getting underway.
1. Trello
What it does: Trello is a to-do list system that allows you to create a card for each task on your list and post it on what's essentially a virtual corkboard. These cards can then be assigned to different team members, reordered according to priority, and archived when you're done with the tasks so they're still available for future reference. On each card, you can add checklists of sub-tasks, link out to documents including Google Docs and PDFs, attach photos, and assign a due date, among other features. You can also create multiple boards and open them to different team members, so you can keep each person focused on only the items that apply to them.
Pros: Trello is very user-friendly and easy to understand even for those with limited tech-savvy. It performs a lot of essential functions and helps stakeholders see the whole project at a glance. It runs online and through a very seamless mobile app. And it's free!
Cons: Trello's not where I'd want to keep a full production calendar, and you'll still need a separate tool to manage content and more moment-to-moment communications. Also, it's almost too nice – if you're not diligent about managing your cards (or if you don't have an on-top-of-it producer running the board), cards can linger untouched for weeks, looking at you sadly like a load of unfolded laundry every time you log back in.
2. HipChat
What it does: HipChat is a fairly straightforward IM program. It functions much like Skype or Google Hangout, but has some nice specialized features. In additional to traditional one-to-one messages, you can create persistent boards for different projects to keep track of ongoing conversations with multiple team members (for instance, the curriculum team or programmers can have their own board). You can also tag members as you write so they know you've mentioned them, share files by drag and drop, and easily access your chat history.
Pros: HipChat is both user-friendly and integrates with some of the more hard-core production tools like JIRA (which is great for tracking bugs) and BitBucket (a tool for code repositories), pushing alerts when team members perform tasks that you should know about across programs. It has a good mobile app as well, so it can follow you wherever you are.
Cons: HipChat doesn't have video chat or screen sharing — yet — so it's best for teams that are co-located or have other ways of seeing each other's work.
3. Basecamp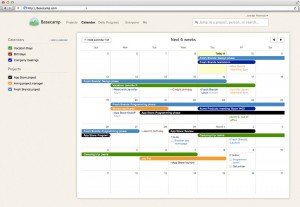 What it does: Basecamp is a core project management tool – it keeps track of schedules, general to-do lists, key files, and keeps a timeline of what's happened when and who's doing what on a project. It also emails you a recap daily of everything that happened on Basecamp that day. I have had a bit of a love-hate relationship with Basecamp in the past, but I'm starting a new project and ready to give it another try based on the recommendation of some collaborators who love it as it minimizes the need for a ton of emails going back and forth between team members.
Pros: Basecamp is a good place to keep the day-to-day overview of a project. Its calendar is elegant and easy-to-use, and if you have a fairly small team it's easy to keep track of who's done what when and see the current status of things at a glance.
Cons: The reason for the "hate" part of the aforementioned love-hate relationship is that Basecamp isn't great for housing lots of documents or keeping version control intact. It's simply not built for this, and the "everything in one place" filing system isn't practical for those of us who generate tons of virtual paper. Which is why I use Google Drive.
4. Google Drive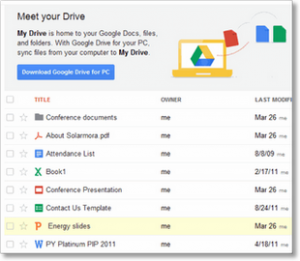 What it does: You're probably already familiar with this tool, but this is essentially a document filing system, housed in the Cloud and accessible to collaborators as you see fit. We've talked a lot about Google Docs in the past, so I'll keep this brief, but it's the best tool I've found to create documents that I can access anywhere, and to collaborate in real time (or not) with fellow writers. I use it so much that my iPad is now my primary travelling "laptop" – I only need to open Microsoft Word maybe once or twice a week these days.
Pros: This is the best tool I've found for collaborating with fellow writers. The ability to comment on each other's work and see past changes is key. It's also got a nice, nested filing system that allows you to keep track of a wide range of documents, and as I mentioned, it's super convenient to be able to access my work files anytime from any device.
Cons: It doesn't play nicely with Microsoft Word so, if you need to output to another program at the end, formatting can be a headache. And the app is infuriating — it's missing a lot of the key Google Drive features like commenting (and seeing comments) that you need when working with a group.
5. WorkFlowy

What it does: WorkFlowy is as simple as it gets, a web-based bulleted to-do list. It has a completely straightforward interface that allows you to create items and sub-bullets that works just like any word processing program, but you can mark tasks as complete and choose to make them disappear when you do so, or remain visible with a line through them.
Pros: For all of the sophistication and complexity of the other tools mentioned above, sometimes I just need a simple to-do list for myself that I don't share with anyone else. I want one page where I can go to remember who I have to email about the production schedule and what groceries I need to pick up on the way home. I like that it gives me the flexibility to create the kinds of categorization I need so I'm only looking at the part of the list that matters to me at any time.
Cons: It's pretty simple and unsophisticated at a glance, but when it comes to WorkFlowy, I don't have many complaints.
So those are just a few of the programs I've found to help me manage the always creeping chaos of production. Got some tools you think we could use? Drop us an email at KidsGotGame@NoCrusts.com, follow us @NoCrusts on Twitter, or sign-up to receive email updates.
Photo ©londoncyclist