Porter is an airline that uses a lounge with free Wi-Fi, unlimited shortbread cookies and a cappuccino machine to take your mind off the fact your flight is always two hours late.  And it works.  I am very loyal to this airline but sometimes I think I could jog to New York faster than Porter can get me there.  And I cannot jog very fast.

I came to Toronto for INplay, a conference dedicated to "Exploring the art and business of kids interactive."  Notice that they didn't say "kids interactive TV" or "kids interactive media."  Just "kids interactive."  For me, this illustrates the quandary of the entire kids' space at the moment:  It's changing so fast that it no longer has a name.
Among the many highlights of my time at INplay was running into David Kleeman who manages to attend everything and has the tweets to prove it.  David was sporting a handsome new spring look and he agreed to pose for a blog picture.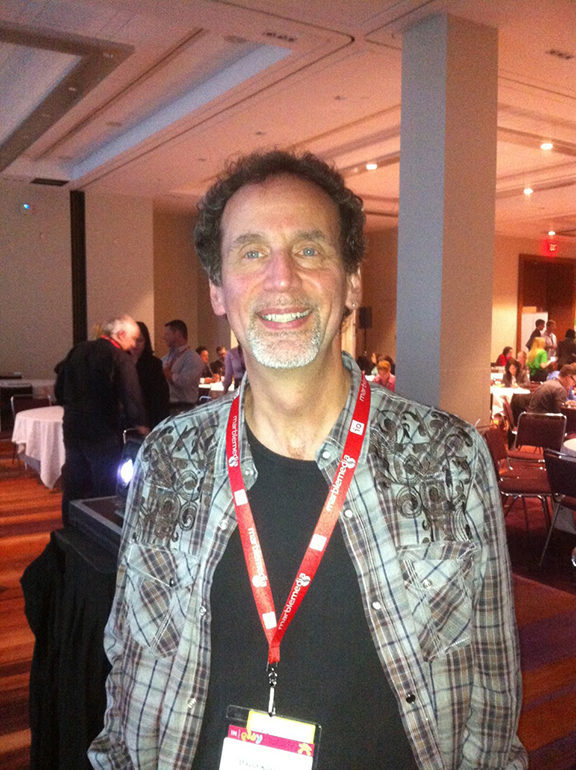 I also ran into Steve Borne, who's something of a local celeb on the New York City music scene.  Steve and his wife, Katie O'Sullivan, are indie kids' musicians who perform as Princess Katie & Racer Steve.  They were in Toronto pitching their first original preschool series, Tiny Cool, and I thought their bible was super cute.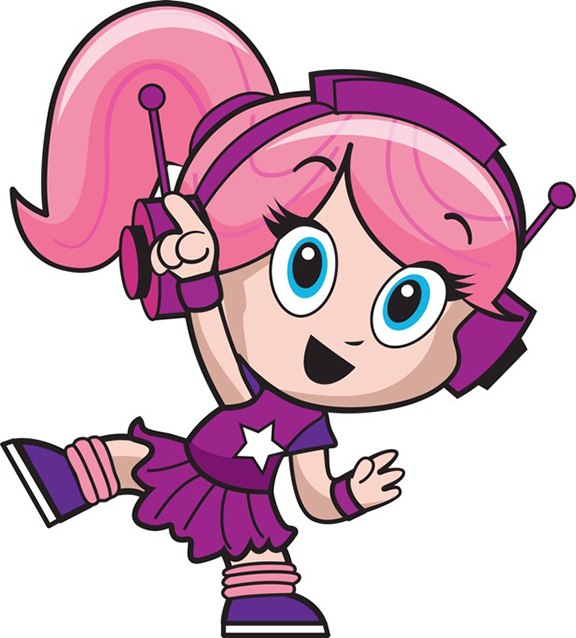 In-between sessions and lunch buffets at INplay, I made the rounds to a few of my favorite animation studios in Toronto to take the local temperature.  Below, in no particular order, are a few of the things I learned in my travels:
1)  When it comes to the ever-evolving world of kids' media, Canadians are just as confused as Americans.  The tools for connecting audiences to content are changing daily and everyone is scrambling to keep up.  There is a general feeling that we're all living in the Wild West.
2)  In terms of TV production in Canada, the advantage seems to have shifted to the smaller studios who have spent the last five or so years focusing on quality over quantity.  Their challenge now appears to be finding the right balance between service work and their original IP while managing stress, fatigue and the fear of success.
3)  Conversely, some of the larger companies (who are not afraid of success) have recently seen big profits from digital deals for their vast libraries.  They now face their own challenge of defining their creative voices in a marketplace that is increasingly rewarding fresh and innovative content that cannot be made or sold in bulk.
4)  Poutine is a local delicacy comprised of french fries, brown gravy and cheese curds that is sold from a truck.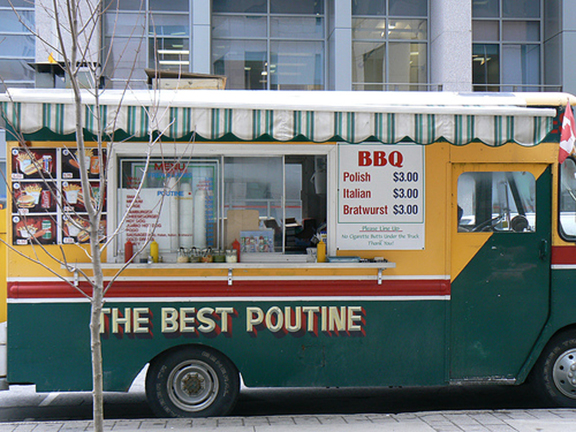 5)  For the first time ever, I heard someone refer to "The Small Potatoes Model" which, upon further questioning, I learned was "using short-form content plus social media to build a global brand that leads to licensing deals."  This made me smile because our whole "model" is the result of us putting up a Facebook page because we were too cheap to build a website.  Yes, necessity is the mother of invention.
All in all, I had a great time to Toronto.  I had interesting conversations.  I ate yummy food.  And I even pitched a few shows.  On this trip, I found myself trying to figure out what makes Toronto so different from New York because, well, it is different.  Toronto, I realized, has all of the upsides of a big city in terms of diversity, the arts, and great food but it has managed to preserve a friendliness that is not very common in New York.  Torontonians are just nicer which, in turn, seems to make me nicer.  The end result of this cycle of niceness is an odd sensation called "happiness."  Of course this is a big generalization and I'm sure there are many mean people in Toronto but, unlike New York, they're not running the show.