The hardest thing about having a blog is coming up with something to write about every week.  Five hundred words may not sound like a lot but it is when you have nothing to say.  Typically I just write about myself but, trust me, that topic gets just as old for me as it does for you.  Even my mother suggested that I change it up.  I've tried writing about "real" topics like the STEM curriculum or childhood obesity or in-app purchases but none of those things really interest me.  To be honest, the older I get, the fewer things interest me and those that do don't seem to interest anyone else.  Currently, my top interests are:  The Amish, Buffy, Instagram, Storage Wars, Chicken Vindaloo and Domo.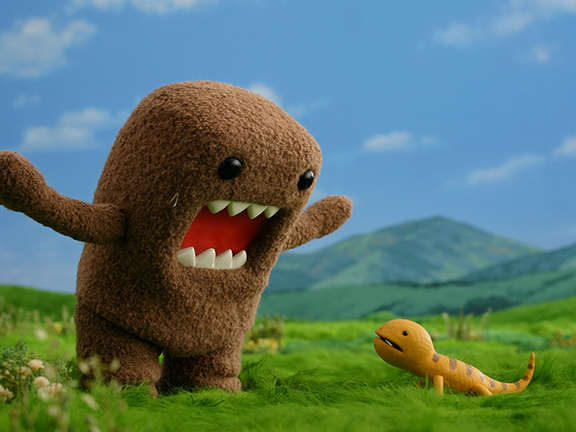 I think I may actually be in love with Domo.  There's just something so funny and adorable about this brown creature and his big chompers.  He's both cute and ferocious at the same time, a very winning combination.  Domo belongs to the amazing team at NHK who, in partnership with Rich Collins at Big Tent Entertainment, have transformed Domo into a global consumer products phenom.  I wish I understood why Domo's design works so well but, as with anything else, I guess it's just chemistry.  All I know is he had me at "Hello."
As I said, I don't have much to write about this week.  In fact, I got nothing.  But I'm one of those people who could no more miss a blog deadline than I could show up late for a meeting or a flight.  Also, I live in perpetual fear that if I miss even one of my blog deadlines, Lana will seize the opportunity and fire me from KidScreen forever and, to be honest, I wouldn't blame her.  I can be a big pain in the ass, particularly when I'm trying to get something done.
Case in point, last week Little Airplane's talented Art Director, Cassandra Gibbons, was designing a dog for one of our projects.  I kept giving her notes on the dog and I could tell this was getting on her nerves.  So, she designed a dog that I really liked and I couldn't figure out why.  Only later did I realize she had simply designed my own dog, Buffy.  Clearly, I'm not as clever as my staff.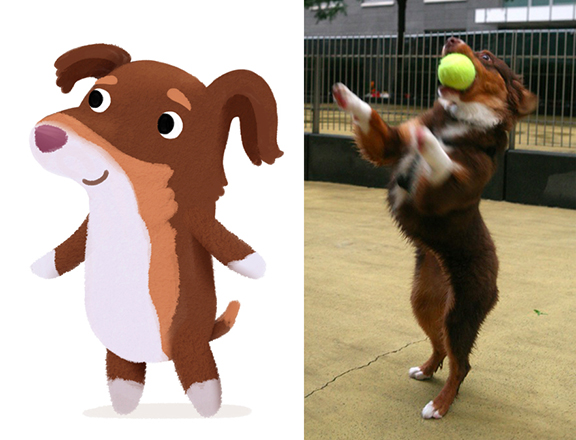 107 words to go.
I recently heard a true story about some unusual Nielsen ratings coming from a county in Iowa.  Nielsen sent an investigator to look into it and discovered that a local farmer had taken his TV set and his Nielsen box out of his family room and placed it in his barn to keep his favorite pig company.  He left the TV on the same channel 24 hours a day, seven days a week.  (Apparently the pig was not a very discerning viewer.)  This particular county had such a small population that this lone pig caused one show to be canceled and two others to be renewed for a 2nd season.