By Guest Blogger Frank Falcone
From the grey overcast slush of Toronto, to the sunny Croisette in Cannes, to cold nights (that definitely required a fashionable scarf), a lunchtime mild sunburn and back to a hailstorm in Toronto.  The weather, like the kids business is full of ups and downs and embarking on new adventures in kids TV is a path fraught with danger.  Here are few thoughts I've collected during my 6 days at MIPTV:
Beware!  An evil lurks in preschool entertainment…
A shameful, despicable creature with the darkest intent!  A beast whose wicked ways corrupt the minds of the innocent.  It plots, it plans and it schemes.  It uses every available means to get its way.  It wants to reach our precious children at all costs!!
It is said that only the true of heart can slay this hideous serpent, known simply as…
The Salesperson!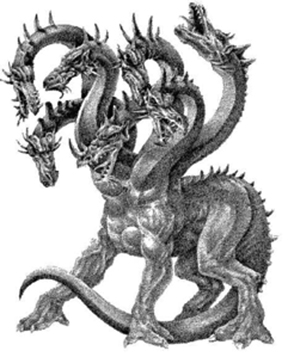 Of course, we all know that this terrible monster's selfish plans and dishonest intentions are driven by nothing more than pride, greed and unabashed self-interest.  Numbers and Volumes. Prospects and Projections!  Forecasts, ROI and Low Hanging Fruit!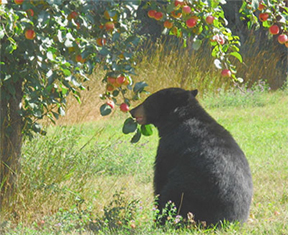 Their charts, maps and diagrams indicate a plan no less despicable than the creation of an all encompassing 360 degree Panopticon of content; a ceaseless virtual entertainment prison that will surround our kids!  Who will save them?  Every creative hero (except Josh Selig) could fall prey to their stealthy attacks with words like: Targets! (duck!) Extended Reach! (run away!) Triggers! (hold fire!)
The landscape where these battles take place is full of activation, expansion, seasonal growths (I've had mine removed, bi-quarterly), and burbling ancillary revenue streams flowing down from the vast plans for territorial expansion!  This bombardment is enough to make a parent recoil in horror and want to place their innocent spawns into a bubble dome just to protect their little minds.  Surely they can't be strong enough to sustain being subjected to this relentless assault?
So how can a creator with good intent abide by any of this: The "industry" of kids TV?  How can a child cope?  How can a parent?  And is the road paved with good intent?
How could anyone in pursuit of storytelling truths seriously want to engage in an industry that forms it's basis in extracting money from children?
Well the funny thing is, it doesn't matter what this powerful multi-headed industrial monster wants, it will be tamed when it oversteps.  It will always be defeated by the simple intent of the market.  And our market, like most others, is very smart.  Kids are smart.  Parents are smart.  Broadcasters and buyers are smart.
And in this brand new connected world loaded with endless options for entertainment, the power to defeat this monster is in the hands of the buyers, now and for the foreseeable future.  And they represent the best interests of our kids.
A Salesperson knows this. A good Salesperson.  Despite accounts to the contrary, they really do exist.  I've seen them!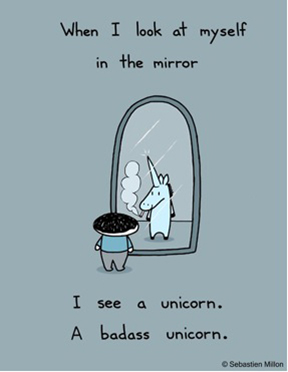 And they don't just move "content."  They connect the right projects to the right buyers.
In a season 2 episode of Justin Time called "Made in the Trade," Ravi the Indian market vendor sings, "A good trade makes me happy, a bad trade makes me sad, the best trade is the one that makes everybody glad."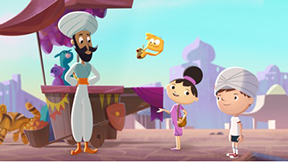 Wiser words could not be spoken.
A good vendor knows that our market is overloaded with "content."  From the first time I arrived at MIPTV 6 years ago, I was in awe at the sheer volume of kids shows produced and marketed internationally over the years.  And animation, being evergreen, never seems to go away!  It just keeps piling up higher and higher like some obscene landfill.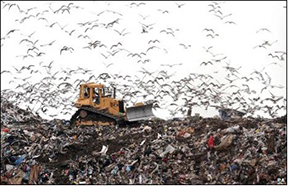 Certainly if you attended this past week at MIPTV, you realize that anyone who sets out to entertain a child is setting off on a difficult path.  And they're not alone.  There are thousands of others here on "Planet Preschool" trying to do the same thing.  To sell the next hit.  The competition is fierce and everybody has an idea that might appeal to kids.
Everyone is hustling.  Angling.  Wheeling.  Rolling.  Cross-selling and up-selling.  We are all in each other's business.  Everyone from publishers to producers, sales agents to licensing agents, buyers to broadcasters.  We all keep saying the same thing to each other: Monetize your content at every turn and so we keep all our options open.  But to what end?  More volume?  Literally more noise?
Today, in the era of 24/7 on-demand entertainment, what does "content" actually mean to a kid at home?
The online definitions for this noun range from "something contained" to the verb "to appease or limit the desires."  Contain?  Appease?  Limit?  How lame. Is that what we're making? Content?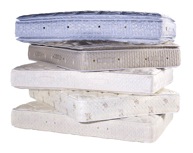 It all sounds so heartless; as if this "stuff" we aim to produce is meant to fill some big yawning gap.  Should we really produce more and more of it?  Is the hole getting bigger?  How sad is it that the art of what we aspire to create can been so easily reduced to the equivalent of filler.  More channels requiring more stuff.
But I think there is one discernible difference in all of this hustling.  Beneath all the moving of product, the diversification of brands, the top line thoughts, and bottom line thinking, there is only one thing that will help all of us to discern what will rise above the rest:
Intent.
The one sure thing that will help entertainment rise to the top is the purity of our creative intent.  This is what sits at the centre of everything we create.  Because kids can no longer be cornered to watch what they don't want to watch and they can spot a lie no matter how well we dress it up, no matter how pervasive we execute.  They're in complete control over their entertainment options and all they really expect from us is that we show them a good time wrapped around a kernel of truth, that we show them great entertainment.
So dig down deep creators, publishers, marketers, broadcasters, developers, programmers, buyers.
And Salespeople. You are not monsters if you choose not to be.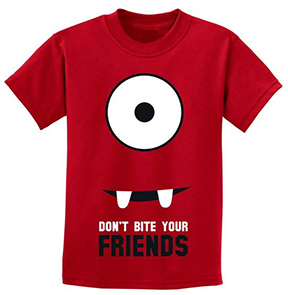 If we make sure that we start with good intent and keep our heads down, we will follow through with great entertainment!