It's Friday, February 8 and it's snowing.  Based on the fear and trembling of the Kidscreen delegates at the Hilton, one would think that a swarm of locusts had descended upon biblical Egypt.  Little do they know that in New York City we shrug off snowstorms with the same indifference that we shrug off recessions and the blue states.  As long as the restaurants are open and Bravo is on the telly, no one really cares and life goes on.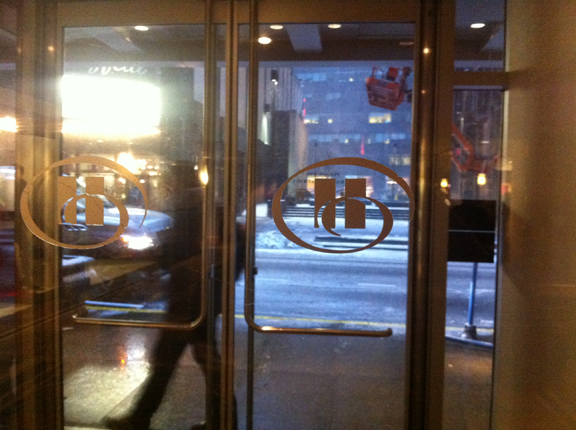 This is the last day of Kidscreen and I am tired, overfed, inspired, talked-out, and sick of looking at Power Rangers.  If you spent your week here in the delegates lounge then you, like me, had no choice but to watch the steady parade of masked aliens (or whatever they are) walk past you in their leotards and plastic helmets and pose on their little stage.  I know this is a billion dollar property but, for me, it's just another reminder of why I like preschool TV.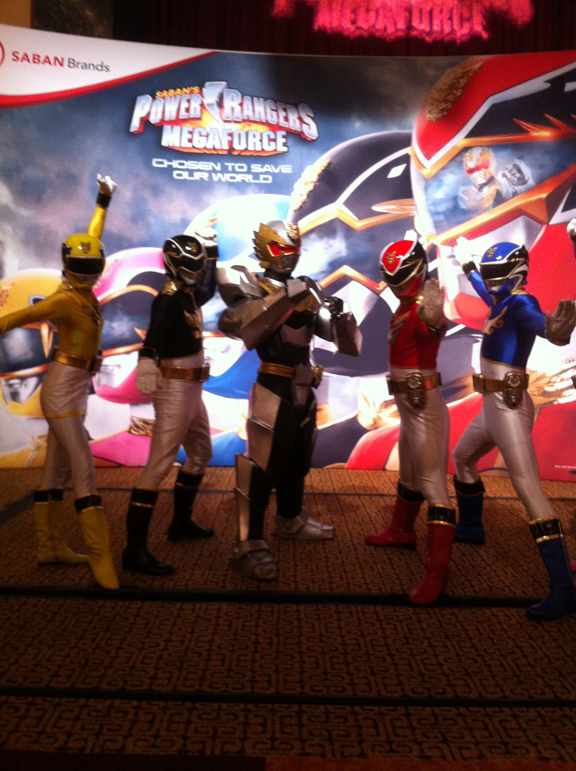 Otherwise, I had a lovely week at Kidscreen and everyone seems to have more or less shaken off the doldrums of 2012.  There is new money being spent on kids content, most notably from the likes of Amazon, Netflix, Google and Hulu.  This is good news indeed and it has finally loosened the stranglehold that the old guard broadcasters have had on what gets made by indies and what gets seen by kids.  Though it will take a few years for these new players to get the kind of penetration they want, I think it was pretty clear to everyone this week that they herald a brave new landscape in which kids TV shows and films can be streamed anywhere in the world in any language.  Yay.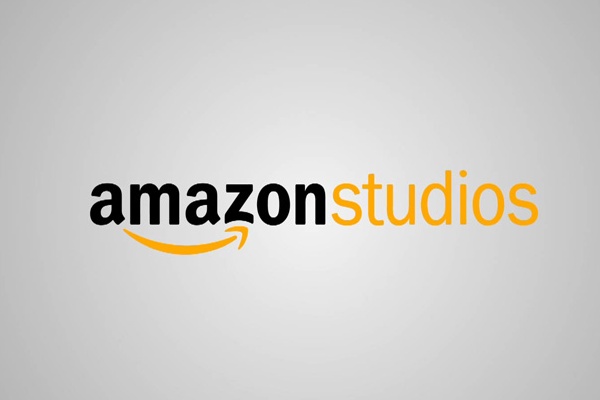 Jocelyn and her team once again did a spectacular job of planning and executing the Kidscreen Summit.  In my view, this may have been the smoothest Summit yet.  Big congrats to Joce and her amazing Kidscreen team.  However, as the Persians say, only God is perfect.  The one very small criticism I had with Kidscreen this year is that there were lots of lovely Shaw Rocket Fund water coolers but there were no paper cups to be found anywhere near them.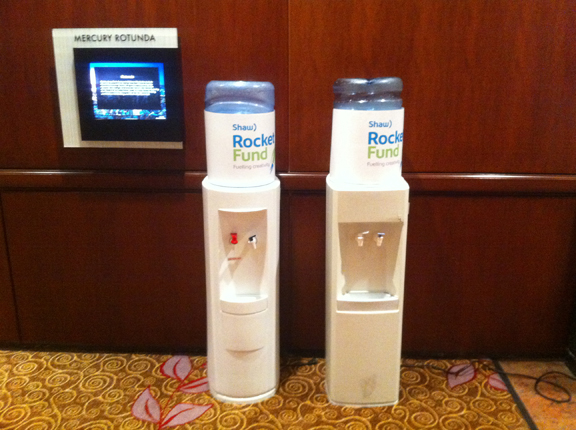 Now, like most delegates, I build up quite a thirst while pitching my shows and, though I considered drinking from my cupped hands, I ultimately decided against this strategy.
When I pressed Joce on the cups issue during our closing night dinner at the Mandarin Oriental she looked at me, annoyed, and said that if I wanted to drink from a Shaw Rocket Fund water cooler I was supposed to use the Shaw Rocket Fund water bottle that was provided in my free delegates bag.  Who knew?  By the fifth course of our seven course-tasting menu, we agreed to disagree on the logic of this particular promotion but, for the record, I used the 9 Story coffee cups to drink the Shaw Rocket Fund water.
Another highlight of the Kidscreen week for me was going into the restroom on the 3rd floor and noticing, on the handle of the urinal directly in front of me, a sticker for someone's kids' show.  This is exactly what it looked like.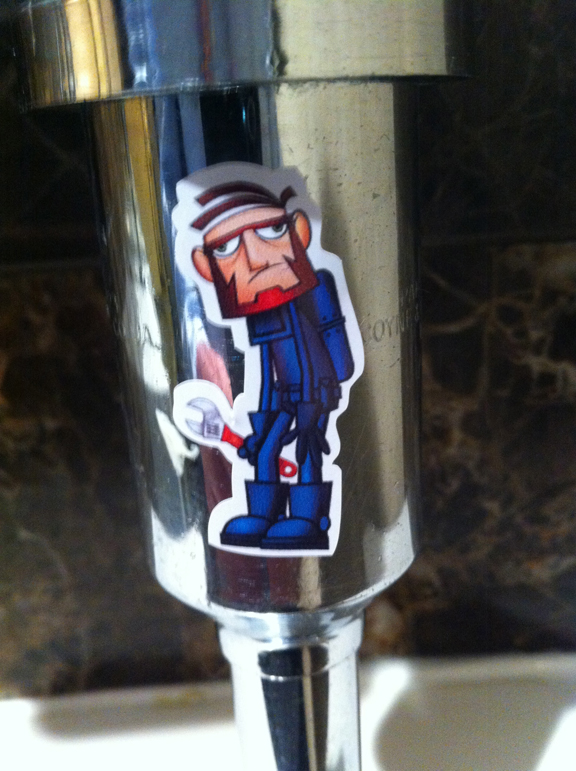 I mentioned this unique (if aggressive) marketing strategy to our brilliant Head of Production, Sharon Gomes Thomas, who speculated that perhaps the sticker was placed there not by the seller of this property but by a buyer who had been pitched the show and was now making an editorial comment for other buyers who might be using the very same urinal.  Hmmm.  I thought that was an interesting way of looking at it and it served as a healthy reminder that the great minds at Little Airplane do not always think alike.  Needless to say, don't be surprised if the entire wall of urinals will be available for sponsorships next year.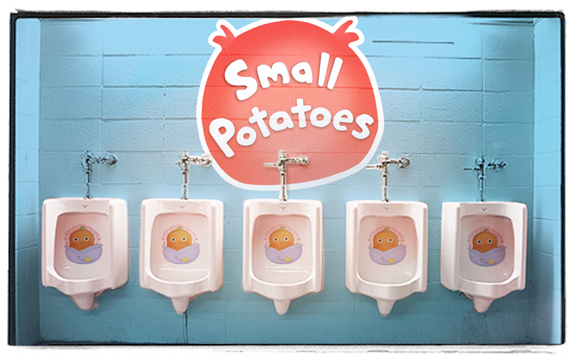 But the most warm and fuzzy moment of the whole week was, for me, learning the origin and destination of those inexpensive but rather comfortable couches that cover the delegates lounge.  Did you know that every year, Brunico, the parent company of Kidscreen and Realscreen, buys those white couches and tables from Ikea and uses them first in Washington for Realscreen and then trucks them to New York for Kidscreen?  Well, it's true.  They do.  But here's the really nice part.  When they are finished with Kidscreen, all of this furniture gets donated to a great organization called K.I.D.S. (Kids in Distressed Situations).  According to their own mission statement, this is what K.I.D.S. does:
"Kids in Distressed Situations strives to minimize the impact of poverty and tragedy on the well-being of children and teens and to maximize their self-esteem and dignity through the agency partner distribution of kid-essentials made possible by the donation of product and funds from companies, foundations and individuals."
I thought this was just wonderful and I'm happy to hear that these kids will soon have their own Ikea couches on which to pitch their shows to disinterested broadcasters.