The final day of the Children's Media Conference has come and gone.  I am happy, tired, overstimulated and homesick.  I miss Mary, Buffy, bagels and Mexican food.  I started my day today at a panel sponsored by the good folks at UK Trade & Investment (UKTI) called "Focus on Malaysia."  Having back-packed through Malaysia as a twenty-something, I was eager to attend this session and I must say I was very impressed by the Singapore-style incentives that the Malaysian government is putting in place through its Multimedia Development Corporation, better known as MDec.  The session made me want to return to Malaysia this year to visit the many new animation studios that are sprouting up across this country like mushrooms after a rainstorm.
Next up was "Meet The Commissioners: Commercial," which featured the various buyers and executives from Turner Broadcasting, Disney, CiTV and Nickelodeon.  What stood out most during this session was the preponderance of farts and fart jokes that were peppered throughout the show reels of these esteemed broadcasters.  If I ever had any doubts about my decision to focus my career on making shows for preschoolers, this panel put those doubts to rest.  The bright spot of the session was the announcement that  Driftwood Bay,  a lovely show from my friends at Sixteen South in Ireland, has been commissioned by Nickelodeon UK.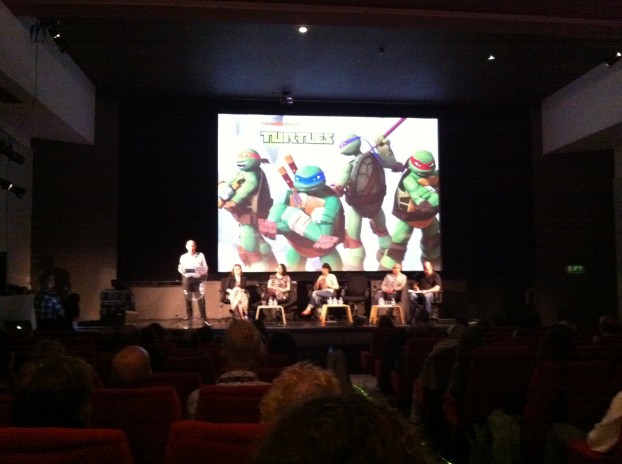 A delicious free lunch was provided just across the street courtesy of the team at Fremantle Kids and Family.  As I went up to the counter to collect my second yummy mini-cupcake, I could not help notice the FremantleMedia logo emblazoned in sugar upon the cupcake itself.  Needless to say, I was very impressed by this bit of confectionery branding and, as I popped the Fremantle logo into my mouth, I thought, "Now, these people know what they are doing."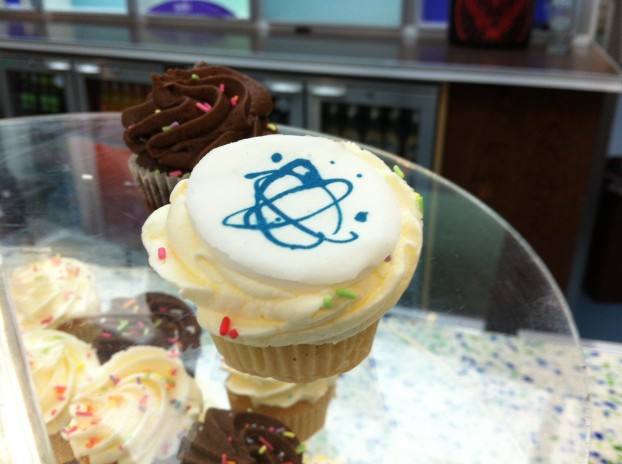 In the afternoon I attended a panel called "Magnetising and Monetising Apps" that was frought with discord among the panelists who ranged from the "brilliant but angry" to the "naïve but well-funded."  The conclusion of the panel was that companies should try to make as much money as they can from various in-app purchases for as long as such purchases remain viable.  (Apparently, Japan has just passed legislation limiting many of these transactions after hoards of Japanese children cleaned out their parents' bank accounts buying loads of virtually useless virtual goods.)  I also learned a new and alarming term called "chasing the whale," which refers to a game maker's desire to court those consumers (including children) who spend the most money on games.  Once again, I was pleased that my own focus was on preschool TV and now I love Japan even more.
After the day's final session, I ran into my favorite global kids TV aficionado, David Kleeman, who told me about a brand new UK organization called the Children's Media Foundation.  Here's how he described it:  "They are creating an open and honest gathering point for industry, Parliament, policy advocates and research.  By providing a venue for ongoing and analytical debate, they can avoid the kind of crisis-to-crisis 'whack-a-mole' that too often characterizes kids media issues.  Also, with the resource inherited from the Children's Film and Television Foundation, they can look to the future with the experience of the past."
I ended my three-day odyssey in Sheffield by spending a few minutes with the CMC's organizer, champion, and perhaps the most eloquent man I know on this side of the pond, Greg Childs.  I asked Greg for his views on this year's CMC and how it compared to the events of years past.  Here is what he had to say:  "2006:  Doom and gloom.  2007:  Disaster.  From then onwards I think the industry has been turning itself around and what I've experienced this year is a real sense of we're just getting on with it.  We're finding out where the revenues lie, we're finding out where the new routes to creativity lie, we're finding out what the audiences want and we're providing it in new ways."
And now I am on an Aer Lingus flight back home to New York City, where I plan to sleep, walk Buffy, and eat dumplings for what's left of my weekend.  I want to thank Lana for allowing me to write this daily blog from the CMC.  I had lots of fun playing journalist and recording quotes into my iPhone as if I knew what I was doing.  I also want to thank the always welcoming UK kids' media community for once again allowing me to crash their annual party in Sheffield.
God save the queen.