A couple of weeks back I moderated a panel at INPlay in Toronto  called, "What's the Next Chapter? The Current and Future State of Books." It was a great, lively discussion with several interesting creators and developers and in the weeks since I've been thinking a lot about reading and about how the way I read now is different than it used to be. (I'm personally a Kindle addict, though I can't bring myself to let go of my print New York Times subscription – the newspaper just doesn't feel right on a screen to me.)
This naturally leads me to thinking about how I read with my kids at home, and what the experience of books and reading is going to be like for them growing up in a world where printed stories are available in so many different formats. Though my kids are both too young to read by themselves (my older son is three, the younger one eight months – though he does like to chew on books!), there are certainly a lot of books in our lives, both paper and electronic. Here are a few examples of some of the different ways we're reading now at my house:
Tuesday Afternoon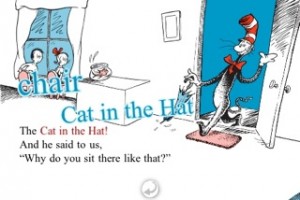 On a busy day, post-work and daycare as I attempt to feed the baby sweet potatoes, my older son sits on the couch with the iPad and pages through the eBook of The Cat in the Hat. He has been read this book countless times "the old-fashioned way," and the print version remains a favorite, but he approaches things differently when he gets to go through the story himself as the book is read to him. He repeats his favorite pages, enjoying Thing 1 and Thing 2′s first appearance repeatedly (the eBook has more patience than I do with endless repetition). He brings me the iPad when he's finished and moves onto cooking me soup in his play kitchen.
Thursday Night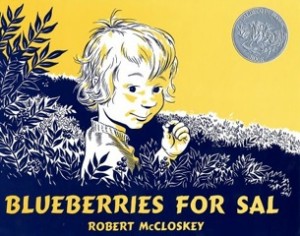 At bedtime, I can't imagine snuggling up in bed with the boys with anything other than a hardback book — in this case, Blueberries For Sal . We love to sound out the, "Kuplink, kuplank, kuplunk!" of the blueberries hitting the pail. When my son has to take a potty break and folds the page we're on in half to save the place, the compulsive side of me winces at what's being done to the paper (the book itself was purchased on a family trip and has some sentimental value), but I find myself smiling at his understanding that we'll need to find this place in the story when he gets back.
Saturday Afternoon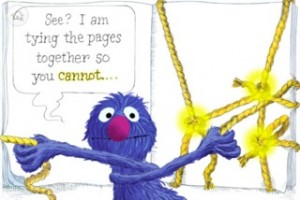 With all of us groggy post-nap, we sit on the couch and open the eBook of The Monster at the End of this Book . My son is super excited about unknotting those ropes and turning the pages, watching Grover's increasingly exasperated reactions – and hearing that distinctive voice pleading with him – with delight. I sit with him and point out a few other places he can make things happen onscreen, and he lets me knock down a few of the bricks Grover's built to stop us from turning to the next page. This is another book he loves in print form, and he's clearly having a blast with his ability to make familiar parts of the story happen. He likes seeing me do it, too!
Sunday Morning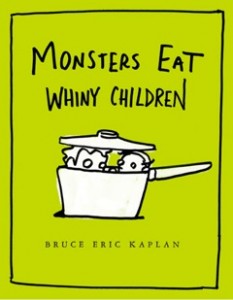 As I put away laundry in his room, my son sits on his bed and "reads" his hardcover of Monsters Eat Whiny Children  to himself, piecing together the ridiculous story from his memory and then just making up the parts he can' recall. He thinks this is hilarious – and I do too. "Mommy, this is a silly story," he says. He's right.
The above are just a few examples of the reading experiences going on in our house in an average week (I've spared you, for instance, the approximately two million daily retellings of The Night Before Christmas, an inexplicable favorite at this time of year). Every week in our house is filled with many books and stories, with moments of curling up on the couch, whether what's sitting on my son's lap is made of paper and binding or glass and microchips. When it comes down to it, I feel that all of these reading experiences, traditional or electronic, inspire my son to love stories and to value text as something that imparts meaning.
For me, the reality is that all of these experiences have their place. Print books are wonderful for that time before bed or on a quiet afternoon when my kids are ready to sit still and I have the time and space to really dive into a story with them. eBooks can help us connect in a different way if we're doing embedded activities together or they can offer my son a positive form of independent play while I get a break to accomplish other things around the house or spend some one-on-one time with his little brother. It's wonderful to see my son use the pictures in his print books as a jumping off point for his own stories, but it's also great to see him using his fingers to color in images from those stories in a coloring page embedded in an eBook. And those times when playing in an eBook prompts him to ask me to read him the print version that evening, or conversely when I see his delight at getting to interact with a beloved book in a new digital way, it really resonates for me that books and eBooks can coexist in a way that's respectful of the unique qualities of each.
I hope as a designer that I can create interactive narrative experiences that my kids and I can enjoy together, even if that's a different experience than reading a traditional book. It's clearly something I think about a lot, and I'm excited about digging into more of the body of research on eBooks, which is growing every day. If you have thoughts about this admittedly enormous topic, I'd love to hear them – please drop us a line anytime at kidsGotGame@noCrusts.com.