There's a slight change in my bio as of last week. For years, it said variations on "Carla is also a doctoral candidate at Teachers College, Columbia University…." Now it says, Carla **has** a doctorate in education…. (Emphasis is mine!)
Yes, you may now call me Doctor Carla.
What does it change? Actually, very little. I'm making games, most of which are educational. I'm having fun. I'm exactly where I wanted to be when I finished school.
But that's exactly the point. Grad school, especially a doctoral program, is really hard work for a really long time with really little (if any) money to support it. I went back to school because the jobs I wanted were filled by people with doctorates. I wasn't going to get the job I wanted unless I had the degree. There's not much arguing in that.
In my book, that's pretty much the only reason to go back to school and put up with all the physical, mental, financial, and temporal pains of grad school.
(Did you catch that? I just used the word temporal to mean time. One thing that does change now that I'm Doctor Carla? I can totally get away with saying things like that.)
But in honor of finishing school, I decided to make another decision graph. Just as many people have asked whether I recommend learning computer programming, countless people have also asked me for my opinion on whether they should go back to grad school.
So here it is, my Rx on your education path.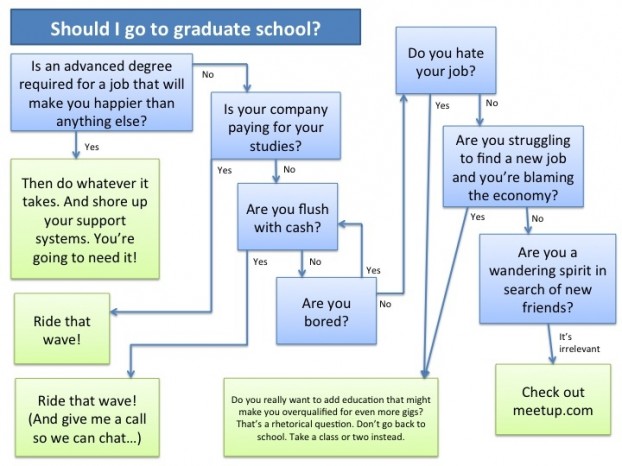 (Caveat emptor: I'm not a M.D., nor do I play one on TV. I'm an Ed.D. So any references to prescriptions is totally for humor and has nothing to do with any real medical advice.)
As always, give us a yell anytime at kidsGotGame@noCrusts.com.
Photo © Carla Fisher