So, Carla went to Game Developers Conference and shared all of these helpful links about relevant sessions and insights about games and all of the amazing things she saw and heard there. And then we went to South by Southwest together, and I promised Carla I'd do the round up this time around, but then two things happened:
1. I didn't get to many sessions, at least not many that were particularly relevant to kids' game design. It turns out that SxSW is kind of… overwhelming. 25,000 people or so descend on Austin all at the same time, and in this case, it was raining and the transportation was all maxed out and the AT&T center turned out to be about a zillion blocks further away from the Austin Convention Center than I anticipated and, well, you get the picture. In the end, though I met a lot of great people and saw a lot of interesting panels, it was rarely what I had set out to do at the beginning of the day.
2. I ate a lot of amazing food. Austin is food country, and very little can deter me from seeking out good eats when they're nearby, no matter what crowds I have to face down along the way. Thankfully, Carla let me drag her all over in search of food trucks, taco stands, and BBQ pits.
So what follows is a brief roundup of things I didn't see at SxSW, but I wish that I had (and thankfully someone had the presence of mind to write about), and what I did eat:
I MISSED these panels about the value of holding onto analog things in the increasingly digital world, but loved this article about them in Time by Steven James Snyder.
I ATE barbeque, of course. Carla and I went to the Salt Lick in Driftwood for some serious eats shortly after my plane landed. I've been hearing about this place for years but finally got to try it for myself. Wowsa!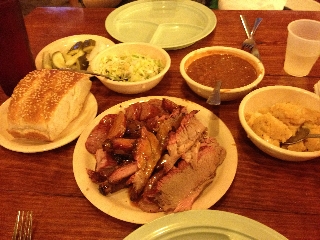 I MISSED what sounded like a fascinating keynote by Ray Kurzweil (remember what I said about the AT&T Center being farther away from the Convention Center than I realized?). Thankfully Katherine Goldstein at Slate didn't miss it.
I ATE some seriously delicious fusion tacos from the Peached Tortilla truck. Bahn Mi and Chicken Pad Thai tacos. 'Nuff said.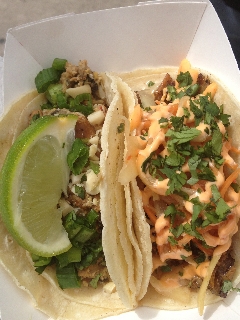 I MISSED what sounded like a fascinating discussion with the New York Times' media and culture David Carr, among others, about the difference between curation and aggregation when it comes to sharing online content. He wrote an article about it in the Times. Perhaps if I had been to the panel, I'd know if I was curating or aggregating all of these articles I'm linking to – eep!
I ATE a Po-Ku burger from Yume Burger a new food truck Japanese burger offshoot of aforementioned Peached Tortilla. Who knew that what my beloved hamburgers were missing was pork belly?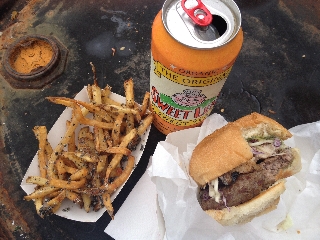 I DIDN'T MISS Carla's and my session on "What Left 4 Dead Can Teach Us About Kids Games," which was totally fun. We talked about how general audience game mechanics can inspire great kids' game designs and met a bunch of interesting folks. So give me some credit for that, eh?
Now we're back from Austin, hopefully a bit enriched in areas that go beyond the waistline (in all seriousness, I did see some interesting presentations and met a bunch of people that I'm looking forward to knowing better), we're ready to get back to blogging about things other than food and what takes place in convention centers!
And if you saw something great at GDC or SxSW, drop us a line at kidsGotGame@noCrusts.com and we'll put it on the list for next year!