In Part 1 of this discussion, I shared my thoughts on STEM education as fostering a mindset of curiosity and discovery, not just a body of facts.
Games present an amazing natural opportunity to foster a playful, exploratory mindset. In the first post, I talked about how games can foster cooperation and team work and how that ties to working as part of a scientific community.
What other games do I like for this idea of STEM education?
Scribblenauts (Nintendo DS and iOS)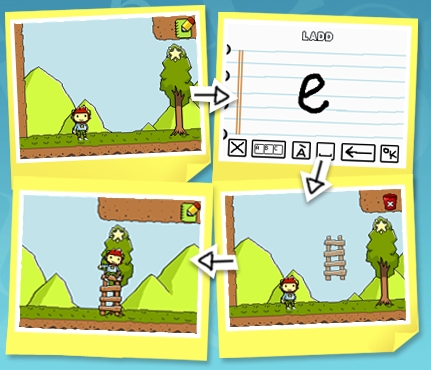 Scribblenauts is a puzzle game. You want the little guy to get the Starite, a little star that's in various awkward places, like the top of a tree or in a lion's cage. To do that, you type a word into the giant word database. Then you can use the object (and other objects if needed) to get the star. There's lots of different reasons to like this game, but the following is specific to the STEM discussion.
In our every day lives, rarely is there just one way to solve the problem. While one solution may emerge as the most efficient (e.g. Angry Birds rewards us when we get the pigs with the fewest birds possible), life is not so black and white as to always require a single correct path. Scribblenauts is perhaps my favorite game for practicing trial and error as well as finding multiple solutions, because it moves away from a process-oriented pedagogy. Instead of always creating right and wrong answers, it encourages players to find different pathways to solve a problem.
Solving problems through trial and errors is actually a really good strategy and not a waste of time. We often forget that wrong answers are a legitimate part of the innovation process. Wrong answers often lead to thoughts or information that eventually lead to a right answer. (The TV show House couldn't last for an hour unless they showed all the wrong answers on the path to the right one!)
Scribblenauts achieves this with a massive database of objects (from toilet to broccoli to helicopter to briefcase) that can be used to solve puzzles. Each puzzle has at least three solutions. A hint, from me to you: When in doubt, try a black hole. If it doesn't solve the problem, it's great for a laugh!
All told, great games foster trial and error mindset in a key way – failure is encouraged, showing mistakes for what they are – part of the experimental process of finding an innovative solution.
On a side note, another reason I love Scribblenauts is for the additional feature to make your own puzzles. Talk about fostering trial and error and collaboration! Make a puzzle, hand it off to someone for feedback, revise the puzzle, and so on…
Clearly, this STEM discussion doesn't fit in two parts. Soon I'll add my thoughts about data visualization and games. I bet you're excited about that!
If you know of other great STEM games, please let us know, either at KidsGotGame@NoCrusts.com or post below. Looking forward to hearing your ideas!
PS: If you're headed to Game Developers Conference or SxSW Interactive, let us know if you want to meet up!