I've spent the past few days in Sydney catching up with friends and colleagues and attending the opening days of the Screen Producer's Association of Australia Conference, or SPAA.  This is my fourth or fifth SPAA in as many years, and it's one of my favorite conferences on the planet.  Why?  The people.  The Australian kids' TV community is talented, sophisticated, and welcoming.  They work hard and they play hard.  And the independent producers seem to like and support one another, which I must say is refreshing.
Each year, the kids' TV presence at SPAA grows, as does the number of high-level international execs from the kids' business who make the long flight here.  This year the dignitaries included Nigel Pickard from Zodiak, the gracious Olivier Dumont from eOne, Joe Godwin from BBC Children's and the always charming Steven DeNure from DHX, just to name a few.  The credit for the growth of the kids' area at SPAA goes largely to Suzanne Ryan who runs SLR Productions, one of the most well-connected and tenacious small indies I know.  Suzanne, along with the kids' team at the ABC, has shaped SPAA into a must-attend event for anyone who's serious about the international children's market.  And the presence this year of KidScreen's Editor-In-Chief, Lana Castleman, is proof in my view that SPAA has arrived.
One of the highlights of my stay in Oz was participating in a half-day of workshops hosted by ABC Children's to help mentor and develop some of their talented local producers.  I was a part of a small group of preschool TV "specialists" that included Joan Lofts, the inimitable Di Manson, and Henrietta Hurford-Jones from BBC Worldwide.  We reviewed about half-a-dozen excellent projects including the super cute Babyccino from Cate McQuillan and Lah-Lah's Adventures from Stella Projects.  Other international guests reviewed other projects and genres.  I was really impressed that the ABC took the initiative to set up these workshops and it would be great if other international broadcasters followed their example of mentoring indies.  As the old saying goes, "A rising tide raises all ships."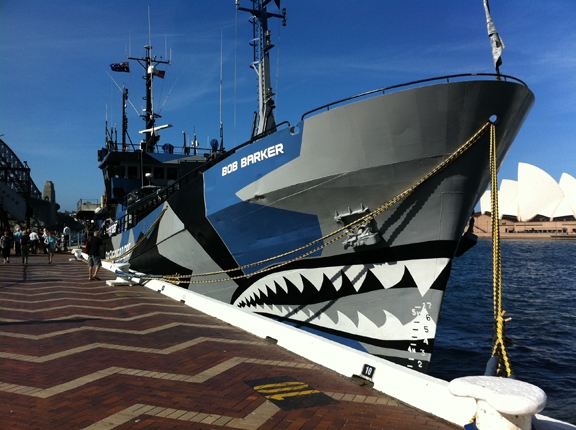 Speaking of ships, another highlight of my time in Sydney was seeing the Bob Barker docked in Sydney Harbor baring it's shark-like teeth.  I'm a big fan of the show Whale Wars on Animal Planet and I really enjoy following the misadventures of the Sea Shepherd crew as they chase the big, bad Japanese whaling vessels through the arctic ice flows.  Seeing the real Bob Barker was, for me, better than seeing any celebrity.  The show appeared to be recruiting new crew members and, were I not so fond of central heating and Indian take-out, I might well have climbed on board.
Today I've moved on to Wellington, New Zealand, to give a keynote speech at AnimFX, a conference of animators and game developers.  I'll be covering the only subject I know anything about:  Creating and selling original IP.  I am, admittedly, a one trick pony and I'm here to do my trick.  My message to the Kiwis will be the same as it is to anyone else who will listen to me:  Create the show that's in your heart.  Pitch it yourself to every broadcaster on the planet.  Scrape together enough money to make as many episodes as you can.  Pour your soul into every script, every design, and every piece of music.  Then use those assets off-air in ways no one has ever dreamt of.  If you do those things, then your IP dreams may well come true.

The other drum I'm beating these days is that we're living in a unique period in history in which the creation of original content favors those who are small and innovative.  Why?  Because we can read the technology tea leaves, we can create quickly and cheaply and, most importantly, we don't need to explain or justify our creative choices to business folks who are still hanging on to outdated models.  This is a time for experimenting freely with new content, and the larger a company is, the less experimental it tends to be.  I challenge anyone in our current market to put together a five-year plan that isn't a total work of fiction.  In five years time, I suspect we'll all be watching TV on our sunglasses and our characters will be dubbing themselves.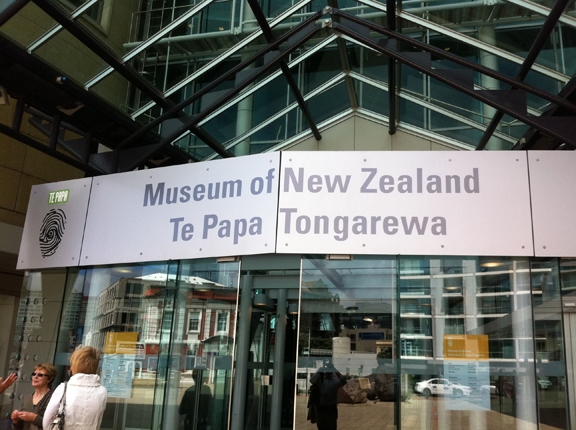 I'm now in the airport in Wellington on my way back to Sydney.  It's been a wonderful few days at the AnimFX conference where the guests included Enrico Casarosa from Pixar.  Enrico premiered his short film, La Luna, at the lovely Te Papa Museum then taught a really interesting Master Class on his creative process and frame composition in old Kurosawa films.  There was also a full "Digital Day" held at Weta Digital, the undisputed Big Kahuna of all the digital studios in New Zealand.  I was told that Weta now employs an impressive 1,300 digital artists which, I suspect, is more artists than are employed in all of New York City.
I found many things about Wellington to be fascinating, including the fact that a good number of the AnimFX attendees were wearing flip-flops.  I was told that this was not uncommon here.  I asked one of the organizers, Marlin ("like the fish"), if I could take a picture of his flip-flops and he happily, and even proudly, obliged.
I watched a number of very interesting presentations at AnimFX, including one called, "Improving Your Game With User Research" that was run by Tracey Sellar from Microsoft Games Studio.  Though I'm not a gaming person myself, there was one slide in Tracey's deck that I liked very much.  It was a graph that tracked something called, "Fun Over Time."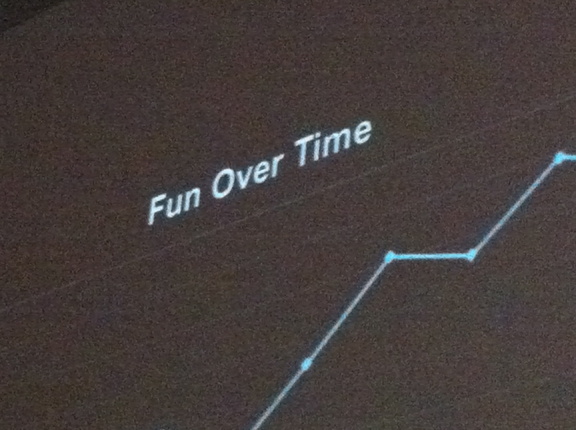 When I saw this slide, I couldn't help but think that my own "Fun Over Time" stats have probably dropped steadily since high school and are no doubt continuing their sad decline.  I resolved at that very moment that I would begin tracking my "Fun Over Time" graph more closely with an eye towards stabilizing, if not reversing, its current trajectory.
I'm now on the last leg of my journey and I'm heading back to Mary and Buffy and Thanksgiving, the American holiday in which we gather as families to celebrate our traditions of over-eating and buying on credit.  I have no further trips on my calendar until after KidScreen, which means I get at least three months in my favorite place in the whole world: Home.  Thank you all for following my global preschool TV odyssey this fall.  I really appreciate you reading each week and I wish you all a happy and healthy Thanksgiving.