Articles Tagged 'iCarly'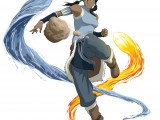 TV
Despite lingering controversy over its fall ratings drop, it was best-foot forward at Nickelodeon's annual upfront presentation in New York this afternoon. The overall leading US kidsnet announced its upcoming season, unveiling plans to air 650 new episodes of programming across all genres. Additionally, Nick greenlit three new animated series and three original live-action shows.

BROADCASTER / BROADCASTING / TV
Nickelodeon is now available to millions of new viewers in sub-Saharan Africa through a deal between MTV Networks Africa and Multichoice Africa.