Trends used to take time to take over. A new product would appear in advertising and on toy shelves, and kids started talking about it. Word-of-mouth would spread, until the must-have item was inescapable, and the mad scramble to secure a Cabbage Patch Kid, an Easy-Bake Oven or a Furby ensued. But in the current social media and digital marketing climate, that slow build has become an instant blanketing of YouTube, Twitter and Instagram with the hot toy du jour. And as quickly as kids are jumping on the newest trend, they are hopping off to look for the next big thing—and the thing after that. So when a trend appears to be taking over, industry pros have to decide whether or not to get in on the game as quickly as a kid hits the refresh button.
Or, toycos can look far beyond the madding crowd and deliberately develop products no one else is making. Last year in the US, the collectibles category grew by 33% to rack up US$1.8 billion in sales. And in the UK, it saw a year-on-year increase of 44%, ultimately accounting for almost one in four toys sold in 2016. Developing something so different that it draws attention from a trend as all-encompassing as collectibles is a tall order, but Toronto, Canada-based toy and entertainment company Spin Master cracked the case with its Hatchimals property.
"With Hatchimals, it wasn't about a trend," says Spin Master SVP of robotics James Martin. "It was about delivering something new."
Hatchimals—toy eggs that eventually crack open to reveal their inner colorful creatures—debuted in October 2016, and went on to be the hit toy of the holiday season. The property boosted Spin Master's 2016 Q3 revenue by 22.8% to US$475 million, and its Q4 revenue grew by 30.9% to reach US$338 million.
"Our advance concept team sometimes gives themselves challenges, like they did with Hatchimals," says Martin. "They were talking about bio-mimicry and how we could give a toy a real-life, organic experience. They set themselves this challenge of having something hatch from an egg. They pursued it relentlessly until they figured it out."
For Spin Master, the key to ingenuity is totality. Each employee in every department is charged with keeping an eye on consumer products trends, and with exploring emerging technology that could be the next big thing.
"A lot of technology is maybe too expensive now, but we know that in two or three years it's going to come down in price and could be used for something," says Martin. "We work to make sure that at any given time we're exploring new things both internally and externally. You have to work on multiple fronts to pull ahead. We scour the globe."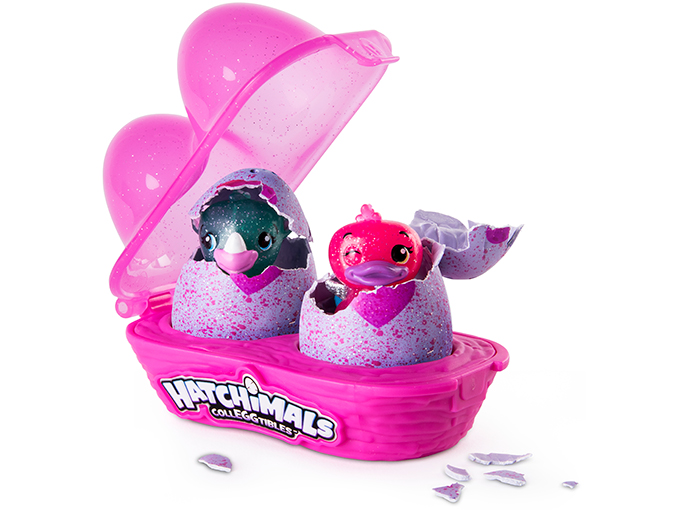 Birds of a feather
Not every out-of-the-box product is going to be a hit. Martin admits that toycos need to be willing to take a lot of swings, but a unique property is perfectly positioned to strike a chord with kids when they're used to seeing dozens of takes on the same toy.
As popular as a unique property like Hatchimals might prove, though, Bill Graham, chief business development officer for L.A.-based PhatMojo, says the pack dynamics surrounding toy trends isn't going anywhere. "You can't ignore that there's been a huge shift in the way kids are consuming entertainment," says Graham. "Any time there's a major shift in the way people are doing business, there's a flock mentality that kicks in."
The upside to dozens of companies glomming onto a category like collectibles and creating massive growth, he says, is that it gives a lot of licenses a seat at the table. "It enables a lot of properties to have some representation in product form because the footprint, or the real estate, allows for a great deal of variety in the collectibles aisles or the quick-check lanes," he contends. "From a real estate standpoint, you can just fit more, and so more people have an opportunity to have representation there."
Since its founding in 2015, PhatMojo has secured licenses for collectibles, plush, hangers, cosplay and apparel for properties like arcade-style gaming app Crossy Road and the mother of all fan-favorites, Star Wars. The company focuses on creating unique products from a fan-first perspective, but Graham says the pursuit of going against the grain can't overshadow giving people what they want.
"Nothing takes the place of paying attention," Graham says. "You have to find out where that community lives."
Additionally, it's important to recognize what works within the industry. There are common metrics and currencies, he says, that serve as a baseline upon which the toy industry trades. Action figures, for example, are what Graham calls the bread-and-butter of the market. But moving into 2018, he believes collectibles will continue to be a big part of consumers' diets.
"You don't want to defy trends entirely," says Graham." You have to embrace what's going on from a trend standpoint. But at the same time, you want to keep things creative and move forward. Try to pick up what the key aspects of a trend are, and apply that insightfully, rather than just getting deeper into the collectibles aisle because that's what's working."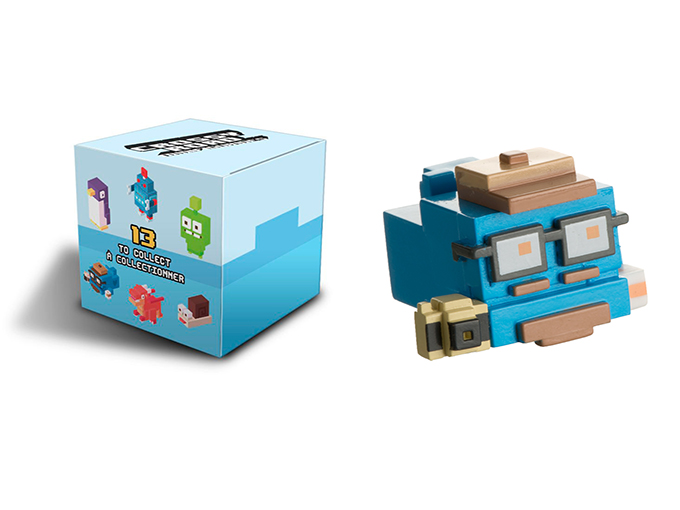 Outside unboxing
Juli Boylan, head of global licensing at L.A.-based toyco MGA Entertainment, agrees that a red-hot toy trend is no guarantee with customers as fickle as kids can be. "When a collectible brand is a hit, all of a sudden collectibles are seen as the next big thing, and everyone wants to get in on that," she says. "But that doesn't mean everything that falls into the collectibles category is going to be the next big license. Kids are onto bigger and better things so quickly now."
Because kids move on so abruptly, Boylan says counter-programming is key to offering something new and eye-catching. And, she adds, even companies looking to capitalize on a trend need to show the same innovation as those creating something completely unique, if they want to stand out from the pack.
She says MGA focuses on finding a new aspect to each trend, no matter how saturated it may seem. By focusing on the driving force behind a trend like collectibles, rather than on the trend itself, the toyco hopes to create products that can take advantage of the category's popularity, but also outlast any flash-in-the-pan appeal. "It's about how you can make those trends your own, and make something unique," says Boylan. "Num Noms, certainly, was our first collectible line following in the footsteps of Shopkins."
The Num Noms property features food-based miniature characters shaped and scented like sweet or salty treats. The soft and hollow Nums stack on top of the hard-shelled Noms, which are motorized to scoot around, or filled with flavored lip gloss. And the "delicious" nature of the property carries though to auxillary consumer products categories like bedding, accessories and back-to-school.
"With Num Noms, everything was scented. And there was something more to the collectibles line than just static pieces, which once a kid opens them, sit on their desk. With Num Noms, we really wanted kids to interact with them, so we included things like lip glosses and nail polishes that extended the brand."
And MGA continues to twist trends with its doll line L.O.L. Surprise!, which takes a cue from the popular unboxing videos on YouTube. The line features a doll surrounded by seven layers of wrapping that contain a surprise in each layer, including outfits and accessories for the dolls, as well as secret messages and collectible stickers.
"Kids watch these unboxing videos for hours," Boylan says. "So we looked at the fascination of watching another kid opening packages and thought, 'How do you take that concept and turn it into a toy?'"
MGA plans to continue to take advantage of that fascination factor with new categories—including apparel, accessories, health and beauty, crafts and activity, stationery, party goods, publishing, games and sporting goods—launching for the L.O.L. Surprise! brand in spring 2018.
"In the toy world, we're loaded with copycats," Boylan says. "When somebody has a hit toy, we all look to see what made it successful. But rather than copying it, and just trying to mimic that toy, we try to look at why children are gravitating towards it."
And while the me-toos can clog up toy aisles, Boylan says the massive success of something like collectibles can be positive, in that it acts as a wakeup call for industry experts. "So many [retail] buyers were stuck on event films from a licensing perspective," she says. "I think the success of collectibles has opened their eyes up to needing to pay attention to the toy aisle. Be where the kids are, and follow where they're going."
Innovation in moderation
Spin Master's Martin agrees that there is a time and a place to take on well-trodden trends. "We definitely look at the white space to see where things are quiet, where there is opportunity. We prefer to lead than to chase," he says. "But we're not afraid to get into a very thick field. We look to see if we can find a unique place within a trend. How can we do it differently?"
According to market research firm The NPD Group, the collectibles market continued to experience double-digit growth (up 15%) in the first half of 2017. In fact, NPD reported that global sales of collectibles now account for close to 10% of dollar sales in the total market. (NPD's global toys footprint covers Australia, Benelux, Canada, France, Germany, Italy, Mexico, Russia, Spain, the UK and the US.)
And whether staking their claim in an unexplored area or carving out new territory within a trend like collectibles, Spin Master doesn't enter these spaces just for the sake of doing it, Martin says. Creating something different can't be the only goal; it needs to be partnered with a quality product that adds to the company's overall offerings.
"If we've got a great idea, we know that innovation is something that resonates with kids and is something that we've always focused on. It's definitely a priority, but we do marry innovation with strategy. The two have to exist together in order for us to have the success we're having."
Part of Spin Master's strategy is to stay true to the core appeal of Hatchimals as it makes moves to expand the property. "We don't keep reinventing ourselves from a core perspective. As long as we stay true to our core, the experiences flow from there, and we can introduce these new experiences," says Martin. "We can go from a US$60 self-hatching Hatchimal to a US$3 Colleggtible that you hatch yourself, and the experience is still satisfying and helps to build the world."
The toyco launched its Colleggtibles line in May. It features small, speckled collectible eggs that, just like the original toys, need help to hatch. Kids rub the purple heart on the egg until it turns pink, and then press down on the heart to crack the egg and discover a small collectible figure inside.
"The experience is still transferable," Martin contends, "because there's this ritual where you have to hold the egg and warm it up, and the heart tells you when it's ready to hatch. So it still makes that process part of the whole piece. You are physically bringing them into the world. We know that mystery, participation and surprise are all important pieces of the brand."
Spin Master is continuing to expand the brand with the launch of its Hatchimals Surprise line on October 6, which features all-new Hatchimals species, as well as a new hatching process.
"The hatch is obviously what hooks everybody, but it's the after-play that makes you care. Doing Hatchimals, there was nothing but obstacles," Martin says. "But we like to push the envelope."