By Guy Tomer, CMO at Israeli mobile publisher TabTale
TabTale's portfolio of 450-plus games has led to 1.2 billion downloads and more than 40 million monthly active users, all thanks to a mixed bag of original and licensed mobile games. But after observing a huge market appetite for the latter, we recently signed a series of deals to develop significantly more games based on A-list kids and family brands like Mattel's Monster High and Zag's The Miraculous Ladybug and Cat Noir. The business strategy was based on our previous success working with cherry-picked brands like Care Bears, Winx, Garfield and Teletubbies. So what made us widen our view and take on three new branded games in the course of one calendar year, in addition to our standard launch plan of 50 new original games per year?
It's really a numbers games. We have observed that branded projects have an unusual potential for outstanding results. Case in point, Care Bears Rainbow Playtime, developed and published by TabTale under license by American Greetings, has more than 11 million downloads since its June 2014 launch—an unusual number for an app targeting preschoolers.
What's more, the lifetime value (LTV) of our successful branded apps has turned out to range 10% higher than TabTale's strongest in-house portfolio apps like Fairy Land Rescue and PJ Party, and 50-60% higher from our median portfolio apps in terms of users in the iOS US market.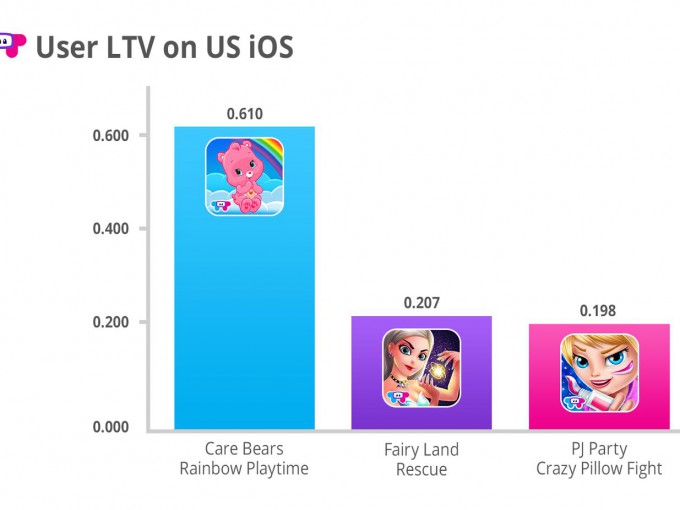 Based on this data, we have decided to strategically invest in a new line of branded games, allocating US$5 million for the development of new IP-based games over the next two years. We are also widening our demographic target to include a mixed audience beyond preschool (as with brands like The Miraculous Ladybug and Cat Noir and Monster High), gaining a wider scope of users with higher LTVs.
Another advantage to working with established brands is attention from new audiences that have never played our games. With our estimated 40 million active users per month, TabTale enjoys a steady stream of downloads (and as many as 1.5 million a day in the peak month of January), but there is still a blue ocean of potential waiting to be tapped.
That being said, it's also crucial for publishers like us to continue vigilant app store optimization campaigning, as well as regular implementation of other tools app icon A/B testing and localization to different markets to ensure that successful releases, like Care Bears Rainbow Playtime, continue to appear number one in the app stores.
Of course, there are inherent challenges and downsides to working with IP brands and household names. Obviously the most significant point is the need to pay 15% to 30% of revenues to brand owners for use of their IP. Other hefty costs include financing production and paying the brand an advance against future revenues, even before the app ever sees the light of day.
Another sizable challenge is longer production cycles, largely due to the client approval process. This can result in up to 25% more production time, if not longer. However, according to data published by Statista, children's mobile gaming in 2015 generated US$417 million dollars in revenue in the US, and that number is expected to reach US505 million this year. For companies like us, the benefits of partnering with IP brands far outweigh any risks.