In the modern mobile age, with apps, movies and video games just a tap or two away, getting kids interested in reading traditional books is no easy feat.
However, former Spin Master, Activision and Mattel employee-turned-entrepreneur Jim Murphy has stepped up to the challenge with a novel idea. His new toy line, INVICTA Challenge, aims to get even the most reluctant readers aged eight to 14 interested in a subject dear to his heart—American history—by combining both physical and digital items.
The former US Marine launched his new leadership-inspired brand this week on Amazon and at all Barnes & Noble stores across the US. For US$34.99, INVICTA Challenge (which stands for integrity, nobility, valor, initiative, curiosity, tenacity and accountability) consists of a choose-your-own-adventure-style graphic novel, an action figure sculpted by Four Horseman Studios, two maps, an app game, an operations packet and a mission module.
While the video game is free to play, there is an optional US$4.99 in-app purchase that contains all of the aforementioned content digitally and an additional 30 videos. A portion of the proceeds from in-apps sales will go towards a scholarship in honor of Turner Turnbull—a WWII Native American paratrooper who is the subject of Flash & Thunder, the first title in the INVICTA Challenge series.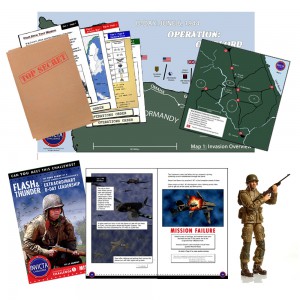 In Flash & Thunder, kids learn the true story of Turnbull and his heroic actions on D-Day, when he led a troop of men to defend a French town against a large group of German soldiers. Reading the 108-page graphic novel is the centerpiece of INVICTA Challenge, since it provides important information kids need on their mission as they play the role of Turnbull, both offline and in the video game, where they are faced with the same tough decisions as he was on that pivotal day in 1944.
"This story is about one of the most momentous and important events in world history: D-Day," Murphy says. "Turner Turnbull did amazing things throughout the day on June 6, and he was killed in action on June 7. He didn't have a family or kids, so it's really a story that has been lost to history."
To help with historical accuracy, Murphy worked with experts at the National WWII Museum in New Orleans, interviewed several historians and scoured a litany of primary sources. Although the first tale recounts the story of a WWII paratrooper, Murphy stresses that INVICTA Challenge is neither a military nor boy-centric brand. Instead, it will look to pique the historical interests of boys and girls by featuring a range of legendary heroes. For spring 2016, INVICTA Challenge will add six new characters to the line, including civil rights activist Harriet Tubman and former American president Theodore Roosevelt.
While INVICTA Challenge is initially targeting the US market, Murphy says there has been considerable demand and interest from overseas, and the L.A.-based company plans to expand its product line to countries such as Canada, the UK, Australia and France for Q4 2016. In those cases, local historical figures would be featured. In the meantime, Murphy and his team are gearing up for a US tour to promote INVICTA Challenge, with stops in key American cities over the next eight weeks.
For Murphy, the biggest challenge in getting his product to market was funding. But thanks to winning a chunk of cash as a finalist at the Veterans' Business Battle in Houston in February and a successful Kickstarter campaign in July, the lifelong lover of toys and comics was able to launch INVICTA Challenge.
Murphy adds the industry support he's received along the way has been overwhelming. "I've just been blown away," he says. "There are so many great and amazing people who want to see something new and fun and different be successful."