Disney Channel's original movie Teen Beach 2 (pictured) and new live-action comedy Best Friends Whenever are both slated to debut in the US on Friday, June 26.
At 8:00 p.m. ET/PT, Teen Beach 2 will precede Best Friends Whenever, which will air immediately after the original movie.
In traditional Disney style, fans will get an early look at Teen Beach 2 courtesy of WATCH Disney Channel, which will feature the movie on June 19. For Best Friends Whenever, the premiere ep will be simulcast on WATCH Disney Channel on June 26.
Surf-and-song feature Teen Beach 2 is the sequel to Disney Channel's popular Teen Beach Movie, whose 2013 premiere ranks as the #2 movie in cable TV history in total viewers (13.5 million).
Teen Beach Movie director and choreographer Jeffrey Hornaday (Geek Charming) returns to direct. Reuniting key cast and crew, the sequel picks up at the beginning of the school year, where laid-back Brady and studious Mack's relationship is headed for a wipeout, when they get a surprise real-world visit from their 1960s silver screen friends from Wet Side Story.
Prior to the movie's TV debut, a Teen Beach 2 soundtrack will be released on June 23, available for pre-order on iTunes.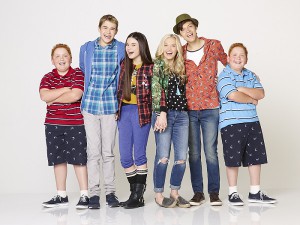 Best Friends Whenever, which was introduced earlier this year, hails from the minds of Jed Elinoff and Scott Thomas (both of Randy Cunningham, 9th Grade Ninja). It stars Landry Bender (Crash & Bernstein) as Cyd and Lauren Taylor (Richie Rich) as Shelby, time-travelling best friends who discover they have time-shifting powers after a science experiment goes awry.
Featured photo: Ross Lynch, Maia Mitchell, Grace Phipps, Garrett Clayton, Raymond Cham, Jr., photo credit: Disney Channel/Francisco Roman
Photo left: L-R  Matthew Lewis Royer, Gus Kamp, Landry Bender, Lauren Taylor, Ricky Garcia And Benjamin Cole Royer, photo credit: Disney Channel/Craig Sjodin