California-based Activision Publishing, a subsidiary of Activision Blizzard, is getting into the cereal category for the first time in Skylanders's licensing history.
Starting on February 14, General Mills will feature the Skylanders Skystones head-to-head mini game on Honey Nut Cheerios, Cinnamon Toast Crunch, Reese's Puffs, Trix, Lucky Charms and more, at participating retailers across North America.
For Activision's first foray into the cereal category, Skylanders Skystones packs will be available in cereal boxes, where fans can find and collect four sets. Each set contains 10 cards, including two ultra-powerful "boss" villain cards to unlock exclusive content in the free Skylanders Collection Vault app.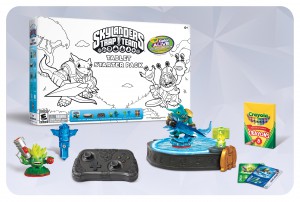 In early April, a special Crayola edition of the Skylanders Trap Team starter pack will be available at Toys 'R' Us. The packaging will feature the unique black-and-white line art of Skylanders characters for Portal Masters.
The starter pack includes magic crayons, which will allow kids to bring their artwork to life on tablets and smartphones using Crayola's new Color Alive! 4D app. By taking a picture of their drawing, kids can then use the magic crayons to activate special effects by drawing on the page in real-time.
The suggested retail price is US$74.99 for Xbox 360, Nintendo's Wii and Wii U systems, PlayStation3 and select iPad, Kindle Fire and Android tablets. The free Color Alive! app is available for iPad, Android and Windows smartphones and tablets, as well as iPod Touch.
Activision is also bringing several special-edition toys to the Skylanders Trap Team roster, including a Love Potion Pop Fizz for Valentine's Day, which features a limited edition design both in-game and on the toy. And for Easter, Activision is launching playable, pocket-sized Skylanders Minis toys, Power Punch Pet-Vac and Eggsellent Weeruptor.