I am not a numbers person.  I don't like receipts, tax returns, or checking movie times.  I cannot figure out percentages and I certainly can't convert currency when I'm in a foreign land.  (In China, for example, I simply hand the merchants my wallet and then trust that they'll take out the right number of bills and return the rest to me, untouched.  I've not yet had a problem.  As far as I know.)
I am a word person.  I like reading.  I read menus.  Plays.  Poems.  Instructions.  I also like writing and, in my current occupation as a children's TV show creator, I am required to write many things.  For example, when I created the show "Wonder Pets!" I wrote, "The phone, the phone is ringing!"  I'm told that these words are now sung by kids all over the world whenever a phone rings.  (I am also told that parents all over the world are annoyed by this.)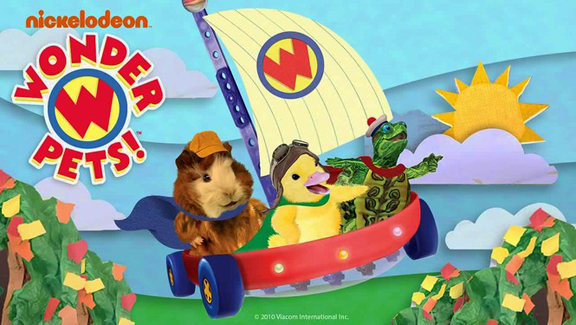 Recently, I was asked to write copy for an ad that my company, Little Airplane, is going to place in a trade publication during MIPCOM.  MIPCOM, as most of you know, is the mother of all television markets and it is held in the over-priced town of Cannes on the Côte d'Azur in France.  I have written many things in my life but never advertising copy so, when the artwork appeared on my desk with a gaping hole at the bottom and a big note that said, "Josh, funny text goes here," I nearly wet myself.  This was sewrious.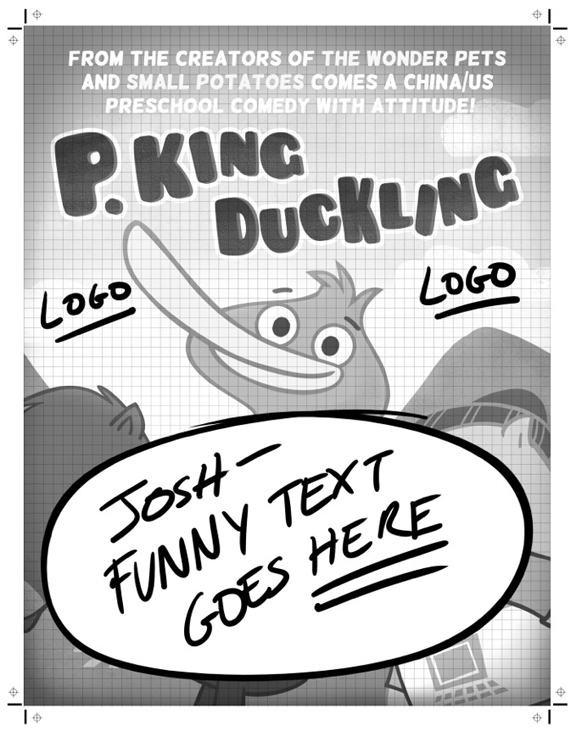 The ad was to promote P. King Duckling! a raucous new comedy for older preschoolers.  We're working on the show with a big Chinese company called UYoung Media who have entrusted us to oversee all aspects of the series, including promoting it with a funny ad in the trades.  ("It must be very funny, Josh," they said, "We will be watching you closely.")
So, my copy for this ad had to please many masters:  Our Chinese partners, our savvy UK publicist and, perhaps hardest of all, my own staff in New York who rarely laugh at any of my jokes.  The last time I asked them if they thought something I wrote was funny, they all looked at their computers uncomfortably and then went to lunch.
My first attempt at the ad was, let's say, inauspicious.

From our UK publicist: "I wonder if the phrase 'for a change' might be considered to be a little provocative by other preschool production companies or even broadcasters who currently show comedy preschool content."  Hmmm.  She was raising a good point, especially since I planned to pitch the show to the very same broadcasters whom my ad would likely piss off.  So, I dug deep for a new tagline.
I knew I wanted to get attention at MIPCOM, so I decided to try something bold and brash and deliberately Rabelaisian.

Or, as an alternate…

From a trusted distributor friend:  "Are you out of your mind?  These will certainly raise a couple of metaphorical eyebrows with mother tongue English speakers.  The non-mother tongue English speakers will most likely not 'get' them.  I would be inclined to play it on the safe side as so many of the broadcasters are very sensitive.  After all, these are folks who get offended if a hand puppet isn't wearing a bicycle helmet."
Okay, fine.  Whatever.  My bad.
I was stuck.  I had writer's block, which, until now, was something I had only read about.  I felt really stumped and, with the deadline for the ad rapidly approaching, I did what all writers do during difficult times:  I drank.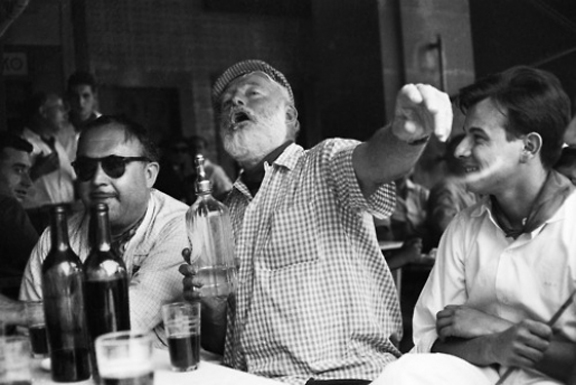 Some writers drink manly drinks.  Ernest Hemingway liked vodka.  Jack Kerouac drank tequila.  I, on the other hand, do not drink often and I do not drink manly.  I like a cocktail I created myself that is comprised of rum, Diet Coke, fruit punch from Duane Reade, and a squirt of lemon juice.  I stir it up fast with a wooden chopstick, put on my favorite Leonard Cohen CD and then settle down to write.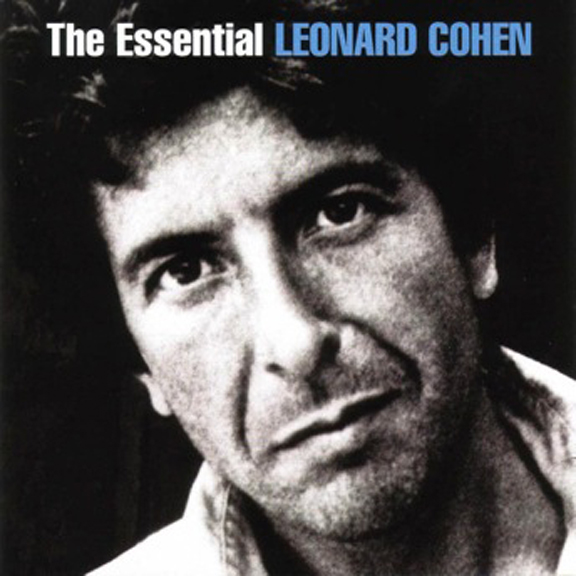 It was on one such sad evening that I was hit with the sort of lightning-bolt of inspiration that we writers simply live for.  Yes, the advertising muse had finally shown up. The perfect tag line for my P. King Duckling ad had swum out of my rum-punch soaked brain like Nessie from the depths of Loch Ness.  I had struck preschool comedy gold.
The next day, from Beijing to London to my very own team of Little Airplane curmudgeons, my instincts were confirmed!  There was not one voice of dissent!  We had a winner!  We finalized the ad within an hour and sent it to the trades!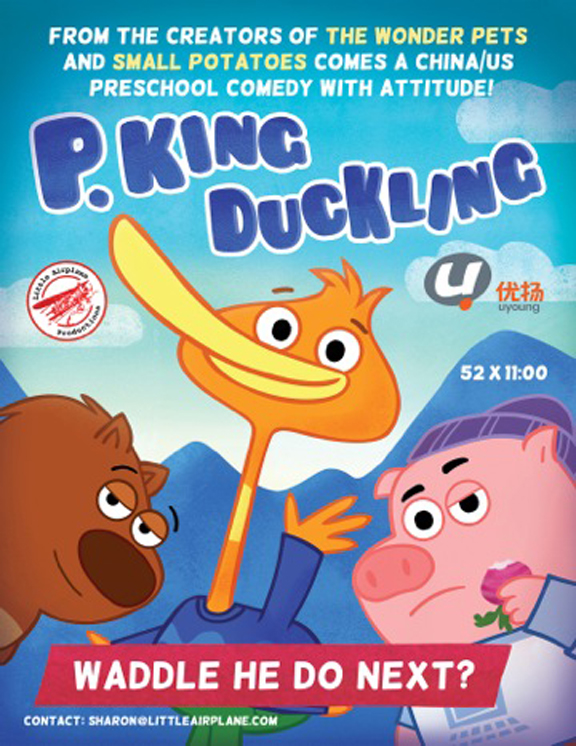 Now, I appreciate that there are more important things in life than children's television shows.  (And there are certainly more important things than advertising them.)  But I happen to believe that we humans must each carve out our own small patch of earth upon which we can find some meaning in our lives.  Some people do this by becoming vets and extracting hairballs from cats.  Others do it by becoming pastry chefs and making the perfect croquet-en-bouche.  I happen to find my meaning by making preschool shows.  And, although my P. King Ducking ad copy may not be the most significant literary achievement of the 21st century, I daresay it is almost certainly not the least.