If you travel to China, there is a very good chance that you will be awake in your hotel room at 5:00am.  It doesn't matter how tired you are or how much you need sleep for the next day.  When you're not on the same side of the world as your own bed, your circadian rhythms stage a rebellion and, at dawn, they play bongo drums inside your head.  So, if you're like me, you just surrender to them, put on your sneakers, and go for a run until the breakfast buffet opens.  Last week, I was in the port city of Qingdao for Kidscreen East and my morning run took me past fishermen with cute dogs, old men in swimming trunks and, much to my dismay, a scary Chinese clown pulling a dark, empty cart through the fog.  At first, I thought I must be going insane because, when you've spent as many years as I have making preschool shows, seeing a clown emerge from the fog is almost certainly the form that your madness would take.  But this was not madness.  No, it was just one of the many odd and inexplicable things that you see when you're in China.  (Others include people strolling around wearing leopard-patterned surgical masks and/or discovering a spiky, turd-like sea urchin at the bottom of your otherwise lovely and benign bowl of vegetable soup.)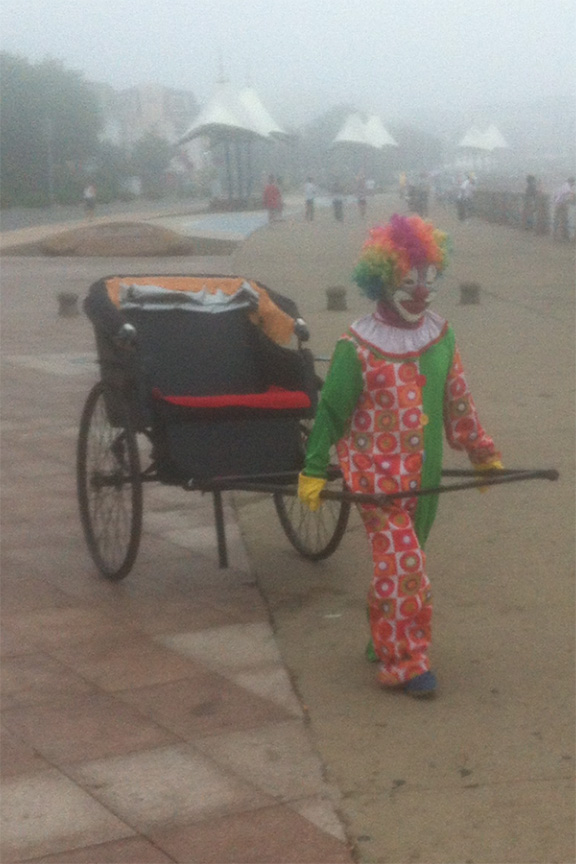 Okay, let's talk about Kidscreen East. On the downside, there were many tales of woe from international speakers who were plagued by cruel and unusual flight delays.  Will Brenton from Wish Films in the UK never made it past Paris, and Hasbro Studio's Finn Arnesen spent over six hours in an underground bunker while the Chinese air force conducted flight exercises above the airport in Shanghai.  On the upside, despite the many travel horror stories – including my own, which I'll share with you at our next Kidscreen party in Miami, yes, Miami - the inaugural Kidscreen East event was one of the most successful and enjoyable conferences I've ever attended.  In fact, I consider it nothing short of a kids' media game-changer (a phrase I have never used before and promise never to use again.)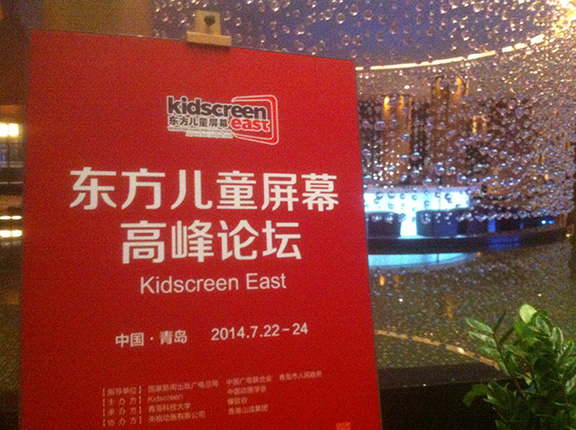 "A kids' media game changer?" you say. "Really?  Why?"
I'll tell you why.  Kidscreen East brought together two very important groups of people who have never – and I mean never - been brought together before.  On the same floor of the same hotel at the very same time, you could (easily) find execs from the top Western kids' companies including Nickelodeon, DHX, Nelvana, Mattel, PBS Kids, Hasbro, The Jim Henson Company, eOne, and Sesame Workshop alongside execs from the top Chinese companies including Tencent, CCTV, UYoung, Promotional Partners Worldwide, Sohu Video, Ciwen Kids, Mr. Cartoon Films, Toonmax, and Kaku.  Metaphorically speaking, the Kidscreen team set up a dance floor at the Intercontinental Hotel, turned on the music (in the form of expert lectures, panels, networking sessions, and parties) and, slowly but surely, the good folks from all of these companies – and hundreds of other indies, IPTV channels and distributors – began to boogie.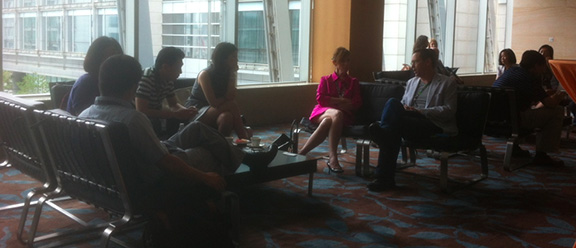 By the end of day one, Kidscreen East felt like any other international kids' media conference.  New properties were being pitched and new partnerships were being formed.  However, there was one critical difference at Kidscreen East:  China, which has not historically been a big part of the global kids' media industry, was at the very center of every conversation.  If Kidscreen East were an orchestra, China would have been the first violin, and she played beautifully.  Are there still some hurdles ahead for cooperation between the East and the West?  Yes, of course.  Over dinner by the sea, one Western exec shared a story about a Chinese kids' show that his company had hoped to distribute.  Along the way, he discovered that all the music on the show had simply been lifted off of someone else's CD.  When he explained to their Chinese partners that, without the proper music agreements and cue sheets, they could not acquire the series, the Chinese company seemed surprised to learn that music for a TV show had to be created or licensed.  After all, their show had been airing in China for years and no one had said "boo."  Such stories are not common, of course, and most Chinese companies do follow all the best global business practices.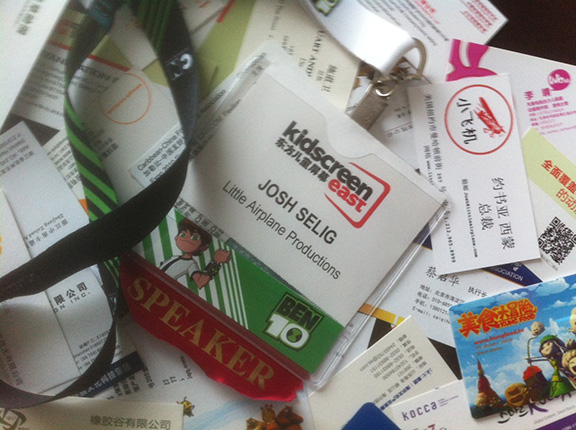 Kidscreen's partner on the event was The China Animation Association, or CAA, and their Chairman is a great guy named Mr. Yu Peixia (who is also the founder of CCTV's Children's Channel).  On the final day of the conference, Mr. Yu gave some closing remarks that I felt perfectly captured the whole Kidscreen East experience.  He said, "Kidscreen East has been a truly unique event.  The impressions that were left here are very, very deep.  Everyone is now more than colleagues, we have become friends."  And he was right.  There was a true spirit of friendship and trust all week in Qingdao.  I believe much of the credit for this goes to Kidscreen's Jocelyn Christie who worked tirelessly all year long to build the bridges that we all walked across in Qingdao.  Thank you, Joce.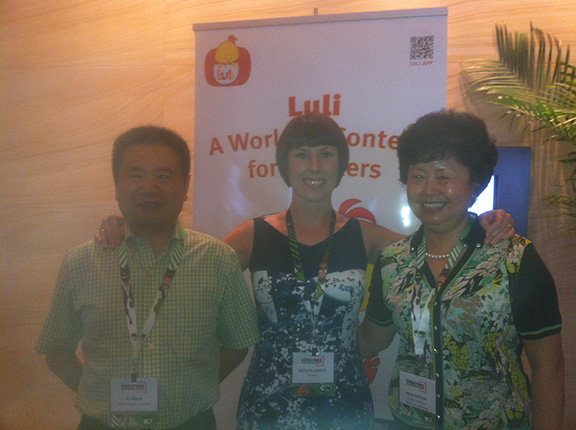 PS:  A friend of mine told me recently that she had stopped reading my blog because she said it had become "too self-serving."  I told her I was under the impression that blogs were, by definition, self-serving.  "No," she said, "a blog is supposed to contain a valuable and current nugget (her word, not mine) as well as a good take-away."  This has been haunting me all week because, in my five years of writing this blog, it has never occurred to me to include either a take-away or a nugget.  But, to prove that you can teach an old indie new tricks, here is today's take-away:  Kidscreen East demonstrated to our community that China is now open for business.  And here is today's nugget:  A fisherman's dog that I coveted by the sea in Qingdao.